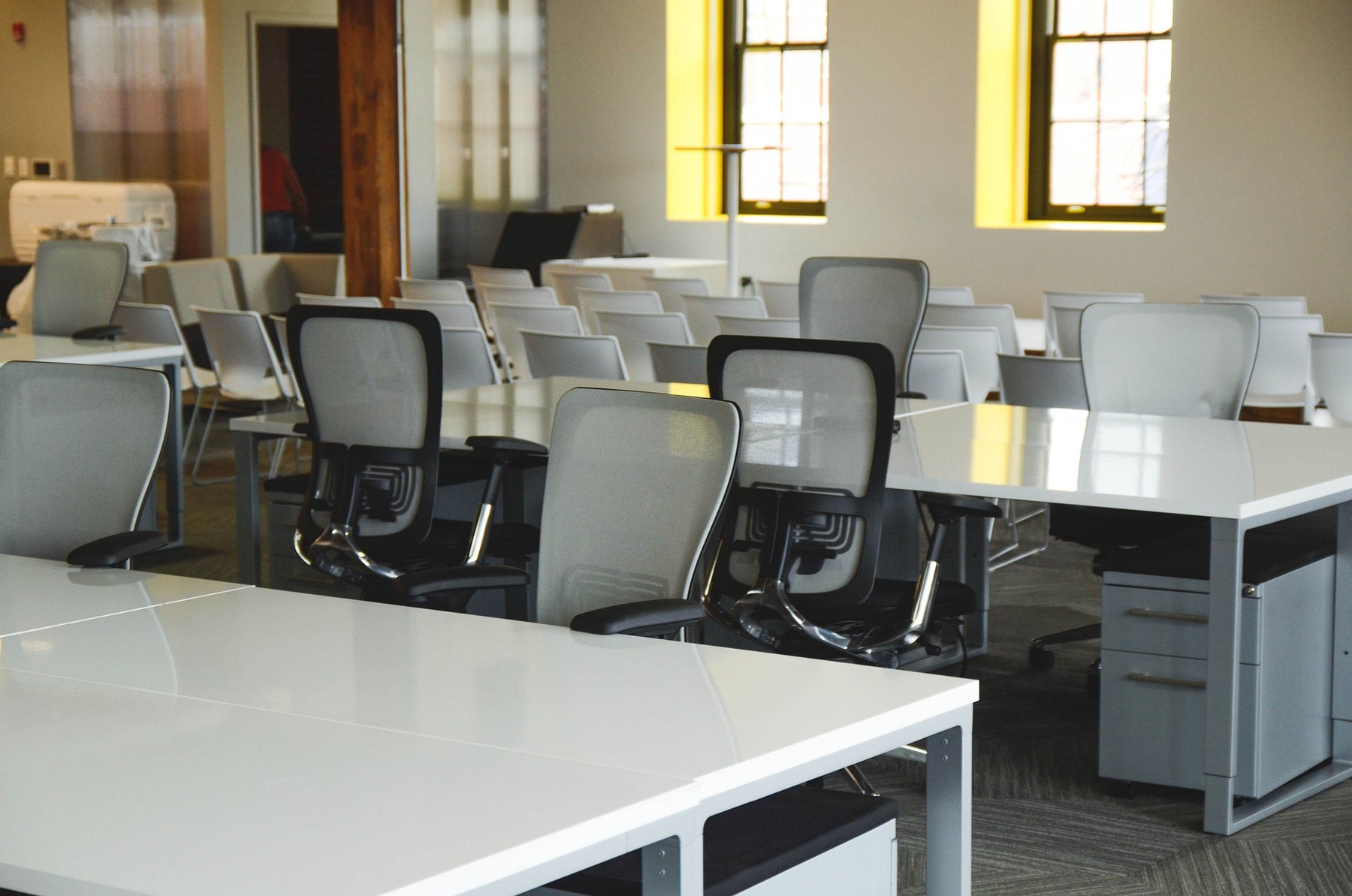 How To Clean Office Chairs: Tips and Guide
Office chairs are used so regularly that they can become filthy! However, you can still save these chairs with a good and thorough cleaning.
Cleaning your office chair properly can help you avoid the cost of purchasing a new one and can help you steer clear of the throwaway culture.
This guide will discuss how to clean leather office chairs, fabric office chairs, and much more—this is your go-to manual for saving your beloved office chairs from the dump! However, if your chair isn't salvageable, you can always browse the office chairs for both tall and short people at Freedman's Office Furniture!
What Supplies Do You Need for Cleaning Your Office Chair?
Before we get down to explaining how to clean your office chair, let's discuss which tools you'll need to clean different types of office chairs. Here are all the supplies you'll need to clean your office chair's surfaces.
Clean Cloth
Cloth is a great place to start when cleaning any fabric. A dry cloth can help you absorb any stains from the fabric of your office chairs.
Vacuum and Brush Accessories
There will be plenty of dust, crumbs, and debris in the crevices of your chair, and you'll need a vacuum and small brush attachments to help you get into those hard-to-reach places.
Wet Cloths and Paper Towels
Wet cloths and paper towels are great for cleaning any absorbent or water-resistant fabric!
Mild Detergent or All-purpose Cleaner
Some stains are impossible to remove without assistance, so you'll need some mild detergent, to dissolve those hard stains!
Sponge
A sponge is excellent for scrubbing any tougher stains or dirt on your chair and allows you to dampen the chair for a thorough clean.
Leather Detergent (if needed)
If you have a leather office chair, you'll need leather detergent to ensure you don't do any damage with a harsh cleaning solution.
How To Remove Spills and Stains From the Surface
If you're trying to keep your chair clean, you must tackle stains and spills immediately. Here's how you can directly deal with those 'oopsie' spills!
Blot Up Any Excess Liquid With Paper Towels
Before treating the area, you'll need to absorb as much liquid as possible from the fabric using paper towels. Remember, it's essential to blot, not rub. Any rubbing will cause the paper to disintegrate and it won't absorb the liquid effectively.
Pre-treat the Stained Area With Diluted Dish Soap and a Sponge or Cloth
Once you have dried the area, you can start pretreating the area with diluted dish soap, ensuring that you tackle below the surface of the seat fabric. Use plenty of water to dilute the stain.
Rinse With Warm Water and a Clean Cloth
Once your fabric is packed with dish soap and water, you can start rinsing away the soap using warm water and a clean cloth. Douse the area and rinse until no more suds come up.
Let it Dry
Once you have performed these steps, you'll need to let the chair dry to see if you've obliterated the stain—a hair dryer or heater can speed up this process.
Spray a mixture of Warm Water and Mild Liquid Detergent for Tougher Stains
Tougher stains may linger, even after you've used dishwashing soap. If so, you'll need to bring out some more heavy-duty cleaning solutions. Warm water and liquid detergent will be tough on those more tricky stains.
How To Refresh Upholstery for a New Look
It might be the case that your upholstered furniture needs a complete refresh. Over time, you don't notice how dirty your fabric becomes when you're not paying attention. Follow these steps to keep furniture looking brand new!
Vacuum to Remove Dust and Dirt
Dust and dirt can get into the fabric and folds of your chair over time. Use a vacuum to remove the dust from your upholstery, and use the upholstery attachment to ensure a deep clean. Use the smaller attachments to get into the crevices of your chair easily.
Spot-clean Any Stains With a Damp Cloth and a Mild Detergent
As we mentioned earlier, use a mild soap or detergent to spot-treat the stains that have built up on your chair over time.
Blot Away the Excess Liquid With Paper Towels
You can use paper towels to blot the chair. This process will help remove any remaining soap residue and dirty water lingering in the upholstery.
Sprinkle Baking Soda Before Vacuuming It Again
Baking soda is excellent for getting rid of tough surface stains and odors. Once your chair is semi-dry, use baking soda to soak up the excess liquid and dirt. Then, use your vacuum cleaner to suck up the baking soda.
How To Clean Wheels, Arms, and Legs
Most office chairs aren't just made of fabric, there are wheels, arms, and legs that you need to consider to completely clean an office chair and get it looking brand new!
Vacuum to Remove Dust or Dirt Particles
Your vacuum cleaner will come in handy for getting rid of any dust or dirt particles inside the mechanisms of your chair. Use the small attachment to get those hard-to-reach places and suck out crumbs, dust, and dirt.
Spot Clean Any Stains With a Damp Cloth and Mild Detergent
If there are any congealed liquids or stains on your chair's wheels, arms, or legs, you can use a sponge, damp cloth, and detergent to give these areas a good scrub.
Spray the Solution Lightly and Clean
Use your cleaning solution to spray your fabric office chair's metal and plastic parts, ensuring all surfaces are completely bacteria-free.
Remove Any Residue of the Solution With a Damp Cloth
Once you're done, use a damp cloth to remove the solution, ensuring there are no remaining streaks or suds.
Speed Up the Drying Time With a Paper Towel
Use a paper towel to dry your chair's plastic and metal parts. A hot tip for cleaning chrome chairs is to buff up the surface once it's dry with a dry cloth. This will ensure a shiny and new look for your office chair!
FAQs
Have you still got some lingering questions about cleaning instructions for your office chair? Here are some more tips on cleaning your executive or task office chair!
What are Some Tips for Removing Stains on Office Chairs?
If you have a fabric office chair, you'll need soap and water to spot-treat any stains on the seat. If the stains are more challenging, use mild detergent to soak up the cleaning mixture and any residue. Once it is dry, you can vacuum it away! Do not use bleach or vinegar as it can be too abrasive.
What are Some Tips for Keeping Your Chair Clean?
When keeping your chair clean, it's essential to clean the entire chair, not just the fabric parts. Clean up any loose debris and use your vacuum cleaner to get into tight spots. And remember to give every inch of your chair a wipe-down!
What Cleaning Instructions Should I Follow for Fabric Office Chairs?
For fabric office chairs, you'll need a damp cloth and a few drops of liquid soap in water to clean the fabric. Then, you'll need to blot the chair dry and let it air dry—or you can use a heater or hair dryer to speed up the drying process.
How do you Clean a Plastic Office Chair?
For a plastic office chair, you'll need to use a Hoover to clean the debris and dust from the chair. Then, you'll need to use a damp cloth and some cleaning solution to wipe down the surfaces. Once the chair is clean, dry it with a paper towel.
How do you Clean a Mesh Office Chair?
You must vacuum-clean a mesh office chair and ensure you get the dirt from between the gaps. Then, you'll need to use a damp cloth and cleaning solution to clean the mesh fabric. Cleaning mesh can be pretty tricky.
How do you Clean a Leather Office Chair?
You'll need a proper leather cleaner to clean a leather office chair. Otherwise, you'll risk damaging the leather, causing cracking and holes. Vacuum the chair to remove dirt and dust first, then wipe down the chair with your leather cleaner.
Takeaway
Cleaning an office chair can be time-consuming, especially when it's been a while since you last wiped it down. However, the process is well worth it to avoid covering the cost of a replacement—and it's more environmentally friendly to take care of what you've already got rather than buying new.
If you need a
long-lasting office chair
, check out the high-quality, sleek, and professional designs at Freedman's Office Furniture.