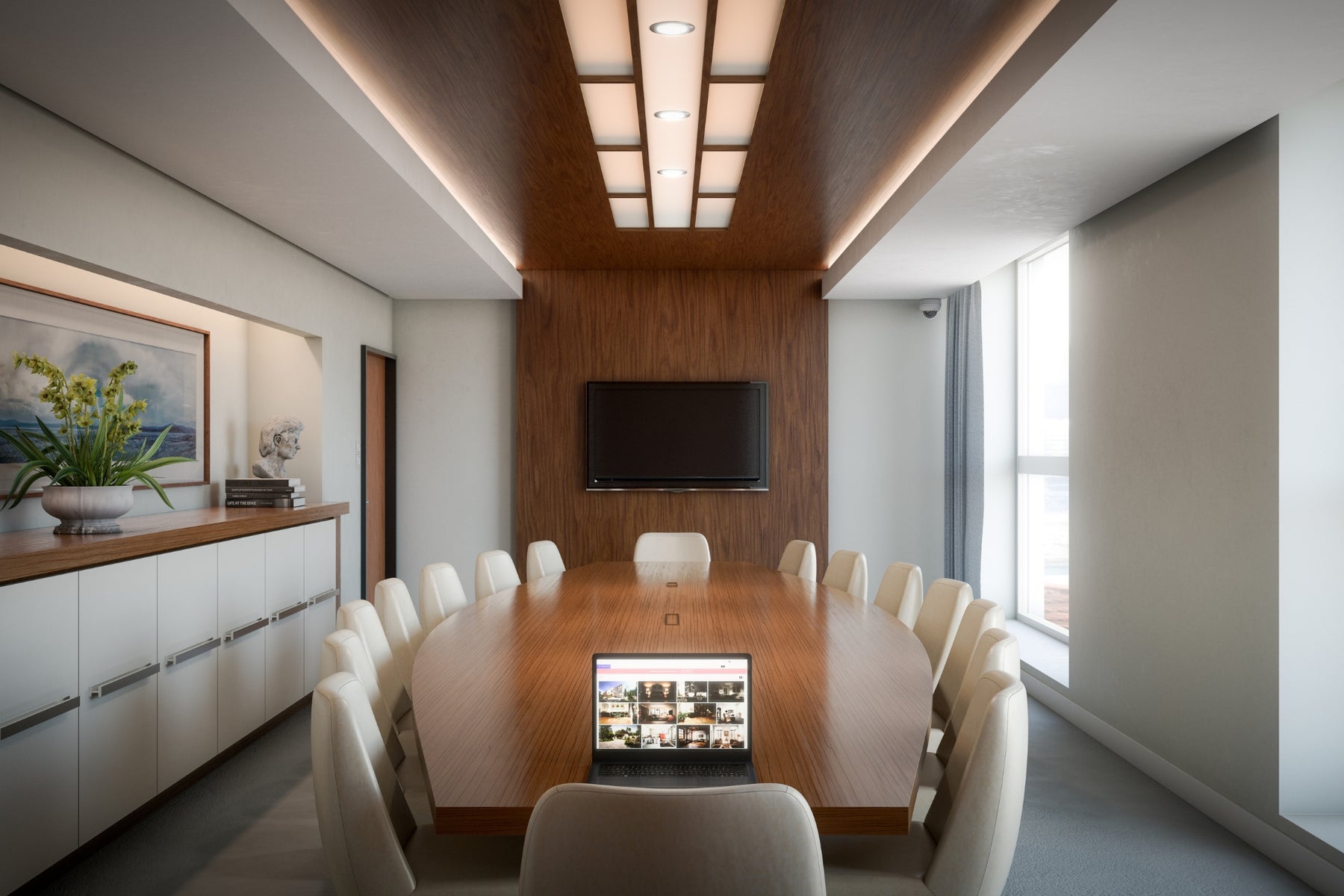 7 Conference Room Design for Your Office
A conference room allows business leaders and employees to collaborate, communicate, and establish an agenda. The design of your conference room can set the tone for your meetings and communicate whether it's a casual or formal space.
Ready to learn more about modern conference room design and find some inspiration?
Keep reading as we explore seven conference room design ideas to give you some direction when planning your space. Effective design can establish your company culture and encourage productive meetings.
Why Design is Important in a Modern Conference Room
Interior design is vital to your company's culture and productivity, and your office functionality. It doesn't just come down to the colors you use—your design can help to improve focus, collaboration, and communication.
Additionally, you can keep employees more engaged by using visual digital technology, such as tablets and video walls. The key focus of your conference room design should be creating a comfortable environment that facilitates an interactive experience for your employees.
What to Consider When Designing a Conference Room?
When designing a conference room, you must make a few key considerations. Below are the first things you should consider when developing your designs and plans.
The Space
You need to evaluate the space for your conference rooms and determine whether the space is large enough to accommodate meetings or whether you'll need to invest in space-saving solutions. It is best to consider the space's shape and the best layout to complement the space to create a functional conference environment.
Building Materials
The materials you use in your conference room design play an important role. You must consider whether you can knock down any walls to create more space, or whether you need to install glass walls for increased light exposure.
Inclusion and Accessibility
Your conference rooms should be accessible to all and inclusive of the handicapped. Ensure you leave enough room for individuals in wheelchairs to easily enter the space, and offer ramps or lifts for convenient and accessible entry.
Benefits of an Excellent Meeting Room Design for Modern Offices
Let's discuss the benefits of investing in an excellent meeting room design for your modern office.
Increases Productivity and Innovation in the Workplace
By improving the natural light in your space and choosing the right colors for your design, you can increase productivity, creativity, and innovation. Specific colors—like lighter colors—encourage mental clarity, which is essential for focus. Darker colors and poor light exposure can make the environment feel stuffy and repressed, which is not conducive to productivity.
Enhances Collaboration and Communication
Designing an antisocial space that creates physical barriers between people will inhibit collaboration and communication. Consider investing in swivel chairs with low backs so that your employees do not impede anyone's line of sight and can easily move their chair angle.
Maximizes Coworkers' Well-being
A comfortable and welcoming conference room environment can help employees feel more comfortable and optimize their well-being.
7 Conference Room Design Ideas for a Modern Office
Let's consider some of the best conference room design ideas for your modern office space.
Breakout Room Style
Breakout rooms are designed to facilitate brainstorming and collaboration for smaller groups of employees. Creating a breakout conference room requires smaller meeting rooms, round tables, and comfortable seating for longer meetings.
Phone Booth Style
You can opt for a phone booth-style meeting if you want a smaller meeting space. This is the perfect space for group phone calls or one-on-one meetings. A phone booth-style conference space involves booth seating enclosed in a small space. This, however, is not a very versatile conference environment as it does not accommodate larger groups.
Meeting Room Style
Meeting spaces in a meeting room style are more laid-back, allowing employees to have discussions around a table. A round table with swivel chairs will suit this conference space. There should be low backs to seats to ensure all employees' faces are visible throughout the meeting.
Boardroom Style
A senior company member typically leads board meetings. For this reason, they are usually defined by a long table, which allows every employee to see the person sitting at the head of the table.
Collaborative Workspace Style
Collaborative workspaces serve as multifunctional spaces for working, meeting, and collaborating. Your collaborative space can serve as a meeting room, and it can serve as your employees' daily work environment. Equipping this room with round tables, workstations, and sofa areas will ensure your employees have all the tools to host meetings, focus, and collaborate.
Modern Conference Room With LED Video Walls and VR Devices
The modern workplace incorporates both in-office and remote employees. Considering this, it's important to design conference rooms that accommodate Zoom attendees. To do this, many companies are investing in video walls to provide visibility for remote employees. VR devices also allow employees and leaders to prototype ideas and develop strategies for improvement.
Themed Conference Rooms
Themed conference rooms can enhance the employee experience and creativity. You can opt for an old-fashioned conference room with mahogany furniture and vintage decor. Or, you might consider opting for a minimalist and Scandinavian conference room design with industrial elements.
Where to Put Conference Rooms in the Modern Office
Where you put conference rooms in your modern office depends entirely on your business type. If your company has confidentiality obligations, placing your conference meeting rooms away from general working areas is best. Or, you might have an open and equal access office environment, where it's essential to have glass walls and an accessible conference room. If this is the case, placing your conference meeting spaces in a visible location at the heart of the office space might be best.
Technology for Productive Meetings in Modern Conference Rooms
Technology plays a pivotal role in enabling productivity. Below are some technology recommendations for productive meetings in modern conference rooms
Video conferencing tools—if you wish to improve productivity in your conference room spaces and accommodate remote attendees, you can incorporate video conferencing tools, like LED video walls and cameras, to be more inclusive

Interactive whiteboards—by using a projector and pen simultaneously, you can make your meetings more engaging and visually stimulating with interactive whiteboards

VR tools—you can prototype new experiences, images, and products with VR tools, allowing each meeting member to review the product firsthand

Phone call conferencing—you should have a phone speaker in your conference room, allowing a conference call to take place involving numerous people
By implementing these technologies in your conference room, you can ensure that remote workers and poor visibility do not impact your meeting's success.
Best Design Tips for Building a Modern Conference Room
If you need help planning your modern conference room, check out our top design tips below.
Choose an Appropriate Layout
If you want to create a social and collaborative meeting space, a long, thin room will not be ideal. You need to choose the right room shape that aligns with your plan for the conference room.
Prioritize Comfort
The more comfortable your employees are in your meeting spaces, the more likely they will be to have creative ideas and communicate freely. It's essential to avoid cold and harsh decor choices, such as dull colors, darkness, metal, and glass. The more home-like you make your working environment, the more successful you will be in creating a comfortable space.
Follow Occupancy and Safety Guidelines
Health and safety always come first. The conference room you design should leave plenty of space for evacuation procedures, and you should only fill the room to within its occupancy capacity. Working with a health and safety professional when designing your space is best to ensure it aligns with regulations and guidelines.
Include Video Conference Capabilities
Whether you have remote employees or not, your employees may be unable to physically attend work from time to time. Flexible meeting spaces must incorporate video conferencing tools that allow remote employees to sit at the conference table.
Incorporate Intelligent Acoustic Designs
If your conference room has an echo, it can lose its feeling of comfort and privacy. Intelligent acoustic designs ensure that speakers can be heard by everyone during meetings while also ensuring that there is limited background noise to distract from the subject at hand.
Invest in Modern Office Furniture Designs
Attractive office furniture can brighten your space and create a strong impression on your clients and stakeholders. If you take the time to invest in modern conference room furniture, your employees will be more comfortable, and your space will feel fresher and more established.
Include Interactive Whiteboards and Digital Flip Charts
Interactive whiteboards and flip charts allow speakers to communicate their point and demonstrate it. By including these elements, you can ensure that employees better understand the point at hand and that visual demonstrations can occur alongside pitches and presentations.
FAQs
Below are some of the lingering questions you might still have about conference room design.
How can I Make the Conference Room More Comfortable?
To make your conference room more comfortable, try investing in furniture that has a home-like feel. Harsh glass and metal conference tables can be highly formal and less comfortable, creating a cold atmosphere in your working space.
How can I Distinguish a Conference Room From a Meeting Room?
Modern conference room design includes both conference rooms and meeting rooms. Meeting rooms are typically smaller, whereas conference rooms feature a long conference table that's designed to draw each employee's attention to the head of the table, where a senior company leader will be seated.
What is a Smart Conference Room?
A smart conference room incorporates several types of technology, such as video conferencing equipment, LED video walls, and VR experiences.
What is the Purpose of a Conference Room?
A conference room is designed to provide a space for a meeting, giving everyone a chance to share ideas while a senior employee leads the meeting and sets the agenda.
Conclusion
Whether you're looking to install a conference room in your office or simply improve your existing conference room design, you'll benefit from taking the tips in this article on board. You can start by rethinking the shape and structure of your space and then consider the different furniture and technology you would like to incorporate into your design.
At Freedman's Office Furniture, we offer new and used furniture to help you create a conference room that matches your company culture and working style. Why not check out the amazing modern furniture we offer?