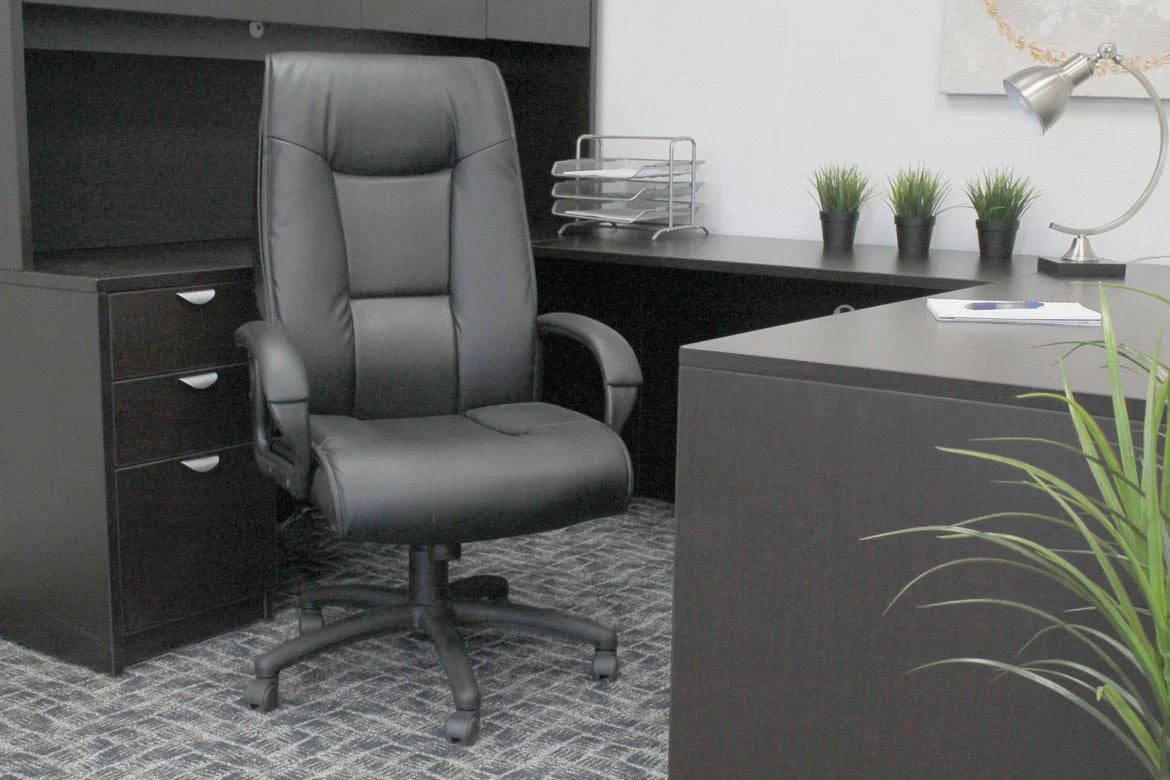 11 Of The Best Leather Office Chairs
Are you looking to furnish your office? We've rounded up the best leather office chairs to choose from!
When it comes to your working day, choosing the right furniture can make or break your productivity. There are several factors to consider when choosing an office chair. You need a comfortable and durable chair that will provide lumbar support to prevent back pain.
So, which are the best leather office chairs to choose from?
Keep reading as we'll discuss the 11 best leather office chairs that will keep you comfortable, productive, and pain-free at work!
What are the Pros of Leather Office Chairs?
A leather office chair is a pretty stylish chair to choose from for your office. It creates a sense of luxury, and a luxurious executive office chair can elevate your office and impress your clients, customers, and coworkers.
However, function over form is the best way to approach choosing your office chair, so let's look at some of the functional reasons why a leather office chair might benefit you.
Comfort
Leather office chairs typically have a padded seat cushion, a padded backrest, and armrests. Underneath the leather is a layer of foam, which will reduce the pressure on your bones when you sit down. The padding in a leather office chair makes it an extremely comfortable choice.
Durability
Whether you go for a faux or genuine leather office chair, you can expect durability. The material will only wear slowly, and you can expect to get plenty of use out of your leather chair.
Stain Resistance
If you opt for leather office chairs, you'll benefit from stain resistance. If you spill something on your office chair, you don't need to worry about staining. You can spray and wipe it clean to eliminate the spill—and it won't leave any residue that spoils the chair's design.
What are the Cons of Leather Office Chairs?
No chair can be completely perfect. Here are some cons to consider when weighing up whether the leather is the perfect option for your desk chair.
Breathability
A leather office chair is not your friend if you're prone to sweating in the summer months. Unfortunately, since the fabric is water resistant, your sweat will not have anywhere to go, leading to sweat patches on your back and rear. If you're prone to sweating, a mesh chair might be a better option.
Needs to be 'Conditioned' to Stay in Top Shape
Are you familiar with shoe polish and how it keeps leather shoes in mint condition? The same goes for your leather office chairs. You'll need to condition or treat your executive office chair to keep the leather in perfect condition.
Prone to Scratches
Although leather is quite durable, it can still be scratched. So, if you purchase a leather office chair, you'll need to take care not to scratch the leather with your car keys or pens in your pocket, and to keep any false nails away from the seat cushion.
What Factors Should I Consider When Choosing a Leather Office Chair?
Below, you'll find some of the top factors that you should consider when buying a leather office chair.
Type of Leather—Top Grain Vs. Bonded Leather
Bonded leather is a mixture of genuine leather and top-grain leather. It is often cheaper than top-grain leather. If your chair gets a rip or hole, it will be challenging to repair. Top grain leather is high-quality PU leather with the top layer removed.
Adjustability
If you want the best leather office chair, you need to know that you can adjust the parameters of the chair to suit your body size and type. Adjustable seat features are also known as ergonomic features. Here are some of the ergonomic chair features that you should be looking for when choosing a leather executive chair
Adjustable seat height

—you'll need your chair to align perfectly with your desk height, so you'll need adjustable seat height.

Adjustable armrests

—you'll need to rest your arms comfortably while working on your computer, so you'll need adjustable armrests that can sit at the perfect height where your arms naturally fall.

Adjustable tilt tension knob

—you'll need to recline in your seat to give your pelvic bones a rest from the pressure of your body every once in a while, and an adjustable seat tilt can help alleviate this pressure.

Adjustable seat depth

—you can adjust the distance of the chair's seat cushion from the chair's backrest to accommodate a smaller or larger body size, which is perfect for petite or large individuals who need extra accommodations in their chair features.
Lumbar Support
It's best if you have a chair with adequate lumbar support. The back's lumbar region is your spine's lower portion and groove. You can get chairs with adjustable lumbar support that allow you to change the track in the chair to match the height of your spine, which is particularly beneficial for shorter or taller individuals.
Design
If you want an office chair to impress your clients or match the existing design features of your office, you needn't worry. You can get a black leather office chair or opt for softer and lighter colors, like cream, beige, or dark brown.
Recline
If you work long hours at your desk, a recline feature can be particularly beneficial, as it offers you time to rest and recuperate your spine while reducing pressure in your pelvic region.
Tilt Mechanism
The tilt tension knob on a premium leather office chair can also help you to alleviate pressure on your sit bones and provide some relief while you review your work and take a moment to relax. Or, you can use it to support a forward-leaning posture as you focus.
Rolling Wheels
If your desk space is broad, having an executive leather office chair with a heavy-duty nylon wheelbase and durable caster wheels might be helpful. This way, you can maneuver around your office and desk without constantly leaving your seat.
Maintenance
You need to pay attention to the maintenance required on your chair and read the chair instruction manual carefully. If you have opted for a premium leather chair, you must take proper care of the leather with conditioning tools.
FAQs
Here are some questions that people often ask about executive leather office chairs.
What is the Best Leather Office Chair for Me?
The optimal leather office chair for you will have the most ergonomic design to suit your posture and body type. You will also need to choose a desk chair with a design that blends with your existing office decor.
How Should I Sit in an Office Chair?
If you purchase an office chair with an ergonomic design, this doesn't mean that you will automatically be comfortable. Sitting upright with your arms resting on your table and armrests to use your keyboard is the best option. Sitting upright will help reduce hunching, which leads to back pain.
When Sitting, Should My Knees be Higher Than My Hips?
When sitting, your knees should rest level with your hips for optimal posture and comfort throughout the day.
Should I Get a Leather Office Chair?
Leather is the right choice if you want a long-lasting, durable, and comfortable office chair. However, if you want a breathable chair, you must opt for breathable PU leather or choose a mesh office chair instead.
Are Leather Desk Chairs Worth it?
Yes. Treat your leather desk chair right; it will last for a very long time and you'll get a return on your investment.
11 Best Leather Office Chairs
We have provided some excellent lumbar support options below to help you hunt for the perfect leather chair!
Bacia Executive Leather Chair
If you're going for an elegant and old-fashioned look in your office, the Bacia Executive Leather Office Chair is an excellent choice. It has a 360-degree swivel and is a rolling chair. The rich dark brown leather is perfect for those looking to get an old-school flair in their office design.
Ivello Guest Chair—Leather
Your guests will need somewhere to sit when they visit your office. The Ivello Guest Leather Chair comes in 4 colors to suit your office and offers armrests and a padded seat cushion. Your guests will be comfortable visiting your office for a meeting or appointment.
Zatto Visitor Chair—Leather
The Zatto Chair features a modern design for your office guest chair, and the PU leather is high quality to stand the test of time. The leather has a ribbed design to add texture, and the chair has a comfortable slight recline to satisfy your guests.
Pasadena Lounge Chair Sand—Leather
If you want a guest chair in your office that makes your guests and visitors feel at home, the Pasadena Lounge Chair is perfect. Your guests can sit and feel relaxed during your meeting. This lounge chair is ideal for a luxurious office design.
Executive High Back Chair—Leather
This Executive High Back Chair is your best bet if you're looking for a highly padded chair. The padded armrests will keep your elbows from becoming imprinted and sore while working at your computer. This desk chair swivels and has wheels, so you can easily navigate your desk and office. The center-tilt tension knob allows you to recline and rest at your desk, which is perfect for busy executives who can't find a moment to take a break.
Zatto High Back Executive Chair—Leather
The Zatto High Back Executive Office Chair is the perfect standard office chair and suits most individuals. Its ergonomic design makes it an ideal choice for your everyday office seating. The waterfall edge and curved backrest support healthy posture and reduce discomfort. Here are the ergonomic support features on offer with this chair
Tension adjustment

Synchro-tilt

Seat height adjustment

Chair tilt lock
Bacia High Executive Leather Chair
This Bacia high-back chair is the perfect statement chair for your office. It has a professional look and feels and comes in brown, white, and black to suit your office. You can recline this chair with the tilt features and maneuver around your office using the wheels and swivel chair features.
Park Avenue High Back Executive Chair 
The Park Avenue High Back Executive Chair is made with high-quality materials with a Leather-look vinyl that repels moisture and resists stains and a wood construction that provides durability and strength. It is designed for ultimate comfort including adjustments with mid-range knee tilt with tension, upright lock, and adjustable seat height. 
This chair has full-scale proportions and advanced, user-friendly controls for those who work long hours, along with a heavy-duty weight capacity, making this chair a great choice for a larger or taller person.
Bedarra Executive Chair Leather With Padded Arms
This executive office chair is made using vinyl, an excellent alternative to leather, and gives the same look and feel. Using the tilt feature, you can reduce the pressure on your sit bones by reclining in the Bedarra Chair. The padded armrests will also prevent discomfort as you work at your desk throughout the day.
Altitude Mid Back Executive Chair Sand—Leather
This Altitude mid back chair has an extreme waterfall seat edge, which makes it perfect for those who struggle with discomfort at the bottom of their legs when sitting for long periods. The sand leather color is softer than your standard office chair and is perfect for softer and lighter office environments. The chair has the following ergonomic support qualities
Tension adjustment

Contoured cushion

Synchro-tilt

Arm height adjustment

Seat height adjustment

Chair tilt lock
Riva High Back Executive Chair Leather
The tuxedo stitching on the Riva High Back executive office chair makes it an excellent choice for those looking for an elegant design. You will experience extreme comfort while working in this desk chair, as the armrests are padded, and the chair has adjustable seat height and tilt to suit your posture. Additionally, the chair is on wheels to support mobility within your office.
Conclusion
A leather office chair is a sound investment. Leather chairs last and can give your office a luxurious aesthetic. Leather chairs come in different colors to suit your office and different shapes and sizes to suit your body type and comfort needs.
Considering buying the best leather office chair? Why not get in touch with us here at Freedman's Office Furniture? We love office design and are always happy to help you make the best choices!