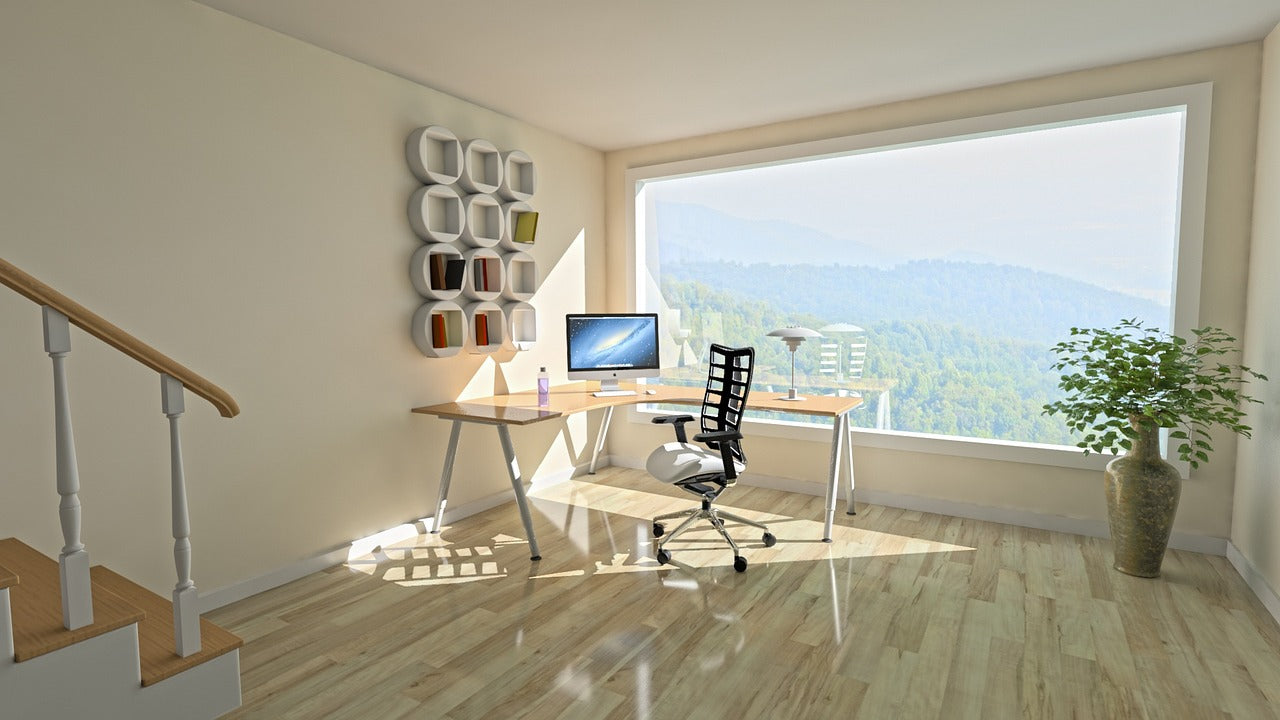 The 10 Best Office Chairs For Short People
Are you a short person and looking to buy an office chair? Check out these office chairs that are great for short people!
As a short person, you must usually choose between not seeing your desk correctly or not having your feet flat on the ground while you work.
However, choosing the right office chair can help solve this issue and provide more comfort for you during your working day—leading to a more productive work session.
Are you looking to buy an office chair for a short person? Keep reading and we'll point you in the right direction!
Why is it so Challenging to Find Office Chairs for Petite People?
If you're a petite person, you might encounter the following issues when trying to find an office chair
Poor visibility

—you might find your desk too high due to the seat depth. If you want to increase visibility and ensure the desk sits at your mid-torso region, instead of your upper chest, you'll need to alter the seat depth to suit your body height.

Poor posture

—if your desk is not at a comfortable height, you will need to raise your arms slightly to use your computer or write at your desk, which can lead to poor posture and discomfort.

No support for the feet or lower body

—when you sit in a chair, your feet anchor you to the floor and provide more stability and support for proper posture. Short people must have the right office chair so that their feet still rest firmly on the floor.
For these reasons, finding the right office chair for petite people is essential. Keep reading as we'll instruct you on how to find the best office chairs for short people.
15 Things to Keep in Mind When Looking for Smaller Office Chairs
Here are some of the best qualities to look for in an office chair when shopping for a short person.
Dimensions
The dimensions of a chair are critical to look at when buying one for short people. You need to know how tall the chair is and how far the base is from the floor.
Headrests
Short people can crane their necks when their seat isn't at the optimal height. For this reason, looking for a chair with ample headrest padding and adjustability can be beneficial.
Footrests
Since many short people will have to choose between seeing their desks and planting their feet on the floor, footrests can be convenient—they allow you to plant your feet and work at a comfortable height without sacrificing comfort and stability.
Back Height and Forward Tilt
Shorter people will need a chair with a shorter back height so that the curves and grooves of the chair do not counteract their spinal positioning. Forward-tilt chairs for short people can be beneficial, as they allow for support when the desk is at chest height.
Backrest
A backrest is an essential feature in chairs for short and taller people. Backrests support your spine for long hours when you're sitting in your chair.
Lumbar Support
Lumbar support helps to keep the lower spine comfortable. Most ergonomic office chairs and executive office chairs offer lumbar support.
Desk Height
If you cannot find a seat depth suitable for your desk height, it might be time to look at another desk that's a more appropriate size for your posture. Then, you'll be able to find a more suitable office chair.
Seat Height
If you want to plant your feet on the ground, you'll need to choose a seat with a perfect height range. An ergonomic office chair will offer an adjustable seat height range for maximum comfort.
Seat Depth
The seat depth is like a little 'booster seat' and enables you to have a taller stance and feel more comfortable working at your desk. An ergonomic chair will usually offer seat depth adjustment, but you'll have to read the description carefully to check for this feature.
Armrests
If your armrests aren't adjustable, they will get in your way and make you feel claustrophobic while you work at your desk. So, look for a chair with either no armrests or adjustable armrests for your comfort.
Arm Width and Height
If your armrests are too wide for you to rest your arms on them comfortably, they will be useless. So, pay careful attention to the arm width and height.
Comfort
You'll need to be comfortable in any office chair you plan to work in. A comfortable office chair will be adjustable and have plenty of padding.
Design
If you want to impress your clients and stakeholders with your office design and layout, you'll need to invest in attractive office furniture. Choosing a stunning chair will go a long way in elevating your space.
Warranty
You don't want to buy an expensive office chair only for it to break within a year. Look for chairs with a warranty designed to last and bring you ROI.
Price Range
Before you begin looking for the best office chairs for short people, you'll need to know your budget. Use your budget to refine your search, and you're bound to find the perfect office chair.
10 Best Office Chairs for Short People
Let's look at the ten best office chairs for short people and why these designs support all-day comfortable working for those who are vertically challenged!
Bedarra
The Bedarra executive office chair has many adjustable features, making it an excellent choice for shorter people. This chair is the best ergonomic office chair if you're looking for a thick padded seat, adjustable lumbar support, tilt, and adjustable armrests. The Bedarra chair's design is your standard desk office chair and is available in black—which goes with almost every office style.
Executive Task Chair Ribbed Back
If you're looking for a wheeled task chair for short people, you can go with the Executive Task Chair with a Ribbed Back. The ribbed back texture adds sophistication to the design, while the office chair has wheels, making it perfect for those with a large work surface to cover while attending to their daily tasks. The chair has an adjustable height but does not offer adjustable armrests.
Villagio
The Villagio ergonomic office chair is the most comfortable for short people. If you want the best office chair in terms of adjustability, the Villagio can offer you adjustable back tilt, adjustable armrests, adjustable seat height, and a curved backrest to promote proper posture.
The mesh backrest is excellent for a short person, as it ensures no extreme curves in the backrest, which could cause discomfort if not in proportion with the body.
This chair can be adapted to your needs perfectly and keeps you comfortable working at your desk for long periods. Consider this chair for your home office or all the desks in your collaborative in-office working environment. The chair comes with a 10-year warranty, so you'll ensure you get your money's worth—and the chair's adjustability makes it suitable for most people.
Horizon Chair Base All Black
This chair lacks external ergonomics, which it makes up for with its perfectly engineered design. This perfect ergonomic chair provides lumbar support without requiring manual intervention. The mesh back and curvature of the chair will support any body shape or type for long hours of comfortable work.
The Horizon Chair for short people has seat height adjustment, a cushioned seat, and an extra broad back to ensure that the chair supports most people's body shapes. Most office chairs require manual intervention for comfort, whereas this mesh office chair does all the work for you.
Pavia
The Pavia ergonomic office chair has adjustable lumbar support, seat height range, and armrests. The flexible features make this one of the few office chairs suitable for short people. This chair comes with a mesh backrest, providing more comfort and malleability, allowing the chair to mold to your body shape.
Mid-back Task Chair
The Mid-back Chair is an excellent choice for a short person. It has an incredible range of adjustable features, a bountiful seat width, a mesh backrest, and a waterfall seat edge to avoid discomfort with long hours of sitting. Here are some of the adjustable features of the Mid-back Chair
Seat angle adjustment

—you can change the backrest angle to suit your natural posture and support your back throughout the workday.

Center tilt

—if you prefer to lean back in your office chair, and take some of the pressure off your pelvic region, you can tilt this chair back fully using the center tilt.

Fully adjustable arms

—you can adjust the components to suit you and even change the angle of the armrests to fit how you work best

Seat glide function

—you can change the distance of the backrest from the chair's seat cushion, allowing you to feel supported if your body doesn't usually reach the backrest in other office chairs.

Seat height adjustment

—you can opt for the minimum seat height on this chair to accommodate your body type and ensure that your feet are resting comfortably on the floor

Seat depth adjustment

—you can adjust the depth of your seat to ensure that it is in perfect alignment with the backrest, allowing for your comfort throughout the day.
Low-back Task Chair
The Low-back Task Chair comes in many different colors and styles. This is a great office chair and suits most body types. The Low-back Task Chair is cushioned, not a mesh chair. The padding is quite thick, providing maximum support throughout the day and avoiding the chair's curvature causing spinal discomfort. The chair has the following adjustable features:
Adjustable lumbar support

Tilt adjustment

Synchronized tilt

Height adjustment
The adjustable seat height range makes this an excellent chair for short people. This option is one of the best office chairs for short people—it perfectly considers their comfort for extended hours of sitting and working.
Vienna
The Vienna mid-back chair is a sound choice for short people. It comes with a cushioned seat and makes a great new office chair for many body types and heights. The seat has adjustable height and a mesh back that allows the chair to mold to the individual's body, rather than the chair's structure becoming uncomfortable. The Vienna chair comes in a high-back option or with faux leather upholstery.
Genie Task Chair
The Genie Task Chair was designed with comfort in mind. The Genie Task Chair has a mesh back, and mesh office chairs are highly comfortable for all body types. The chair's seat is contoured to maximize comfort, and the waterfall edge prevents the chair from digging into one's legs after long hours of sitting.
The chair encourages mobility in the lower and upper portions of the back. It also comes with various ergonomic features to allow for more adaptable use.
Fortuna
The Fortuna chair is an excellent choice for short people and comes with the following ergonomic features to increase comfort
Tension adjustment

Contoured cushion

Synchronized tilting

Arm height adjustment

Adjustable seat depth

Chair tilt lock
A wide variety of adjustable features allows you to change your posture throughout the day—sitting in a stagnant position can easily cause discomfort after a long time.
Conclusion
If you're looking to buy a chair for short people, you need to consider the various features that can help to make a chair more comfortable for short people, including seat height range and ergonomic features. Hopefully, this guide has given you some direction in deciding which chair will best suit you.
At
Freedman's Office Furniture
, we believe in creating comfortable office chair options, inclusive of all body types. If you want to create a more inclusive and sleek working environment for your employees, why not check out our wide range of office chairs?