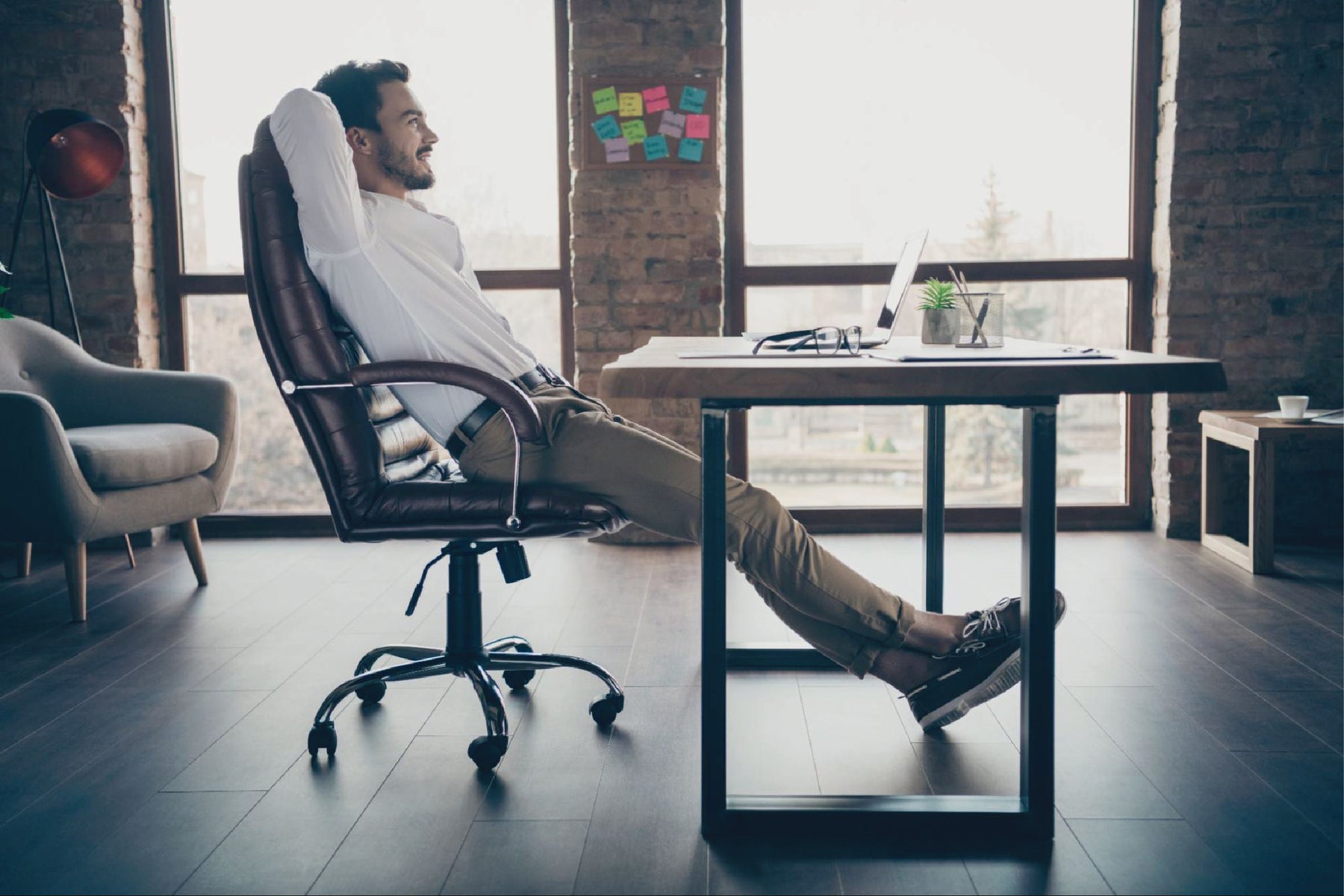 Executive Office Chair vs Task Chair: What Is The Difference?
There are many different types of office chairs to choose from, but the two most common types are the executive office chair and the task chair. But how do you know which one is best suited to your needs?
To encourage productivity, your standard office chairs need to support your back health and comfort level. 
With that in mind, what are the similarities and differences between office chairs and task chairs? And which one is better? Keep reading to find the perfect chair to provide comfort and style for your workspace.
Comparing Task Chairs And Executive Office Chairs Criteria
Let's discuss the criteria to help you understand what you're looking for in an office chair. Below you'll find some primary measures by which you can compare office chairs to find the right fit.
Comfort
When it comes to your office chair, comfort is a top priority. You'll likely sit upright for more than 6 hours in a working day, and an uncomfortable chair quickly affects your productivity.
Ergonomics
Ergonomic chairs support the body's alignment by offering highly adjustable settings. An ergonomic chair provides lumbar support and promotes good posture all day long.
Portability
If a chair is too challenging to move, this can become inconvenient. Heavy or oversized chairs can be challenging to transport, so portability might be an important consideration when choosing between different types of chairs.
Style And Design
The style and design of desk chairs need to be cohesive with the rest of your design choices for your workspace.
Pricing
Setting a budget for the amount of money you can spend on your chair(s) is important. Higher quality materials tend to cost more, so the old adage "you get what you pay for" definitely applies to office furniture as well. Do your research to ensure you're getting a good product for a good price. 
Everything You Need To Know About Task Chairs
The task chair is designed for general office work, with plenty of comfort for sitting for several hours at a time. Task chairs support the spine and provide several adjustable areas to customize the fit.
Features Of A Task Chair
To help you understand more about task chairs, below are some top qualities to look for in a task chair.
Smaller Footprint, More Compact
Task chairs are designed to fit into a more compact office space and have a smaller footprint. Opting for a less bulky chair is ideal if you work in a smaller area, such as a cubicle.
Lightweight Design
A task chair is designed to be maneuverable and lightweight. You'll often find task chairs with a smaller backrest or a mesh backrest, which makes the chair lighter, more breathable,  and easy to transport.
Lumbar Support
Task chairs often come with seat height and depth adjustments. If included, this adjustable feature makes the task chair relatively comfortable for long hours and prevents the lower back from misalignment throughout the day. Some task chairs offer a full back, whereas others only provide mid-back support.
Adjustable Armrests, Tilt, And Height
To ensure your chair suits your natural posture, the task chair has adjustable armrests, chair tilt, and height. Adjustable armrests can be particularly useful for those who sit at a computer for long periods, as it supports the arms and shoulders to prevent shoulder and neck pain.
Breathable Upholstery
As mentioned earlier, some task chairs come with mesh backs, which makes the chair more breathable and less likely to cause your back to sweat throughout the day.
Benefits Of A Task Chair
Below are some of the benefits of a task chair to consider when choosing between an executive office chair vs task chair.
It Supports Productivity By Minimizing Shoulder, Back, And Neck Pain
If you opt for a task chair, you benefit from a supported posture and can minimize shoulder, back, and neck pain. Pain in the spine can be seriously detrimental to productivity and decrease job satisfaction. Providing a comfortable chair for employees can help to prevent unhappy and unproductive workers.
It Allows You To Create A Professional-Looking Environment In The Workplace
A stylish task chair can make your working environment appear more professional and will help establish an elevated feel in your space.
Cons Of A Task Chair
Here are some of the possible negatives for a task chair versus other options.
Task Chairs Are Not As Comfortable As Other Types Of Office Chairs
Task chairs do not always offer lumbar support and seat depth adjustments. The majority of good quality task chairs have high ergonomic features, but not all. 
What You Need To Know About Executive Office Chairs
Below you'll find information on the advantages, disadvantages, and features of executive office chairs to help you decide whether executive chairs are the suitable option for your office.
Features Of An Executive Office Chair
The features of a chair determine how comfortable it is, how much posture support it offers, and how adjustable it is. Here are the main features of an executive office chair.
Padded Seat And Backrest
One of the key ways to distinguish between a task chair vs an executive office chair is the level of padding. Executive chairs have padded backrests and often feature padded armrests for added comfort.
Mid-To-Large Profile
The executive office chair offers a mid-to-large profile, which makes it ideal for those who struggle to feel comfortable in smaller chairs and need more room to spread their legs.
Lumbar Support
Your lower back should feel more supported with executive chairs as they offer full lumbar support and a full backrest to ensure the entire spine is aligned throughout the working day. The executive office chair is ideal for those who work long hours with little time to take breaks and stretch their legs.
Adjustable And Padded Armrests
The executive chair offers adjustable and padded armrests, which better support the elbows and arms while one is working at a computer. Sitting at a computer for long periods can cause elbow discomfort due to pressure, which is why padded armrests are particularly helpful.
Adjustable Seat Height And Tilt
To prevent neck craning and neck pain, the executive chair allows the user to adjust the seat height and tilt, ensuring their screen or task is at eye level, reducing the need to look down and crane the neck.
Benefits Of An Office Chair
Here are some benefits of choosing executive chairs over other chair types. Consider these qualities to determine what you're looking for in a chair for work.
It Encourages Good Posture
The executive chair offers more support than most office seating options. The full backrest supports the user's posture, allowing them to sit upright throughout the day and prevent strain.
It Improves Well-Being By Reducing Neck And Hip Pain
The chair's ergonomics allow the user to find the perfect position for comfort, while the padding prevents pain caused by prolonged pressure on the coccyx and elbows.
It Boosts Productivity In The Workplace
Back, neck, elbow, and shoulder pain caused by prolonged pressure can result in workers becoming uncomfortable and impatient for the end of the work day. If the worker is comfortable, they are more likely to stay focused throughout the entire working day. 
It Is Designed To Support Comfort For Long Hours At Your Desk
The various elements of this chair work together to encourage comfort for long periods. This chair can provide support for over 8 hours of work, which makes it the ideal chair for those with a full-time desk-based job.
Executive chairs can be rated for long hours but not necessarily. A lot of them may seem like it because of their padded features, but not all of them have all the bells and whistles that a full ergonomic task chair will offer. Some higher-end executive chairs are rated for long hours and have excellent quality fabrics, leathers and good ergonomics.
Cons Of An Office Chair
Nothing is without its drawbacks, and here are some possible negatives to keep in mind before purchasing an executive office chair.
Higher Purchase Price
Since the chair has a broad offering of ergonomics and extra padding, it will likely cost more than other office chair types. Also, many executive chairs are made from more expensive materials, such as leather office chairs.
Higher Cost To Maintain
The executive office chair is more expensive since it offers a padded seat and backrest. If the padding becomes worn or the chair's material becomes distressed with overuse, you may need to have the chair reupholstered to maintain its appearance.
Freedman's Executive Office Chair vs Task Chair
Here are some of the key differences between the executive office chairs and task chairs available at Freedman's Office Furniture.
Comfort
Regarding comfort, you will have spinal and lumbar support with both the executive office chair and the task chair. However, the task chair doesn't provide support for long working hours, whereas the executive office chair offers ample comfort for long durations.
Ergonomics
Both the executive office chair and the task chair offer ergonomics; however, they offer varying levels of adjustable lumbar support. Typically, executive office chairs allow for backrest adjustment, seat height adjustment, and armrest adjustment. For instance, the Ivello high-back executive chair offers tension adjustment, contour cushion, synchro-tilt edge, seat height adjustment, and tilt functions.
While a task chair offers some of these ergonomic office chair qualities, it may not have as many ergonomic options and typically has a fixed back.
Portability
Since executive office chairs tend to be larger than task chairs, with more ergonomic chair features, this might make them less portable. So, a task chair will likely be the ideal solution if you're looking for a chair that you can easily transport without much manual effort.
The PAVIA ergonomic task chair is compact and lightweight, making it an ideal choice if you're looking for a portable chair.
Style And Design
For both task and executive chairs, arms come in a variety of styles and shapes, and both can help boost the visual appeal of your office. You will see fixed arms or adjustable arms on both types of chairs. A lot of time the more adjustable arms will be found with task chairs but sometimes they have fixed arms as well.
There are a variety of back coverage options with either chair; for instance, you could opt for a mid-back task chair, or you might opt for a full-back mesh chair, like the Santa Fe high-back mesh managers chair.
Swivel Base
To facilitate maneuverability, 99.9% of executive office chairs and task chairs are placed on 5-star swivel bases, allowing the user to change their body direction without moving the chair. The swivel base can be handy for meetings and moving around for those with large or L-shaped desks.
Pricing
Executive office chairs tend to be pricier than task chairs, but there are different price points for both. Just remember, it might be better to pay a little more for quality instead of having to quickly replace a cheaper chair that doesn't last. 
Which Chair Is Better For You?
Ultimately, the chair you choose depends on your budget, personal preferences, and the design style of your office. There are many well-documented studies showing that office productivity is directly related to the comfort of the employee, which includes an office chair, office desk, and office temperature.  Finding a comfortable chair that offers full spinal support will help you to remain productive for the entire working day without experiencing discomfort due to pressure or poor posture. Browse executive office chair vs task chair to find the right desk chair to suit your office style and comfort needs.
Conclusion Office Chair vs Task Chair
There are many types of office chairs, and choosing which one is best for you can seem overwhelming. Call the experts at Freedman's Office Furniture with any questions! You can even chat with us online. We offer fast shipping and a large selection of top-quality brands made right here in the USA. We love designing and crafting furniture that makes your workday more comfortable and productive!