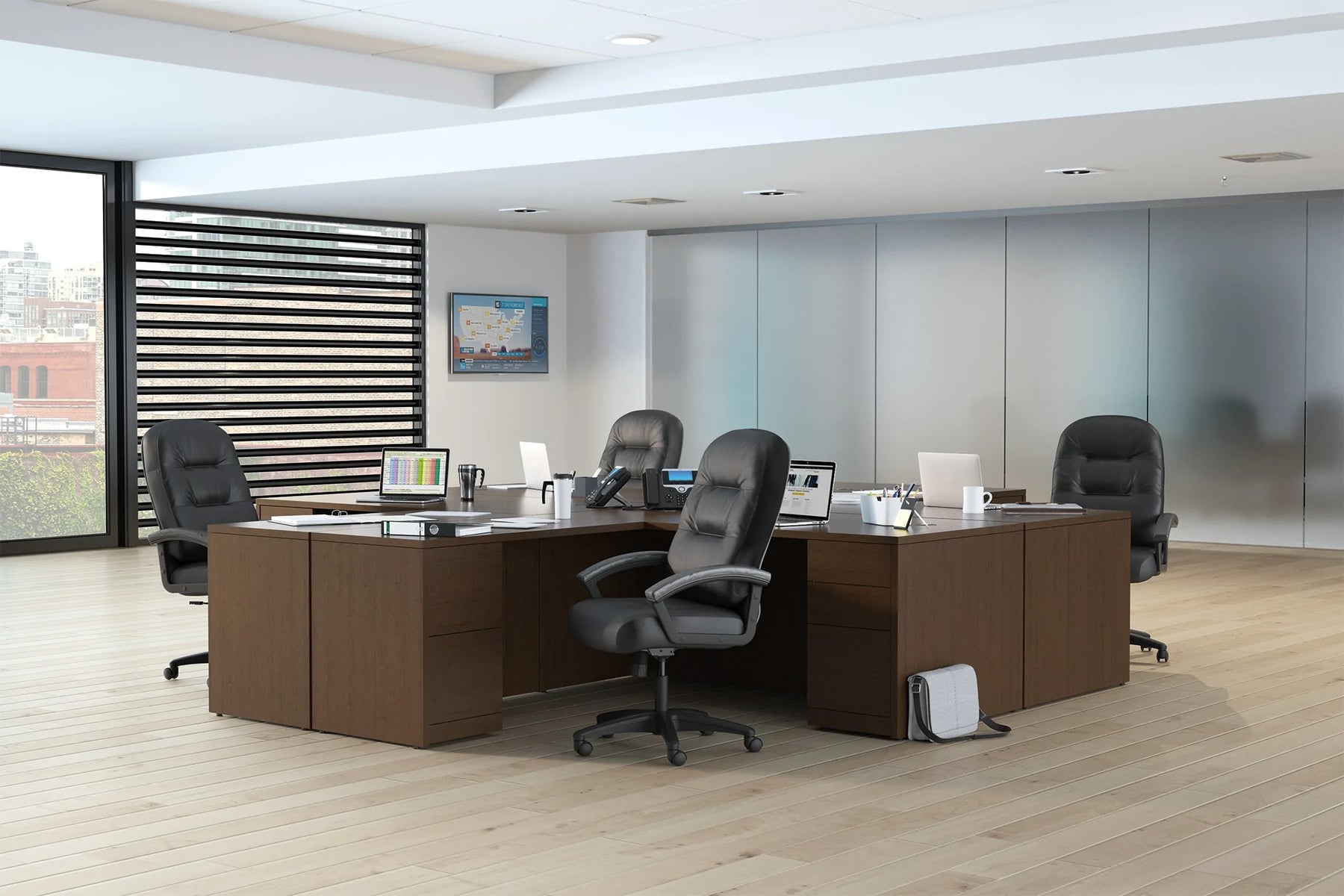 22 Different Types of Office Chairs
When it comes to office furniture, it can take a lot of research to learn what you like and which office chairs will support you best throughout the day.
You need to know how important it is to find the right chair—one that will help support your back health and keep you productive throughout the day.
Keep reading as we'll provide you with all the information you need to determine whether ergonomic chairs, leather office chairs, or mesh chairs are best for your role and your back health.
What is an Office Chair? Origin and History
If you didn't already know, office chairs have a long history. An office chair supports your comfort in a professional setting and gives an air of professionalism with its design and structure.
Traditional office chairs would have been situated in the study of a businessman's home or office, and would typically be constructed of ornamented wood and soft padded seat cushions.
However, in 1849, the inventor Thomas E Warren developed a chair with springs in its cushioned seat and also ensured that the chair could swivel so workers could access all their workspaces without moving their chairs. Velvet upholstery covered the springs on the chair.
Without this invention, the working world would, indeed, be dreary. Since Warren first invented the office chair, it has become more comfortable and more convenient. Keep reading as we explore the new and unique chairs that have emerged since Warren created the first office chair.
Why is it Important to Choose the Right Office Chair?
When considering which office chair to buy, you need to know why an office chair is so important. Below are some of the reasons why an office chair matters so that you can weigh these factors into your decision:
Professionalism

—if your chair is neat and professional looking, this will leave a better impression on your clients and stakeholders. Your office furniture gives your clients a subliminal message about the quality of your business. So, a high-quality, clean-looking, and attractive office chair will leave a better impression on your clients.

Comfort—

you need to sit in your office chair for a whole working day, and sometimes you may work overtime. It helps if you have an office chair that is suitable for providing your back with the necessary support for these extended hours, ensuring that you're adequately comfortable.

Productivity—

have you ever tried to work with a niggling back or neck pain? It's challenging to be productive when your chair is causing stress to your body. So, chairs are crucial for

workplace productivity

.
22 Best Types Of Office Chairs
Let's look at the different types of office chairs and what they can do for your spinal health, productivity, and office design.
Ergonomic Office Chairs
Ergonomic office chairs have a degree of adjustability. They have adjustable seat height, adjustable lumbar support, and adjustable armrests. Adjusting your position and reclining throughout the day can ensure that you feel comfortable. Sitting in a single position is bound to cause stress on your seat bones and lower and upper spine. With ergonomic chairs, you can change your position regularly to ease discomfort.
Drafting Chairs
Sometimes, you are required to work at taller tables to give you a better view of the task that you're working on. For instance, if you were sewing, you would need to stand to arrange your fabrics, which means that you would need a tall table. Drafting chairs allow you to choose a table suitable for standing work and sit down and work at the same table. A drafting chair is preferable to a regular office chair for tall tables, as you may strain your back if the table is too high for your seat.
Leather Office Chairs
Regarding fabrics for your chairs, leather is about as luxurious as it gets. Leather office chairs look expensive and highly durable, so you'll get plenty out of your investment. However, one of the drawbacks of leather chairs is that for bare legs, on hot summer days, a leather chair can lead to uncomfortable noises and sticking, which could be unpleasant.
Mesh Office Chairs
If you live in a hot area, you'll need a breathable fabric for your office chair. If your office setting becomes too hot, mesh office chairs will help reduce back sweat and provide a breathable surface to avoid those dreaded shirt stains. Mesh office chairs are less pricey and are a perfect fit if you buy in bulk. The mesh back also provides a soft surface, with more flexibility than other office chairs, which is excellent for your back. However, one of the drawbacks of mesh office chairs is that the mesh might rip or become torn quickly, meaning that a simple accident could mean that your chair is kaput.
Balance Ball Chairs
One of the best ways to ensure that you're comfortable throughout the working day is to strengthen your back and core. Balance ball chairs are a fun addition to an office setting and consist of an exercise ball with armrests and a backrest. However, the object of the chair is to prevent you from resting and improve your core balance, which, in the long run, can do wonders for your posture and work towards eliminating back pain.
Task or Operator Office Chairs
Task or operator chairs help you focus on the task extensively. The chair supports your posture and spinal health for 4 to 6 hours. This duration is enough to keep you comfortable until your lunch break and then again until the end of the work day. Task chairs sometimes come with wheels and ergonomic features.
Computer Chairs
You'll love the supportive armrests of these chairs if you work at a computer for long hours. Keeping your arms supported while typing is vital to improve your posture and prevent upper back pain. Computer chairs are generally extensively padded and have adjustable height, with wheels at the base and swivel.
Guest Chairs
If you host meetings and have regular guests in your office, you will need comfortable seating for your guests. Guest chairs face your desk, allowing your guest to meet with you and take a comfortable seat. Since your guest could be a client or an important stakeholder, you'll want a comfortable and elegant guest chair that will impress them.
Kneeling Ergonomic Office Chairs
For those who struggle to find a chair that prevents discomfort in the lumbar region, a kneeling ergonomic office chair might be the solution. Kneeling chairs place your knees at a 70-degree angle, rather than the usual seated position. This allows you to rest on your shins slightly by using the shin rests below the chair.
Sitting for long periods can cause inflammation and discomfort in the pelvic region, and this chair removes some of the pressure in that area. The chair is ergonomic because the seat height is adjustable so that your shins can sit comfortably on the rests.
Saddle Chairs
Much like the ergonomic kneeling chairs, these saddle chairs offer reduced pressure in the pelvic area, preventing discomfort. Saddle chairs do not have a padded flat seat. Instead, the seat is curved like a saddle, forcing the legs to disperse over the edges of the seat and allowing more space in the pelvic region. Saddle chairs are an excellent option if you struggle to sit comfortably due to pelvic pain.
Conference Room Chairs
Conference room chairs facilitate meetings in conference rooms. They are typically standard chairs with simple designs. Since many chairs are needed to fill a conference space, conference chairs are relatively simple with few features. However, some offices with a higher budget may opt for swivel chairs to make their meetings go more smoothly. Since sessions generally last less than 2 hours, there is a lessened need to prioritize comfort with this kind of chair.
Heavy-duty Office Chairs
Not all people can sit comfortably in an office chair, and for offices to be more inclusive, they must opt for types of office chairs that are better suited to a plus-sized person. Heavy-duty office chairs are designed to support weights of up to 500 pounds, and they can be an excellent investment for offices looking to be more inclusive. These chairs also have wider seats to offer more room for wider hips and legs.
Armless Chairs
For some tasks, armrests get in the way. For those who need to write all day or perform manual tasks at their desks, armrests can cause discomfort and be quite cumbersome. Armless chairs are a perfect alternative, as they offer more arm room and are more adaptable.
Designer Office Chairs
A luxury office space is necessary for some high-level businesses. Maintaining a pleasant work environment with an attractive office layout, snack bars, and employee benefit schemes is expected of high-performing companies. For these companies, investing in designer office chairs only goes towards demonstrating your professional prowess and success.
Active Sitting Chairs
Companies are usually inclined to consider their employees' physical health in the workplace. When you're sitting for long periods, you're burning fewer calories, which can make your weight loss journey feel more challenging. To add to employee health and wellness schemes, businesses can implement active sitting chairs that promote unconscious movement by separating the legs and spreading the torso.
High-back Office Chairs
To keep the back appropriately stacked, you need to support it. Big and tall chairs offer more support for the upper back, allowing for correct posture. High-back office chairs come in many styles but are generally modern office chairs with a simple and sleek design.
Executive Chairs
Executive chairs support the back by offering a taller back than most other office chairs. An executive chair can promote comfort for over 4 hours of desk work and is a solid staple for office chairs.
Gaming Office Chairs
With gaming chairs, you'll often find a more eclectic and colorful design than other desk chairs. Gaming office chairs are designed to support the back for long periods and they have extremely padded seats and armrests. Typically, gaming chairs come with swivel bases, ergonomic features, and colorful designs and patterns.
Folding Chairs
If you have a small office space, you may need chairs to host large meetings and events, but you may not have the freedom to store these chairs when they're not in use. Folding chairs can easily be folded up and stowed away when not in use, and they are an excellent space-saving solution for smaller offices.
Stacking Chairs
If you want to improve your office's space utilization, you might be interested in stacking chairs. Stacking chairs aren't designed for comfort and are usually perfect for use in large halls for events lasting a few hours at most. Stacking chairs are typically made from plastic, and their legs are structured in a way that makes them stackable.
Chairs for Larger and Taller People
If you are a large or tall person, you will need tall chairs that ensure that your legs can rest comfortably on the floor without hyperextension in the knee. Tall chairs are the perfect solution for larger and taller people, as they provide more legroom and, thus, more comfort.
Chairs for Smaller and Shorter People
Shorter people may need help viewing their desks from a standard office chair. This lack of visibility means that they will also need tall chairs. Although their legs may not reach the ground from a taller chair, they can view their workspace without craning their neck or extending their spine.
Conclusion
If you're looking for a new office chair, you'll need to consider whether you're looking for comfort, style, portability, or affordability. Knowing what you're looking for can help you to choose from the wide variety of office chairs available.
If you're looking for office chairs, why not check out our extensive range here at Freedman's Office Furniture? We love what we do, and we believe that a comfortable executive is a productive executive!