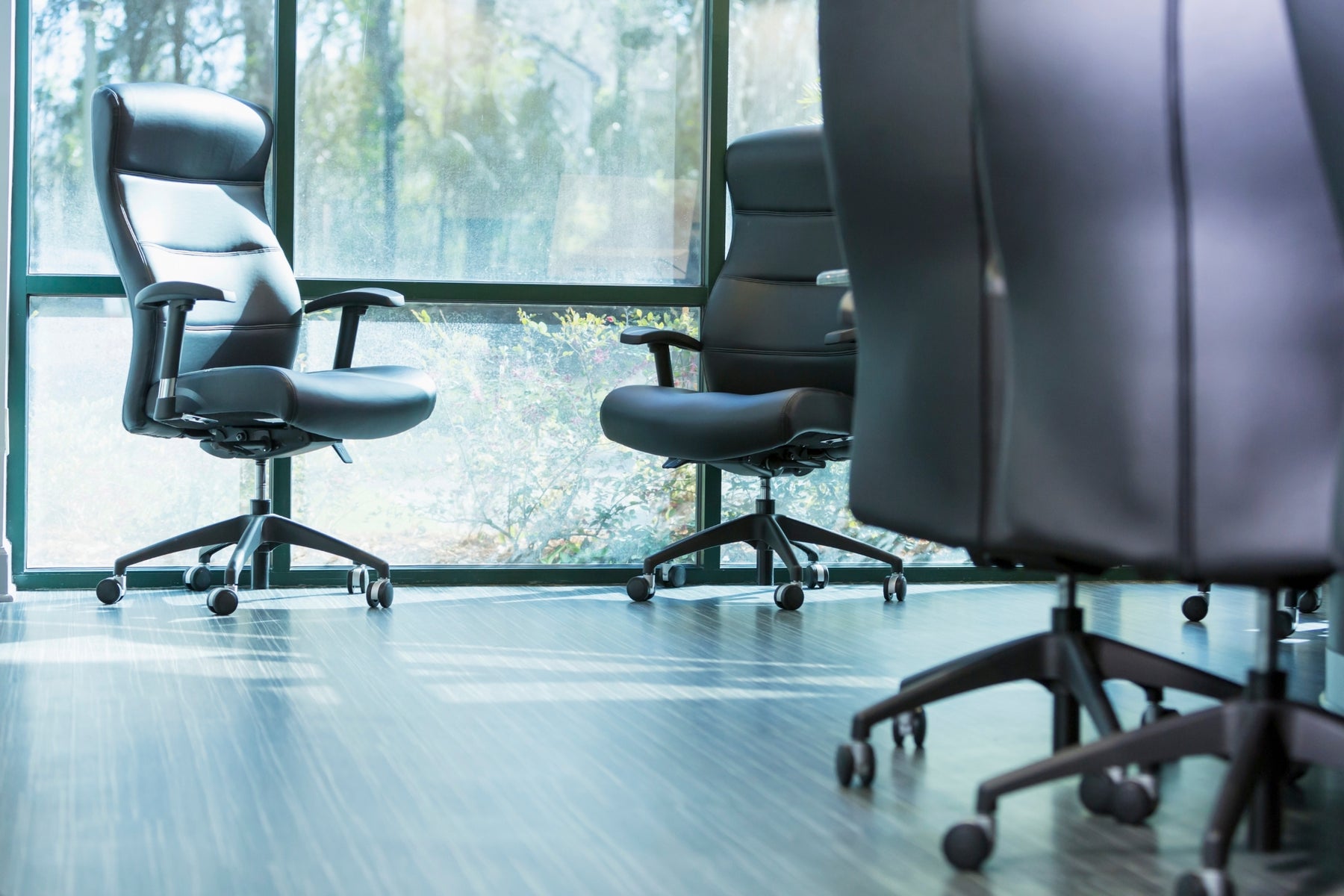 Gaming Chair Vs. Office Chair: Which is Better?
For many years, people have debated whether an office chair or gaming chair is best for long hours of sitting upright—it's time to settle this once and for all!
Although gaming and office chairs are often used interchangeably, they have different purposes. But which one is best for you?
Keep reading as we'll discuss and contrast gaming chairs and office chairs so that you can understand the differences and evaluate which option best suits your needs. If you're looking for your new favorite office chair or gaming chair, check out the options at Freedman's Office Furniture!
Comparing Aesthetics and Design: Gaming Chair Vs Office Chair
If you spend hours sitting at your desk—whether for desk work or gaming—you'll know how much adjustable lumbar support and support pillow features matter in your chair. Both of these features are available with gaming and office chairs—so it can be challenging to know which to purchase.
To help you decide, we have provided the ultimate list of considerations when comparing an executive office chair and a gaming chair. Read below to learn about these two chair types' features, aesthetics, and comparison.
Let's look at what these chairs will look like in your home office, game room, or office setting.
Gaming Chairs
The typical gaming chairs are much more vibrant than the average office chairs. Below is a list of some physical features you can expect from a gaming chair.
An Oversized Backrest With Wings
Since gaming chairs are for extensive use, they offer extra lumbar support with an oversized backrest with wings. The large backrest allows you to switch up how you sit in the chair, and the wings will enable you to lean comfortably to one side or the other while playing video games—you do not need to sit upright all the time in a gaming chair.
3D Armrests
The armrests on a gaming chair will be completely adjustable, allowing you to move them in any direction. Most gaming chairs will have this feature as it allows you to rest your arms while you use your keyboard for PC games or do away with the armrests and sit cross-legged while playing video games with a controller.
A Bucketed Seat
The bucket seat in a gaming chair supports extended use as it allows you to avoid discomfort in your backside. Many gamers tend to game for more than eight hours at a time, so sitting this long will be extremely difficult in any other chair. With the gaming chair, however, the bucket seat creates less pressure on the lower pelvis, facilitating comfort for long periods of sitting.
Cushioned Headrest
The cushioned headrest on gaming chairs differs greatly from office chairs. With an office chair, the worker tends to sit looking down at their computer. A gamer, however, may place their monitor at eye level or higher to reduce 'text neck' and have a more comfortable session. The cushioned headrest, therefore, is an essential feature in any gaming chair.
Up to 180° Recline
The reclined position in gaming chairs is much more generous than your standard office chairs. You can recline up to 180 degrees, allowing you to lie in your chair. This feature will enable you to game as comfortably as if you were sitting on a sofa.
Support Cushions
Additional support pillow features are often built into a gaming chair, including a lumbar support pillow and pillows on the chair's base. Sometimes, in high-quality gaming chairs, these pillows use memory foam to provide excellent softness and comfort.
Raised Seat Edges
The raised lip on your gaming chair will help those with larger thighs avoid experiencing side spills, which can cause discomfort to the back of the thighs. The raised lip will snugly tuck your thighs into position, and you won't experience any pain.
Colorful Design
The most fun part of a gaming chair? The awesome array of colors you can choose from! With a gaming chair, you can choose from many different colorful designs. The patterns, colors, and textures are endless. And you can even get a gaming chair with a theme from your favorite video game!
Built-in Speakers and Vibrations
Some more high-spec gaming chairs help you to become completely immersed in your gaming experience by providing built-in speakers and vibrations. The vibrations will help you feel what's happening in your game, such as the recoil on your weapon or the hit from a rogue wizard! And, the speakers in the seat are your surround-sound system, great for watching movies at your desk, too.
Office Chairs
Let's move on to a more practical solution—the office chair. What's different about the office chair? And what features are available? Let's find out!
Flat Seat Cushions
An office chair supports the body for six to eight hours during the typical working day and is a task chair for completing daily duties. For this reason, an office chair does not sport a bucket seat. Instead, it has flat seat cushions to encourage sitting in an upright position. A flat seat cushion is comfortable enough to prevent pain in your backside after sitting for daily working hours.
Back
You'll want to stay comfortable while you're working. Sitting in an upright position is more conducive to focus. This is why a standard office chair features a mid back, forcing you to stay sitting straight and promoting more focus. There are also high back office chair options.
Padded Backrest
The padded backrest found on an office chair will ensure your back is supported throughout the day, allowing you to sit comfortably in an active position without experiencing strain in your upper or lower back regions.
Wingless Design
Since you won't be lying to the side and working on your next project, there is no need for wings with an office chair. Instead, you get a wingless design so you won't fall asleep at your desk!
Built-in Lumbar Support
Lumbar support is simply a must for office chairs. You need support in your lower back region—no matter how strong your lower back muscles are, you will become injured if you remain upright for too long.
1D Armrests
You will usually use an office chair to work at your computer, write, or host meetings. For this reason, you'll only need 1D armrests and won't need to put them away.
Up to 110° Recline
You won't need to lie down if you're hard at work, that's for sure! But, it can be nice to alleviate some of the strain on your rear and lean back in your chair—which is why office chairs tend to have an up to 110-degree recline.
Minimalist Design
Office chairs must look appropriate for a professional setting, so you won't find many themed ones hanging around. You can, of course, find elegant, chic, and colorful types of office chairs with minimalist designs to suit the atmosphere of your office environment.
Contrasting the Purpose of Gaming Chairs and Office Chairs
Let's look at what you'll find each type of chair best suited for!
Gaming Chairs are Designed for Recreation
Gaming chairs feature a host of extras designed to make you more comfortable, improve your gaming experience, and allow you to lie back and game to your heart's content.
Office Chairs are Designed for Productivity
When you choose an office chair, you won't fall asleep at your desk. You'll get all the benefits of increased focus and the bonus of a sleek, professional-looking chair to create a sophisticated look in your office.
Comparing the Ergonomics of a Gaming Chair and an Office Chair
Ergonomic features are everything when choosing a comfortable chair—so which is best for finding that perfect position? Office chairs or gaming chairs?
Gaming Chairs Have Adjustable Lumbar, Headrest Support, and More Recline Options
With a gaming chair, you get complete adjustable lumbar support and can recline to a lying position. The headrest support is best suited to those looking upwards toward the monitor, which is more typical in a gaming setup.
Office Chairs Have More Leg And Lumbar Support
The most important thing with an office chair is preventing pain in the legs, buttocks, and spine throughout the workday. Office chairs aren't for reclining and relaxing, but they will keep you comfortable and focused throughout your working day. You can even access office chairs for tall or small people so that your legs aren't overextended in your seat.
Gaming Chair Vs. Office Chair: A Price Comparison
Now, how much is your chair going to cost?
Gaming Chairs Tend to be More Expensive
Gaming chairs offer so many features—you can get rocker gaming chairs or even racing gaming chairs. With all the extra features and built-in technology, gaming chairs will likely cost much more than your standard office chair. Before you fork out for a gaming chair, it's best to consider whether you need one and how often you'll be using it.
You can find Office Chairs for Affordable Prices
An ergonomic office chair, on the other hand, is a more affordable alternative to a gaming chair. You get all of the ergonomic office chairs features that you need, without the gaming extras. If you want a gaming chair on a budget, then an office chair will suffice!
Gaming Chair vs Office Chair: Which is Right for You?
When deciding whether to go for a gaming chair or an office chair, there are a few considerations you should start with
Price

—if you want to stick to your budget, an office chair is an excellent choice. You can work and game from an office chair and enjoy hours of long-lasting comfort.

Features

—do you want to surround sound for your gaming, with built-in speakers, and do you want to lie down while you play? If so, there's more on offer with a gaming chair than an office chair.

Focus

—an office chair is designed for comfort but won't have you feeling sluggish or falling asleep at your desk. A gaming chair might be too comfortable for you to retain focus without falling into a lazy slump.

Aesthetics

—a gaming chair doesn't exactly scream professional. While it might do just fine for your home office, it won't work for an office environment. To create a professional feel in your office, it's best to use an office chair instead.
With all these considerations in mind, it's time to choose—only you know what's best for your needs!
Takeaways
At first glance, gaming, and office chairs are relatively similar—they're both ergonomic chairs. But, the price range and feature offerings differ significantly. There is no right choice regarding your preferred chair, but knowing the features can help you choose the most suitable option.
At Freedman's Office Furniture, we offer high-quality ergonomic office chairs to help make working environments comfortable. Why not check out our collection of sleek and professional office chairs?