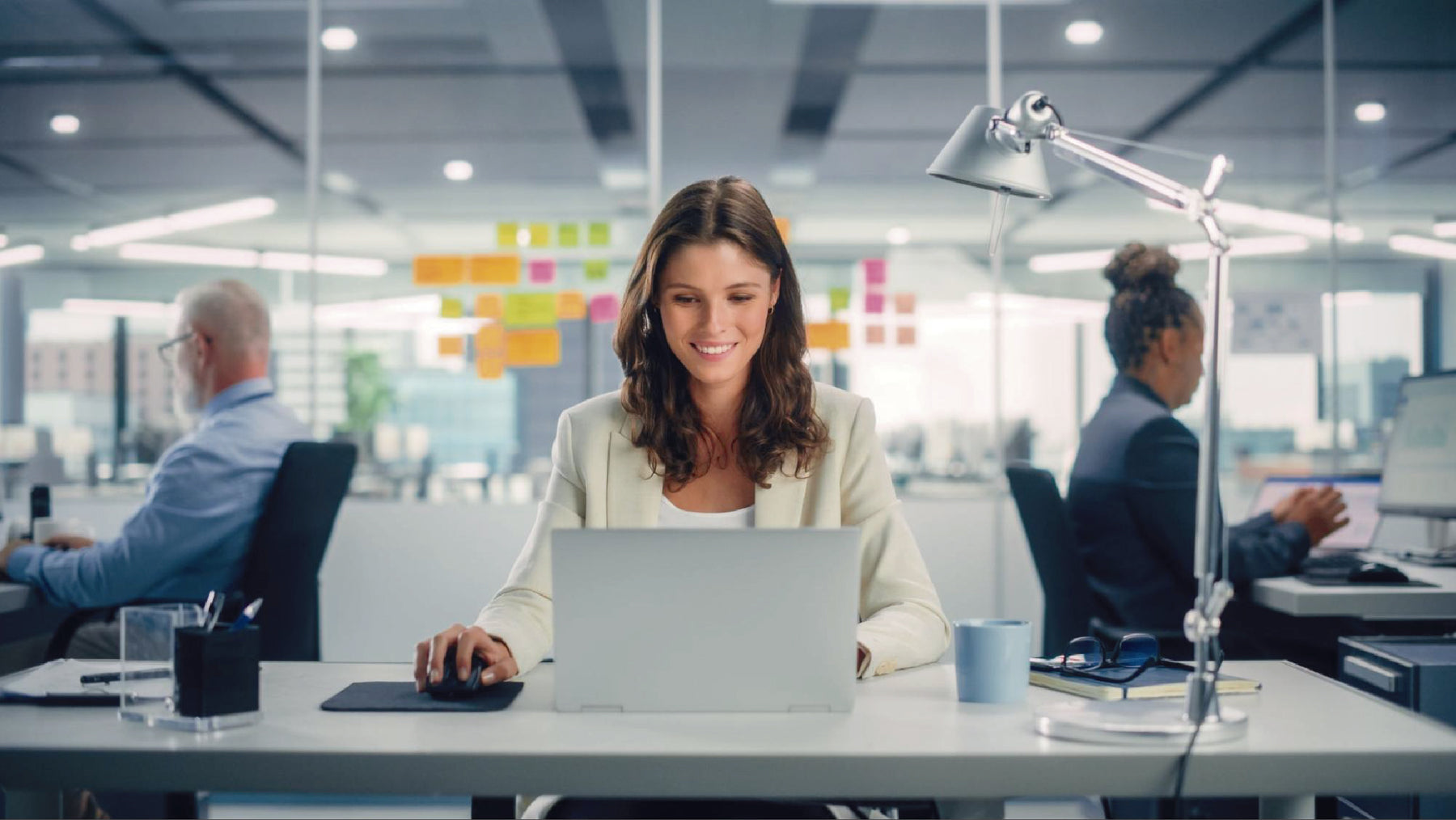 34 Different Types of Desks For Every Type of Office
Each style of desk serves a different purpose, and it can be challenging to know which kind of desk is best for your office. Do you need an executive desk, a writing desk, or a computer desk? Whatever kind of desk you choose, you will want to ensure that it suits your working style and gives you the most comfort and productivity.
34 Different Types of Desks For Every Type of Office
Keep reading to learn the features and benefits of 34 different desk types and which one suits you best.
Get to know the most common types of desks for every office, who these desks are best suited for, and the benefits of each desk. Consider which desk is the best fit for your office design.
Computer Desk
Computer desks suit the needs of workers who use a computer to complete the bulk of their work. A computer desk can come with various features that support the use of a computer, including:
Built-in holes for cables

- to help keep your desktop space tidy and cable-free.

Cupboards for monitors

- to conceal monitors, cables, and computer accessories that would otherwise be visible underneath the desk.

Computer stands

- to make computer screens more visible and to prevent neck craning.

This feature is normally sold separately.
Writing Desk 
A writing desk has a flat surface dedicated to supporting handwriting tasks. Writing desks often come with drawer storage space where one can store writing tools such as pens, paper, and other office stationery.
Credenza Desk
A credenza desk is ideal for those with a significant need for storage space. The desk has drawers, cabinets, and often shelves extending above the desk surface. Any storage space above the desktop is a 'hutch'.
Carrel Desk
Typically, you'll find carrel desks where desktop privacy is required, such as in libraries or university study areas. A carrel desk provides private space for working on a laptop, writing, or reading and has partitions placed at the edges to separate your desk from your partner's desk.
Trestle Desk
A trestle desk is a desk that has only two legs instead of four. The desk is designed this way so that you can dismantle it easily. A trestle desk is ideal for multiple people and would make an excellent choice for those looking for an art or design desktop space.
Lap Desk
A lap desk is perfect for those with disabilities or those who like to work from a comfortable seat like a sofa or bed. The lap desk folds out like a breakfast-in-bed tray, creating an elevated desk space in your lap. If you have a condition that makes it difficult to sit comfortably at a desk all day, then a lap desk is the ideal solution.
Dual-sided Desk
A dual-sided desk is ideal for collaborative workspaces. It consists of two desks attached, sometimes sharing legs. If you need to save space or facilitate communication throughout the working day, then a dual-sided desk is the ideal solution.
Executive Desk
An executive desk supports the daily responsibilities of an executive. The executive desk often has significant storage space and file drawers, and therefore inhabits a larger footprint. Executive desks are similar to pedestal desks; only they take up much more space.
Standing Desk
A standing desk facilitates working while in a vertical position. Standing desks are often adjustable so you can work at the optimal level for height. You have options of sitting or standing with a standing desk. Working while standing can help keep your energy levels high and avoid lower back pain after a long work day.
Corner Desk
A corner desk, as its name suggests, is designed to fit into the corner of a room. Corner desks can be excellent space-saving solutions and provide more space on either side of the user to place coffee, documents, and work accessories. A corner desk is different from an L-shaped desk as it does not have a square edge and instead has a corner piece that provides more comfort for the user when seated facing the corner.
Secretary Desk
A secretary desk is one of the most versatile pieces of furniture and is the 'swiss army knife of desks. A secretary's desk takes the shape of a cabinet, with a pull-down shelf that acts as a desktop space. A secretary's desk folds away when you don't need it, blending with the decor and hiding your untidy workspace. If you need to save space and want a multi-functional piece of furniture, the secretary desk is an ideal option.
Roll-Top Desk
A roll-top desk is another foldaway-style desk ideal for a home office. If your desk is often untidy, you can simply roll down the roll-top desk to conceal the documents and files. If you work from home, this desk can help improve your ability to switch off and disconnect from work after a long day.
Treadmill Desk
The treadmill desk is the perfect solution for those trying to stay active and fit. By opting for a treadmill desk, you can become the ultimate multitasker and burn off calories while you work. The desk is like a conventional treadmill, with a workstation built with operational controls.
Floating Desk
A floating desk is a desk that doesn't have any legs. Instead, it is attached to the wall, often with hinges that allow it to fold away when not used. A floating desk is an ideal space-saving solution and is excellent for creating a multifunctional space.
Butler's Desk
A butler's desk is used to store and edit documents and files. It takes the shape of a traditional set of drawers; only the top shelf folds down, displaying file storage space and providing a ledge for writing. This desk isn't suitable as a primary workstation desk, but as a supplemental surface for completing administrative tasks.
Armoire Desk
If you're looking to incorporate a desk into your room without looking like a desk, armoire desks are the best way to conceal a desk.
Telephone Desk
A telephone desk is typically an antique desk/table that provides enough space for an old-school telephone and a place to write notes. It looks like a small end table, only taller, and sometimes with a chair attached. 
Vanity Desk
A vanity desk is a multifunctional furniture item that can be used as a dressing table or desk, often with a small bench or stool. A vanity adds flexibility to your furniture if you have a beauty or makeup salon. 
L-Shaped Desk
If you need to fit a desk into a corner, then an L-shaped desk is the perfect fit. You can use half of your L-shaped desk as a computer desk and the other half as a writing desk. The beauty of an L-shaped desk is that it provides two separate spaces, allowing you to allocate space for the tasks you must handle in the day.
Lectern Desk
A lectern desk facilitates reading and is also perfect for giving speeches. It can be a tall lectern desk, allowing for giving lectures while standing, or it can be shorter for reading tasks. The work surface of a lectern desk is slanted, allowing you to easily rest your reading materials without craning your neck or holding the reading materials with your hands.
Ladder Desk
A ladder desk is a modern design desk built into a ladder to create a hybrid desk and shelving unit. The ladder desk is stylish and ideal for a small home office because of its small footprint. If you need to shelve books and stationery, the shelving in a ladder desk will come in handy.
Kitchen Desk
A kitchen desk is a great way to maximize your space and gives you a great place to pay bills or work remotely. You can opt for a kitchen desk where you would usually allocate space for a dry bar.
Workstation Desk
A workstation desk is ideal for an open-plan or communal office space. It allows you to place many desks in one area, and the dividers between desks provide an element of privacy.
Circular Desk
A circular desk is one of the most social desk designs and facilitates collaboration. Many workers can sit around a circular desk with enough space to work while at the same time communicating directly with others at the table.
Peninsula Desk
A peninsula desk is attached to a return with drawers from the middle of the shelving unit. A peninsula desk might be the solution if you have excessive storage needs or are struggling to fit both a desk and a shelving unit in your office space.
Murphy Desk
A murphy desk is a pull-down desk attached to the wall with hinges. You can fold it up to the wall when you're done. This is an excellent solution for remote workers without much space in an office.
Wood Desk
A wood desk is the most traditional form of desk. It can create a warm, traditional feel in your office, and wood is a robust material that will last. However, be aware that a wooden desk is susceptible to scratches or water damage, but can also be refinished to look like new.
Metal Desk
A metal desk is another durable option for your office desks and will withstand the test of time. However, metal can become cold in a cold environment, so ensure your office space is well-heated if you opt for a metal desk.
Gaming Desk
A gaming desk is for recreational gaming activities, and these types of desks usually have adjustable height options and provide space for monitors, consoles, speakers, and gaming accessories.
Bench System Desk
A bench system desk is perfect for creating a collaborative workspace. It is an extra-long desk that facilitates the addition of several monitors and chairs, allowing many employees to work at a single desk.
Wave Desk
With a wave desk, the desktop has a curved front so that it is deeper on one end than the other. This allows a user's body to fit in for a more ergonomic and contemporary desktop computer space and provides more support for the dominant hand.
U-Shaped Desk
A U-shaped desk combines the features of a desk, a bridge, and a credenza to provide you with a wrap-around workspace. The bridge connects the front desk to the back of the desk, which comprises a shelving or cabinet unit. This desk is common for high-level executives with significant space requirements, or anyone who wants a professional atmosphere in their office.
Bow-Front Desk
A bow-front desk has a curved edge that hangs over the user, allowing for more writing space. This is an ideal desktop computer workstation, especially for those that need to make notes while using the computer.
Reception Desk
A reception desk is a desk that facilitates communication with visitors and has enough space for desktop computers and a sign-in sheet. The reception desk normally is multi-level, which gives the receptionist privacy while still allowing interaction with office guests.
Essential Questions To Ask When Finding The Right Desk
To find the perfect desk for your office, you'll need to know what materials to opt for and which desk would most suit your needs. This section will answer the top questions when finding a suitable office desk.
What Type Of Wood Is Used In Desks?
Here are some of your choices when it comes to wooden desks:
Laminate

- laminate is made of synthetic materials that give the appearance of wood without the limitations of wood. Laminate is very durable and much more affordable, but make sure that you buy from a quality manufacturer.

Freedman's desks

 

are made from round, solid core laminate that is placed over certified sustainable hardwoods sourced from North American forests.

Solid natural wood

- you can choose from cherry, maple, oak, mahogany, and others for office desks. It is better to choose hardwoods for better durability and keep in mind that natural wood can be more expensive, very heavy,  and difficult to maintain.

Wood veneer

- a thin layer of real wood that is glued on top of a cheaper wood or MDF board. Wood veneer has many of the characteristics of solid wood, including beauty, longevity, and refinishing options. It is lighter than solid wood, and less expensive, but is easily damaged by liquid and scratches easily.
What Type Of Metal Is Used In Desks?
The type of metal you choose for your desks ultimately depends on the style and feel you're looking for. You can select copper, iron, steel, brass, and aluminum, and there are also many types of finishes.
Antiqued

- This metal is tarnished to provide more texture and create a rustic feel.

Brushed

- This desk finish is ideal for creating a rustic or industrial feel. The metal is brushed with a matte finish paint to create texture and give the metal a distressed look.

Polished

- this finish is polished to give a shiny surface like a mirror. This finish creates a sleek and modern look but can be challenging to keep clean and fingerprints off.

Satin

- this type of desk finish is neither matte nor shiny but something in the middle.
Each finish suits a specific decor style, so it's important to have a cohesive design to make your office space calm and productive.
What is the Best Location For My Desk?
If you want to place your desk in the optimal position, look for a natural light source. Natural light significantly impacts productivity and helps one feel more alert and energetic throughout the day. It will also provide a great place to participate in video meetings so you can avoid looking like you're sitting in a dark dungeon. If you tend to get distracted easily by what's going on outside, you might want to place your desk perpendicular to a window or to have your back to the window.
Natural light

Quiet

Privacy (unless the desk is for a collaborative office environment)

Temperature control
Having your desk in a place with these qualities will help to ensure you're comfortable and productive at your new desk.
How Do I Plan To Use My Desks?
Understanding the main purpose of your desks helps you determine which types of desks best match your business goals. For example, will your desk need minimal space for just a laptop, or does it need room for a monitor, printer, keyboard, etc.? Will it be used for collaboration between team members, or for individual creative efforts that require peace and quiet? Answering these important questions will help you visualize the optimal office space.
What Are The Smallest Desks?
The smallest desks are telephone desks, lectern desks, lap desks, and floating desks. Opting for one of these desk types will suit your needs and helps if you're working with minimal space.
What Are The Biggest Desks? 
The most oversized desks are bench-system desks, executive desks, reception desks, and credenza desks. If you're looking to save space, these desks won't suit your needs. However, opting for an imposing desk can help elevate your area if you're a high-powered executive looking for an impressive desk.
What Are The Differences Between Executive And Computer Desks?
A computer desk is traditionally smaller than an executive desk. An executive desk is usually designed to support client-facing meetings and proves effective for executives needing a lot of desk space.
What Are The Differences Between Computer And Writing Desks?
The key differences between computer and writing desks are that computer desks often have holes for cables to fit through, and many times a  slide-out keyboard tray and storage. Computer desks are often bulkier than writing desks, making them less suitable for smaller areas.
Conclusion
From standing desks to small computer desks, your options for furnishing your office are limitless. Some desks provide ample storage space, whereas others are space savers. Ultimately, the desk you choose depends on your needs, existing decor, and budget. If you're looking to furnish your home office or furnish your workspace, why not check out the different types of desks or furniture available at Freedman's Office Furniture? We love what we do and can help you find the perfect desk for your space!