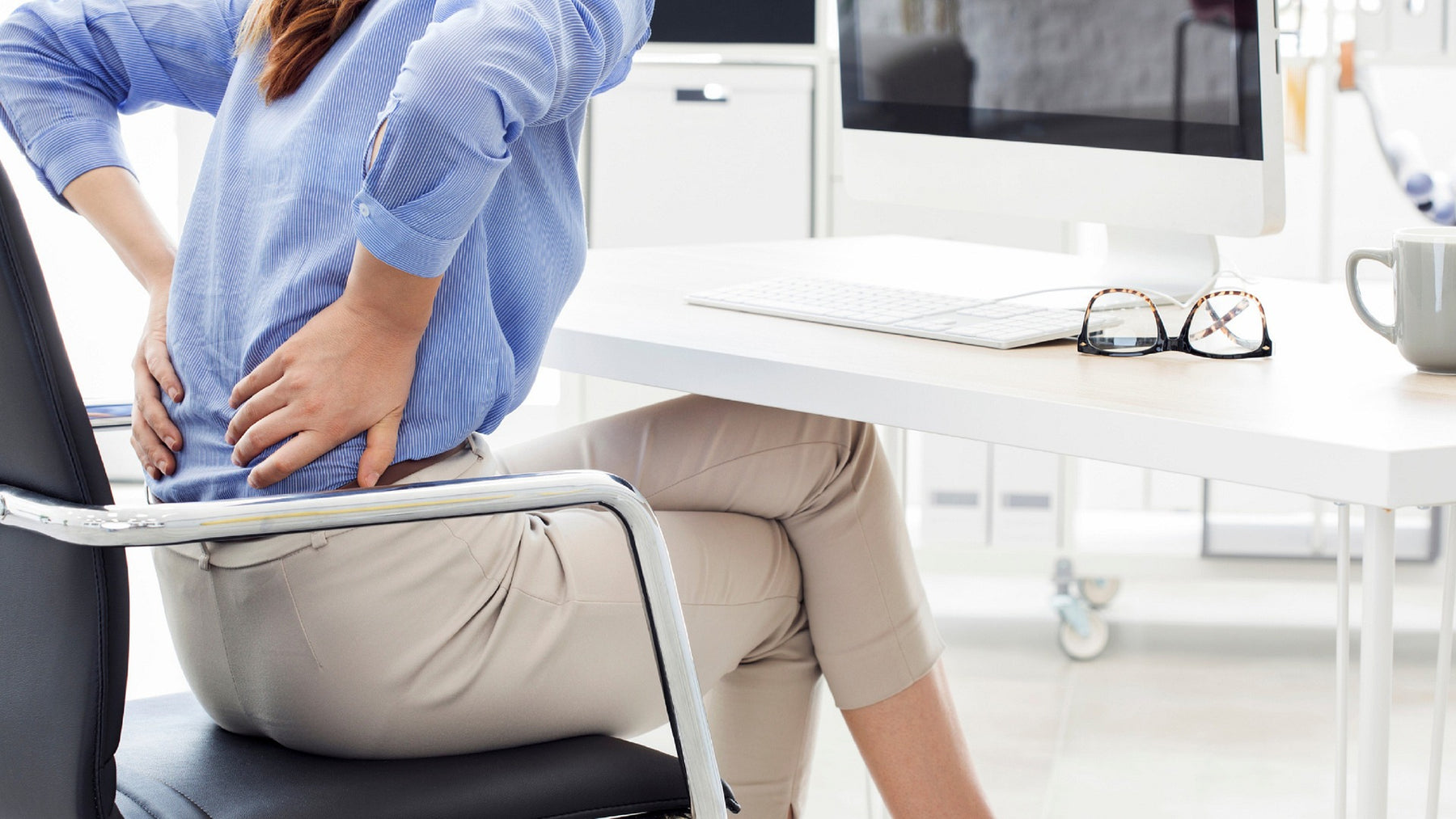 Best Office Chair for Sciatica in 2023
There's nothing worse for sciatica pain than sitting at a desk for long periods. But sitting is essential when you work in an office environment. So, what can you do to make your day-to-day life more manageable?
A comfortable chair for sciatica will help support your back and pelvic region throughout the day to reduce pain and improve your focus. Keep reading as we'll discuss the best office chairs for sciatica in 2023. If you want the perfect office chair for your posture and sciatica, look at our office chair collection!
Sciatica: All you Need to Know
Before discussing which chairs are best for your sciatica pain, we need to understand more about sciatica. Here's some information on sciatica, including what causes it and what life is like when you have sciatica.
What is Sciatica?
Sciatica is a condition that affects the lower back region. The sciatic nerve runs from your lower back right down to your feet. Any irritation or compression in this area leads to the symptoms of sciatica. Here are the symptoms of sciatica
Pain in the leg region

Pain in the lower back

Muscle spasms

Weakness
A herniated disc or dense bone typically causes compression in the sciatic nerve. A herniated disc can happen for various reasons, such as excessive strain or injury.
What is it Like to Live With Sciatica?
Living with sciatica pain is usually a short-term experience. You can generally expect sciatica to only last around six weeks. If your symptoms persist for a few months, you must contact your medical practitioner to investigate the issue.
Lower Back Pain
Since the sciatic nerve runs from your lower back to your feet, you can expect to experience lower back pain when dealing with sciatica. You may feel stiff and sore or experience a pinching sensation in your lower back.
Buttock Pain
Buttock pain, or a slight pinching in the pelvic region, is a common symptom of sciatica pain. You can implement stretches to provide relief for this pain.
Numbness or Tingling in the Legs and Feet
Since nerves are responsible for our ability to feel sensations in our body, nerve compression can lead to numbness, tingling, and other unusual sensations. Compressing your sciatic nerve will lead to a numb or tingly feeling in your legs and feet.
Shooting Pain in the Affected Leg
When dealing with sciatica, you might notice electric shooting pain throughout your affected leg. Sciatica can cause uncomfortable shooting pains that can be managed with medications and prescriptions from your doctor.
Difficulty in Moving the Legs or Feet
In some cases, people with sciatica notice that they struggle to move their legs and feet properly. Any compression in the spinal region can have a severely detrimental effect on our ability to move.
Continuous Pain on One Side of the Buttocks
The buttock pain you experience with sciatica can be sporadic or can last for a longer period, making it difficult to find a comfortable position to rest, work, or stand.
Can Your Office Chair Cause You to Have Sciatica?
Poor office ergonomics can be terrible for your sciatica pain and can even contribute to the development of sciatica. This is because a poor sitting position can cause additional compression in the area, especially when you're working at your desk for long periods.
Factors to Consider When Choosing an Office Chair if You Have Sciatica
Now that you know more about sciatica pain and what causes it, let's talk about solutions. Choosing the right office chair can help reduce your pain after a workday, soothing your sciatica pain.
1. Adjustable Seat Depth
The depth of your seat cushion can contribute to your sciatica pain if you don't adjust it regularly. Adjustable seat depth allows you to change the position of your buttocks regularly to alleviate any pain in the buttocks.
2. Height
The height-adjustable features of a chair are essential to help you avoid hunching, which significantly contributes to both upper and lower back pain. To ensure the back support in your chair works, you need to be able to adjust the height.
3. Armrests
Armrests are also important for preventing hunching. Adjustable armrests can help you avoid strain on your shoulders, which will eventually cause you to lean forward and place strain on your lower back. Look for an ergonomic chair with adjustable height armrests.
4. Weight Capacity
If you are larger or heavier, your chair may become rocky or uneven if it cannot take your weight. You should ensure your chair's weight capacity is suitable for your body. This way, the chair will not tilt or rock when you sit comfortably, ensuring your hips rest appropriately.
5. Tilt Function 
The angle of your hips can cause your sciatica nerve pain to flare up after long hours of sitting. The best office chair for sciatica will have a tilt function, allowing you to change the angle of your hips frequently and prevent flare-ups.
6. Lumbar Support 
Lumbar support is essential for any good executive or task office chair. The midsection of your back needs the most support if you're going to stay in a sitting position upright for the whole workday. With an adjustable lumbar support cushion, you can ensure your seat is tailored to the precise curvature of your spine.
7. Ergonomic Footrest
The position of the legs is significant for sciatica sufferers. An ergonomic footrest allows you to take some pressure off your feet. Keeping your feet flat on the floor might exacerbate any tingling sensations or numbness in the feet, so it's good to have the option of adjusting your foot position.
8. Contoured Waterfall Edge
When you sit comfortably in a chair, your legs can sometimes become uncomfortable due to compression at the edge of the chair's seat. A waterfall seat edge prevents this discomfort by gradually ending the seat cushion. Reducing compression in the spine and legs is especially important for sciatic nerve pain patients.
The Best Ergonomic Chairs for Sciatica
Now you know which features to look for in the best office chairs for sciatica, let's discuss some of your best options. To explore more office chair options, you can find many different styles and ergonomic chairs at Freedman's Office Furniture.
1. Oceanside Ergonomic Task Chair
The Oceanside Ergonomic Task Chair is the best office chair for sciatica, and it comes with a sleek minimalist design. This task chair will suit any office layout and offers the following ergonomic features:
Tension adjustment

Ergonomic seat cushion

Synchro-tilt

Adjustable arm height

Chair tilt lock
The chair has wheels on the bottom for easy maneuvering around your office. This chair is exceptionally comfortable, adaptable, and great for sciatic nerves.
2. Adona Ergonomic Executive Task Chair
The Adona Ergonomic Executive Task Chair is excellent for sciatica. It has a sleek design with mesh back support and would be well-suited to any in-office or home working environment. Here is the ergonomic office chair features it offers:
Tension adjustment

Contoured cushion

Synchro-tilt

Adjustable arm height

Chair tilt lock
The wheels on the bottom of this chair for sciatica make it the perfect addition to a large and open-plan office space, or even a small home office if you need to move your chair to access parts of smaller rooms.
3. Cucamanga Ergonomic Mesh Task Chair
If you're looking to spice up your office space with a bit of color, the Cucamanga Ergonomic Mesh Task Chair is ideal. Here are the adjustable ergonomic features on offer with this desk chair:
Tension adjustment

Contoured cushion

Synchro-tilt

Adjustable arm height

Adjustable seat height
A mesh office chair for sciatica can help you alleviate pressure in the lower back with softer support. The mesh will mold to the shape of your spine to provide more comfort than a traditional office chair.
The best part? There are so many different colors available! From green to black and red, you'll definitely be able to find a color to suit your office design with the Cucamanga.
4. Executive High Back Chair—Leather
If you want a super-soft cushioned office chair with a high back, the Executive High Back Chair is the best office chair for sciatica. The sleek leather design is perfect for the executive who wants to make a strong professional impression on their client while having proper support. Here is the ergonomic office chair features that this desk chair has:
Padded arms

Center tilt

Hard casters

360-degree swivel
This super supportive chair has perfectly comfortable padding to ease sciatic nerve pain throughout the working day.
5. Hercules High Back Chair with Headrest
This Hercules High Back Chair with Headrest is truly the Hercules of office chairs. This chair is so comfortable that it would make an excellent task chair choice. The chair sports a mesh back with a head pillow so you'll be comfortable at your desk. Here are the adjustable ergonomic office chair features the Hercules chair has:
Tilt tension control

Tilt lock

Adjustable back angle

Synchro-tilt

Adjustable seat height

Waterfall seat edge

Adjustable back support

Adjustable seat extension

3D adjustable arms

Adjustable arm height

Swivel arm

Adjustable arm depth

Single lever adjustment

Mobile app

5D pressure relief headrest

Live motion adjustable lumbar support
Good luck thinking of any adjustable features missing from this chair! The mesh back and sleek design make this chair for sciatica perfect for your office, home, or gaming room!
6. Vienna Oslo Mid-back Task Chair
If you're seeking the best office chair for sciatica without an exorbitant price, the Vienna Oslo Mid-back Task Chair is the right choice. This affordable chair is an excellent choice for uniform office seating. Here are the features that make this a good office chair for sciatica patients:
Synchro control mechanism

Adjustable arm height

Mid-back mesh support

Black nylon base

Black carpet casters
This chair comes in plenty of colors to suit your office design and makes the perfect choice if you're filling your office with new chairs, the price is very reasonable.
7. Bedarra Executive Chair with Lumbar Support
The Bedarra chair provides proper support and cushioning for desk work and has a chic and elegant feel for a professional look in your office. Here are the adjustable features on offer with this office chair:
Fixed arms

Spring tilt mechanism

Tilt tension and upright lock

Pneumatic gas lift

275 lb weight capacity
The chair comes in three chic colors—red, black, and gray—to match the rest of your office's color scheme.
8. Bacia Executive Leather Side Chair
Being able to spread your legs, sit comfortably cross-legged, and change your seating position regularly is essential for sciatica patients. With the Bacia chair, you get a wide bucket seat with a mid-back to move your legs around as you please. This is a fashionable chair with leather-look upholstery, and it comes in red and black to suit your office color scheme!
9. Ribbed Back Executive Task Chair
The Ribbed Back Executive Task Chair is perfect for sciatic nerve pain, offering plenty of ergonomic office chair features. It also has a sleek and professional appearance without being too large—making it a perfect standard office chair for the desks in your office. Here are the ergonomic features you gain with the ribbed-back task chair:
Contemporary design

Padded armrests

Spring tilt with tilt tension control

275 lb weight capacity
Takeaway
When you have sciatica, choosing the best office chair for sciatica is crucial. If you have a poorly designed office chair with ergonomics, you have to change your sitting position throughout the day, increasing pain. Check out the options listed above for incredible lumbar support and you'll be able to work pain-free through the entire workday.
We offer comfortable, sleek, and attractive office furniture at Freedman's Office Furniture. Browse our chair collection today to find your next office or home office chair.