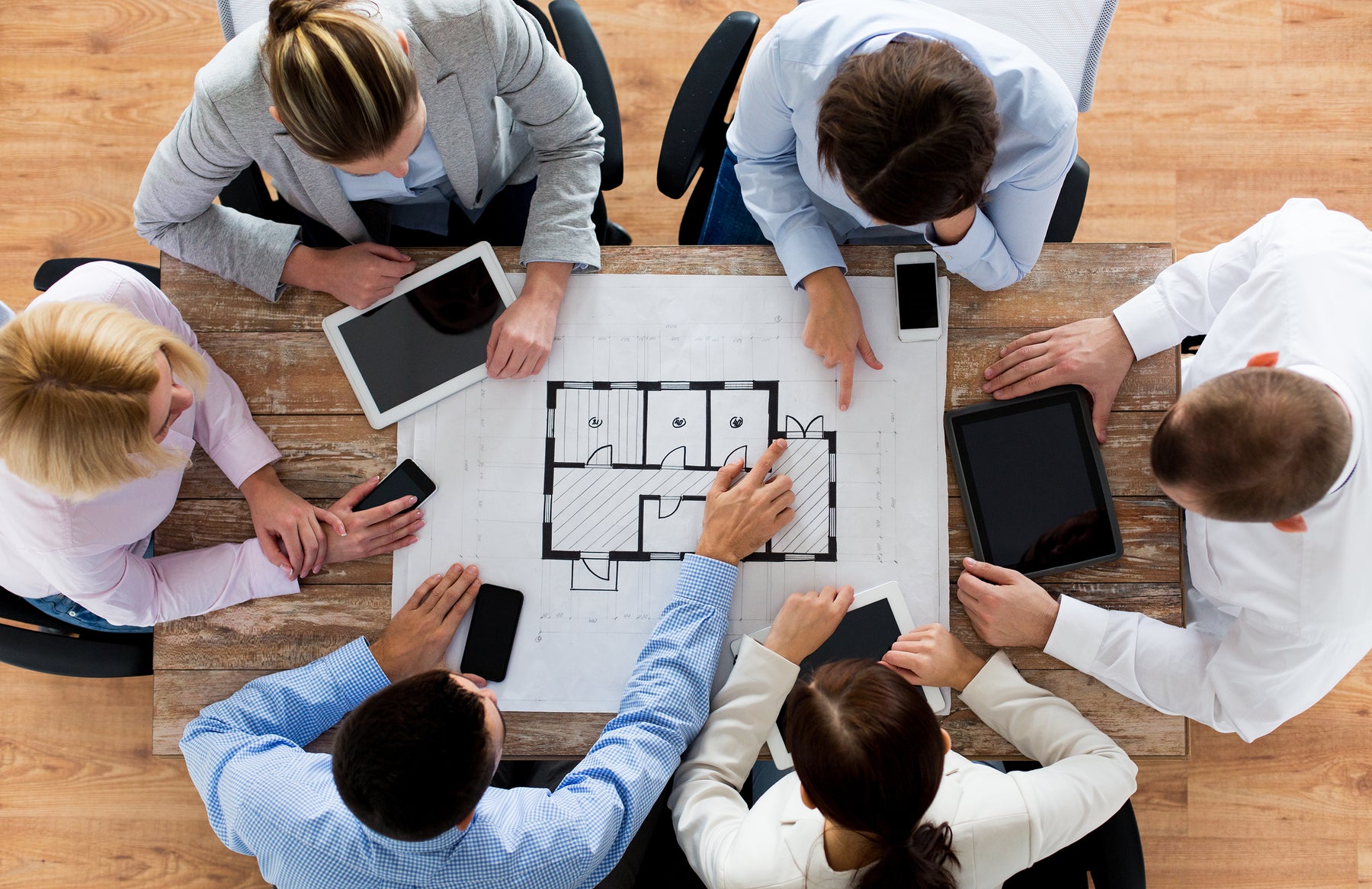 Planning Office Space: A Complete Guide and Checklist
Due to COVID -19 shutdowns worldwide, many businesses adapted by allowing their workers to work fully remotely. Now that the pandemic is subsiding and businesses are returning to a new normal, many offices need to update their workspace to accommodate both full-time and hybrid workers.
Not only is it important to have an aesthetically pleasing office environment, but it is critical to consider employee health and safety as well. A very interesting statistic shows that 30% of employees would move jobs for the opportunity to work from home - which puts more pressure on businesses to create an enticing in-office work environment.
Keep reading if your business is returning to the office and needs to reevaluate your office design. This guide will cover everything you need to know about office space planning in a post-pandemic era and provide you with a checklist to ensure your efforts increase employee satisfaction, productivity, and collaboration.
Why Thoughtful Office Space Planning Is Vital In A Post-Pandemic Era: 5 Reasons
Here are some top reasons why it's valuable to rethink your office layout in light of new work habits and preferences. 
Less Wasted Office Space
With many businesses returning to the office on a hybrid basis, optimizing the efficiency of your space becomes essential. If a significant portion of your office is split into private personal offices, they will only use these rooms for a part of the working week. Streamlining the number of private offices and creating more multi-functional, flexible areas will help you reduce wasted space.
Increased Collaboration, Creativity and Productivity
Employees who visit the office in a hybrid or full-time work model should be encouraged to prioritize collaboration, creativity, and efficiency. More collaborative spaces will allow your teams to communicate more effectively, which will increase productivity.
Increased Safety
Because overcrowding has become a more important health and safety consideration since the pandemic, businesses need to rethink their space planning with social distancing in mind. Placing desks too close together could encourage the spread of germs, and an outbreak in your office would negatively impact productivity levels and employee health.
Promoting Cooperative Culture By Creating More Pleasant Environments
Since your workforce will leave the comfort of their home offices to return to the office, creating a more pleasant environment will make the transition less challenging. You want to make your workplace design enjoyable, leading to more employee satisfaction and collaborative culture.
Sustainability
If there are large areas of your workspace, such as personal offices,  that are used very infrequently, it is an unnecessary expense to heat and cool these areas. Eliminating wasted space can help make your business more sustainable, environmentally friendly, and profitable. 
All You Need To Know About Office Planning
Creating an effective office layout seems simple, but planning a space that addresses the needs of an entire workforce can be very challenging. In this section, you can learn more about the factors involved in office planning, and how to create a space that your employees will love!
What Is Office Space Planning?
Office space planning refers to designing the flow of an office layout and deciding where you will place desks, personal office space, conference rooms, restrooms, break rooms, etc. Adequate office space planning keeps productivity, communication, employee satisfaction, and space optimization in mind. Aesthetics are important as well, especially if your office is visited by customers who will make judgments about your company based on your office space. Office design has been scientifically linked to productivity, so of course, a comfortable work environment is ideal.
What Factors Influence Office Space Planning?
Here are some top considerations you'll need to make when planning your office space design.
Space
When designing your office, you'll need to evaluate how much space you'll need to facilitate optimal daily operations. If your current space is too large, you might consider downsizing. Or, if you plan on scaling your operations, or if renovating your current space will cost too much, you'll need to think about acquiring new office space.
Budget
Before planning your new office space, it's best to have a budget. Your budget should include the cost of furniture, having walls built to divide the area, and any accessories, devices, and renovations you'll need.
Capacity
Before 

purchasing furniture

or making any changes, you need to know your current employee headcount and any plans the business has for expansion. This will allow you to more accurately estimate the office capacity you'll need.

Concept And Style
What style will your office be? Fresh, bright, minimal, modern, earthy, or conservative? It's best to avoid anything too trendy so you're not having to redecorate again shortly. You can find lots of helpful inspirations online! 
Demand
What do your employees want? It's a great idea to enlist input from your team to create a culture of employee satisfaction and let your employees know their voices matter.
Required Features
How many meeting rooms will you need? How much collaborative space will you need? Gather a list of the features you require in your office, including display screens and reception desks, to ensure you don't miss anything in your plans. And don't forget, although collaboration is important it's also just as important to have quiet spaces where your team can work independently with no distractions.
Flexibility And Adaptability
A flexible and adaptable space is best for any future decisions the business may make. So, ensure your rooms are multifunctional and versatile for future business needs.
Essential Questions To Ask When Planning Office Space
Here are some essential questions you should ask when planning your office space design.
How Much Space Do You Need Per Employee?
Since the pandemic, it is recommended that employees social distance by staying six feet apart in the office. You should account for this when allocating space for employees, allowing 6 feet on either side of their seat for social distancing.
How Many Workspaces Do You Need Per Employee?
Employees sometimes need workspaces for different purposes. Consider the needs of your business and your employees and whether they will need more than one workspace.
How Many Conference Rooms Do You Need?
To determine how many meeting rooms you'll need in your office, it's best to look at a typical weekly schedule for group meetings. This will give you a good idea of how many meeting rooms are needed, and the capacity required.
How Many Private And Collaborative Spaces Do You Need?
Certain senior employees will need private spaces to hold one-on-one meetings, whether with internal employees or clients. Consider which senior employees need personal office space. Also, it's best to determine how much collaborative space your employees will need, and how much quiet space for focus and creativity.
How Many Tables, Chairs, Walls, And Other Office Furniture Pieces Do You Need Per Employee And Guest?
Will your employees often need to accommodate guests and/or clients? And, how many desks will you need to provide employees with sufficient office space? Do you need a large waiting room with a receptionist? Or just a small, comfortable area to welcome the occasional guest? It's best to keep these questions in mind when planning your space design.
How To Plan Your Office Space In 8 Steps
Here are 8 steps of office space planning basics to get you started with your office space redesign.
Assess Your Current Office Space
To better understand your office design needs, you must evaluate what's missing in your current setup. Do you need less harsh lighting? More plants and greenery? A water feature? Balance "needs" and "wants" to fit within your budget. You should also determine what works well about your current office space and try to incorporate these strengths into your planning.
Establish Your Office Planning Goals
You can establish your office planning goals using what you've gathered from assessing your current office space. You should write your planning goals into a design brief that shows what style you're aiming for, your needs, and how the design reflects your brand and values.
Establish Your Functional Needs
How would you like your new office space to facilitate your daily operations? Figure out your functional needs, such as communal work environments and conference rooms, and write down your practical needs.
Design Your Rooms And Spaces According To Your Functional Needs
Once you have established your functional needs, you can begin designing your rooms and spaces with these needs in mind. You can try different layouts to find the most suitable arrangement for these spaces until you find the optimal design. Some great web-based design tools will make planning a breeze! Or, employ the help of a specialized office space planner who will listen to your needs and come up with the perfect plan.
Create A Budget
When you've decided on a design for your new office space, you can create a budget by estimating the cost of the elements in your plan. Ensure your budget includes decor, furniture, renovation, and appliance costs - you can get help from your designer for this step.
Engage Employees
You can enlist a team of employees to reduce your workload and delegate tasks. Look for employees with experience assisting in office space planning projects or overseeing renovations. Brief them on your office space planning guidelines. You can also get a second opinion on your designs and get input from people who will use the space daily.
Write Your Plan
Once you have finalized the details of your needs and design vision, you can draw up the final plan. Ensure that your plan lines up with health and safety requirements, and get the advice of a building safety expert before you take any further action.
Monitor
Once your project has begun, you'll need to monitor your contractors' progress and ensure everything adheres to your vision.
The Ultimate Planning Office Space Checklist
If you're looking to create the ultimate office design, look at the ultimate planning office layout checklist below - learn about the best features of a post-pandemic office.
Do You Have A Fantastic Entry?
Commercial office interiors aren't just for making your employees comfortable - sophisticated design can make a strong impression on your clients. The entrance to your office should have comfortable seating and interior design that leaves a lasting impression on your clients and stakeholders. Your reception desk should reflect your brand and be cohesive with the rest of the plan. 
Do You Have Sanitizing Spaces In Your Office?
Incorporating sanitizing stations into your design is essential. If you don't want your office to feel too clinical, you can invest in unique and decorative sanitizing bottles for your sanitizing stations.
How Well-Balanced Is Your Office In Terms Of Private And Collaborative Rooms?
If your office layout is made up of predominantly private rooms, this could make the work environment feel antisocial. As much as your senior staff needs their own space, this shouldn't come at the expense of your collaborative workspace.
Is Your Office Space Hybrid-Friendly?
In a hybrid work model, workers visit the office primarily for collaboration, meetings, and communication. So, you'll need to reflect this in your design with open floor plans and collaborative spaces.
Does Your Office Space Feel Pleasant?
Natural light, open floor plans, art, and accessories can help to make your office layout more welcoming for employees. Investing in decor for your office space and reducing the commercial building feel with more natural light can make your facilities feel more comfortable.
Does Your Office Space Engage Employees?
As much as you need to accommodate your employees' collaboration, you also need to create a space that makes your employees feel more focused. Incorporating quiet areas can help your employees to focus.
Does Your Office Space Boost Productivity, Creativity, And Efficiency?
You need an office space that stimulates productivity, creativity, and efficiency. Opt for comfortable seating, so there are no barriers to productivity and incorporate colors known to boost productivity into your design.
Does Your Office Space Meet Your Budget Requirements?
Your office space shouldn't significantly exceed your budget requirements. There are, however, some unforeseeable issues that might occur during the office redesign that could put your project above budget.
Have You Designed A Plan To Monitor Your Progress?
To ensure your office redesign goes smoothly, it's best to have the plan to monitor your progress, which requires establishing your expectations for a timeline. You and your team of employees can monitor the project progress in line with this plan.
Conclusion
Many businesses are reconsidering their approach to office space since the pandemic, accommodating social distancing guidelines and hybrid working models. If you're looking to rethink your office layout, why not look at the quality office furniture offered here at Freedman's Office Furniture? We love creating furniture that encourages more comfortable environments for a productive workplace.