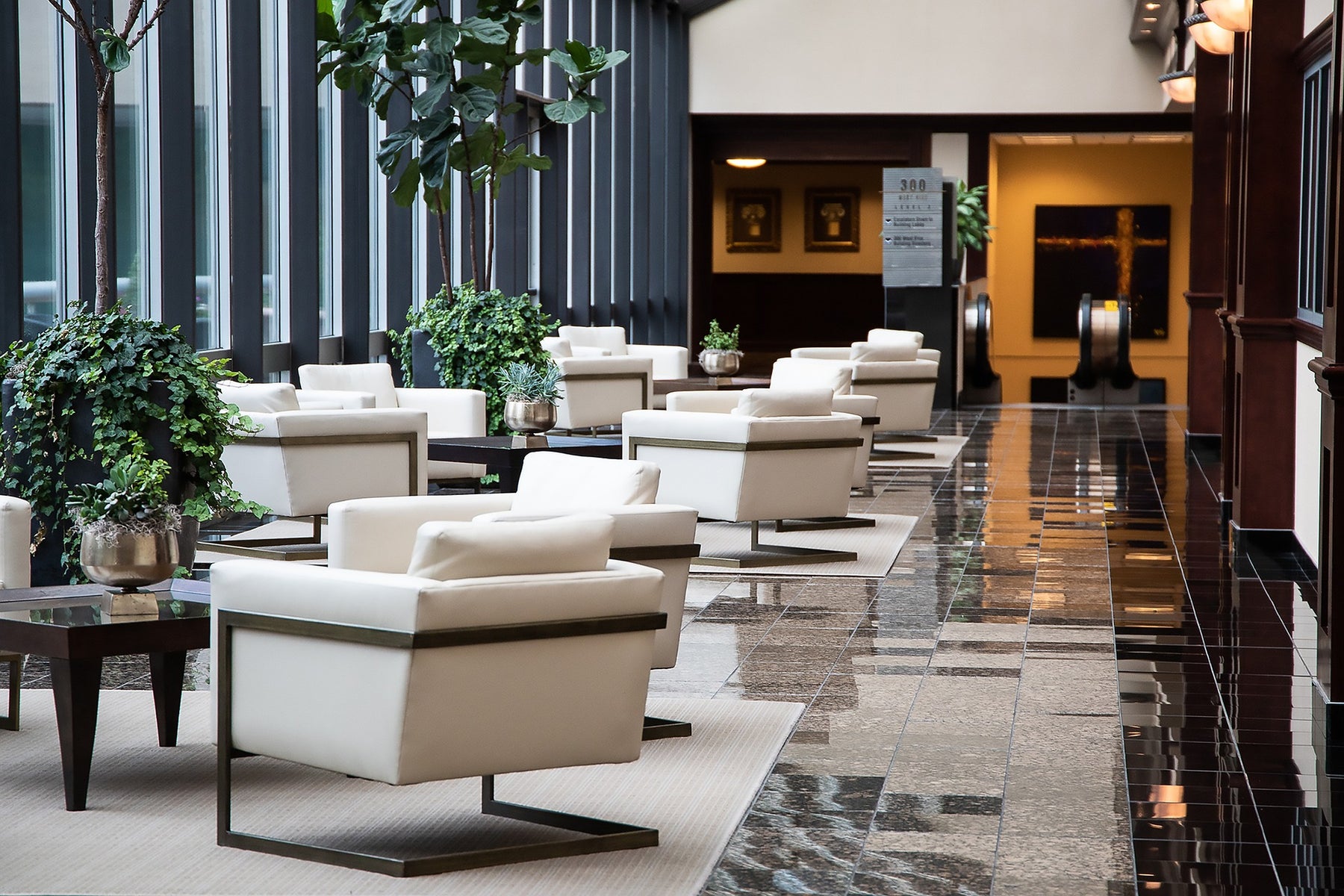 16 Modern Office Design Ideas and Concepts
Did you know that in a survey of over 7000 workers, at least 13% of employees have considered leaving their job due to workplace design?
Design elements in your office space can enhance productivity, boost employee wellness, and create a more pleasant and comfortable working environment.
So, what must you consider when planning your office space design and layout? Keep reading as we explore 16 modern office design ideas and concepts to give you the necessary inspiration. If you're looking for new office furniture, check out the attractive and comfortable furniture at Freedman's Office Furniture!
Unlock The Benefits Of Having Good Interior Design At Your Office
Still trying to figure out why your interior design matters? Check out these benefits of optimizing interior design at your office!
Raises Creativity And Productivity
Creating a cramped, dark office space will likely negatively affect employee wellness and job satisfaction. But, more importantly, it will hurt your employees' creativity and productivity. Creating a comfortable, spacious, and bright office space can make your employees feel more comfortable, at home, and present during their working hours - resulting in improved productivity and creativity. Interestingly, open office designs do not necessarily increase productivity. There have been several studies demonstrating that open office plans make it more difficult to concentrate, are less conducive to productive conversations, and cause significantly more distractions. It may be best to have separate spaces for "collaborative work" and "quiet work". 
Increases Employee Morale And Well-being
Your environment has a significant impact on your mood. Why else would homeowners invest so much time, money, and effort into interior design? Considering ventilation, light exposure, temperature, and furniture isn't just for visual appeal. If your employees work in poorly ventilated, dark, and cold spaces, this will cause mental health decline. An important concept in this area is called "Biophilic Design", which purposefully connects people and nature within our built environments using natural light, landscapes, plants, water, etc. This connection to nature improves mental and physical well-being, making us more productive and happy.
Attracts The Best Human Talent In A Competitive Job Market
The job market is competitive - especially after the hybrid and remote work revolution. Many employees opt for hybrid or remote jobs for better work-life balance. You'll need to make your offices more updated and aesthetically pleasing to ensure that you remain competitive in the recruitment of your employees. You can add special features, natural lighting, quiet workspaces, comfortable furniture, and modern interior design to attract potential recruits and retain your current employees. An updated design might even convince your remote workers to consider switching back to in-office life.
Improves Your Brand
When your office space looks drab, dull, and ugly, how do you think this makes your clients and partners feel about your business? Interior design choices can create a more professional feel for your business, improving your brand and setting a strong impression on those who enter your office space and evaluate your business.
Enhances Customer Experience
The customer experience is important for businesses that work directly with clients and customers. If your offices are outdated, dirty, or simply unattractive, your customers will subconsciously think your business isn't professional or to be taken seriously.
How To Choose The Best Office Design Concept For You
Below are some important considerations when choosing an office design concept that will work for you and your business.
Consider A Collaborative Workspace Before Deciding
Collaborative environments, or "open office designs" have been a popular choice in modern office design. Open-plan office workers report many more distractions and decreased productivity. Many companies have found that a flexible design is much better, which means having some areas for collaboration, and also quiet rooms and spaces for solitary work. 
It is important to consider that your employees are not all the same - there are some who focus better with lots of activity around them, and others that have to have a quiet environment to perform at their optimum. In fact, many hybrid workers say that they avoid the office when they need to complete important work because of all the noise and distractions. So, give your employees what they need! 
Pay Attention To Ergonomic Chairs And Desks
Ergonomic furniture is the best way to ensure all your employees are comfortable working at their desks. If you don't have ergonomic features, your employees won't be able to adjust their seat height or position to that 'just right' setting. Adjustability is essential when equipping your office with furniture - avoiding those aches, strains, and sore backsides.
16 Best Modern Design Ideas
Now that you know what to consider when choosing your new office design, let's look at some inspiration to get your creative juices flowing! Below are some of the best and trendiest modern office design ideas for your new, productivity-supporting office space.
Nature-Inspired Office
Plants and natural light are some of the best assets to make your office space feel fresh, open, and natural with a biophilic design. Plants are known to boost productivity, provide mental health benefits and offer a supply of fresh oxygen in the workplace. They can also create a fashionable, earthy feel for your office! Contemporary office design typically incorporates plant walls, potted plants, and hanging plants to create a stylish, nature-inspired office space. Water features such as small waterfalls, fountains, or fish tanks can be used to incorporate natural elements as well. Consider using wooden furniture for your office to enhance the natural feel.
Colorful Modern Office Space
The colors you choose for your office space matter more than you think! Choosing particular colors for your modern office design will help you to stimulate productivity. For instance, lighter, fresher colors promote mental clarity throughout the day. Suppose you're going for a darker, more rustic feel in your office. In that case, you must balance the dark colors with some warm and bright colors to ensure your office isn't oppressively dark - which can make your employees feel sleepy, sluggish, and less productive.
Activity-Based Working
Activity-based working office design allows your employees to work in designated zones that support the particular activity they are engaged in. For instance, if your employees need a zone for collaboration or an area for focused computer work, you can separate these environments. This way, your employees can change their working environment based on the tasks they are performing.
Adaptable Modern-Office Design
An adaptable, flexible modern office design allows businesses to create a multifunctional space. The space can include sofas for comfortable, creative work, long tables for collaborative working, and even individual desks for increased focus. Creating a multifunctional space gives your employees more autonomy on how they would like to work throughout the day.
Workspace With Noise Reduction
A quiet office environment is a productive one. If your employees become distracted by loud noises in open spaces, it could take up to 20 minutes to regain complete focus. Many modern offices use acoustic panels for noise reduction in their open spaces, ensuring the contemporary office look and increased convenience of collaborative space does not come at the cost of focus.
Scandinavian-Style Home Office
Whether planning interior design for an office job or a home office environment, you can go for a Scandinavian-style design. The Scandinavian office design is light and open, with a minimalistic feel. It typically includes white walls, exposed brick, light wood, and statement industrial furniture. The minimalistic design is highly sophisticated and doesn't require much effort!
Glass Doors And Walls
Glass walls and doors are an excellent way to maximize the amount of natural light in your office space. Modern office design trends emphasize light, which creates more alert employees and a more refreshing environment. To get a modern office look, consider removing some of the walls in your office and replacing them with glass walls. Alternatively, install glass doors to ensure natural light can travel throughout the space.
Modular Design
Modular office design is created to divide office spaces into sections. You can use different color schemes, partition walls, or other creative design elements to separate these sections. You can choose different work environments in each area, allocated to different teams, work methods, or furniture types. Creating modular design allows you to add more structure to your office space - creating a more fun and unique layout.
Home-Like Office
Implementing a home-like design is one of the best ways to make employees feel more comfortable in the office. To create a home-like office design, you can have your employees decorate their offices with items they like best, and you can incorporate more cozy decor items.
Hybrid And Flexible Workspace
Hybrid office design incorporates more flexible workspaces to ensure employees can access the resources they need. By creating flexible and multifunctional spaces, you can customize your office to accommodate your hybrid work model without worrying about employees having access to unnecessary in-office resources. Adaptable and multipurpose spaces are the foundation of the hybrid workplace design movement.
Community-Inspired Office
Community-inspired office spaces are more reflective of hotel lobbies, communal areas, and comfortable cafe environments. A community-inspired office has a more relaxed atmosphere, with sofa seating options, booths, and personal desks. The community-inspired office creates a more open, independent feel to the work environment, allowing employees to manage their day and feel like they are working in a cafe or public communal space.
Industrial Workspace
In an industrial workspace, the design is typically slightly darker and comfortable with exposed brick walls. Many times a converted warehouse or factory is used to design industrial spaces featuring antique industrial furniture, plants, exposed pipes, Edison bulb light features, and statement black walls. An industrial workspace can tend to feel a little cold and dark,  so you'll need to maximize the influx of natural light and incorporate lighter colors in some design elements. Most modern workers will feel comfortable and at home in this industrial and urban design!
Neurodiverse And Inclusive Spaces
As workplaces strive to be more inclusive, they must focus on providing spaces that accommodate those with disabilities and their neurodivergent employees. Noise reduction is an excellent way for companies to reduce overstimulation due to sound and social spaces in the office for frequent breaks. Many modern offices are also developing chic, trendy ways to incorporate inclusive design elements like handrails, ramps, and lifts into their spaces.
Outdoor Offices
What better way to freshen up your office design than to provide some outdoor offices? Humans need fresh air, water, and sunlight to feel at their best mentally and physically. By including outdoor offices in your design, you can give your employees a breath of fresh air (literally) and ensure they get their Vitamin D - which is extremely important for focus!
Workspaces With Rooms To Relax
Your office design should be more than just oriented around work. Your employees need a work-life balance involving socializing with their friends in the office. Relaxing and social rooms will allow your employees to take a break when they get in a rut, enjoy a pleasant conversation with their coworkers, listen to soothing music, and take a few deep breaths. Breakroom time is just as crucial as desk time.
Feng Shui-Inspired Office
What's different about a Feng Shui office design? Here are some of the elements included in Feng Shui office design:
Natural elements (water fountains, plants, candles).

Essential oil diffusers (to balance the mood and feel of the space).

Comfortable seating

and desks.

Clutter-free desks.

Positioning of chairs so that no chair has its back to the door.
With these design elements, you can optimize the feel and mood of your space.
Other Aspects To Consider
Let's explore some focal points that can make or break your new office design.
Lighting
If the lighting in your space is too harsh or too dim, this can cause your employees to feel unfocused or tired at work. Opt for soft and relatively bright lighting options (no fluorescent lighting!) and try to increase the amount of natural light in your space.
Air Purifiers
Air quality plays an important role when it comes to employee focus. Air purifiers can help you to keep air quality high and reduce stagnant air, which can harm employee health and stress.
Treadmill And Indoor Cycling
Your employees need active time to work at their best. Implementing a gym in your office with a treadmill and cycling machines will help to refresh your employees' mindsets when they need a break. Also, sit-stand desks can help your employees to get on their feet - and get a little change of scenery throughout the day.
Takeaway
Whether you're looking for more natural elements, more comfort, or simply a more pleasant workspace, we hope this guide inspired you! Drawing from office design trends can help you to create a space your employees love - and keep them in the office.
If you're redesigning your office space, you'll need access to high-quality office furniture. At Freedman's Office Furniture, we provide quality furniture for a range of budgets that will help create a professional feel in your office. Take a look at our furniture collection now to find your new office design pieces!