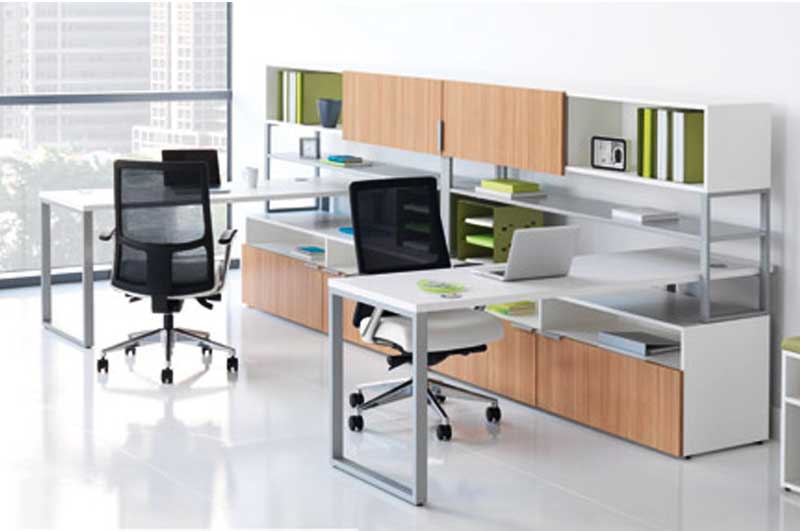 June 29, 2022
Andrea Hasburn
Add Class to Your Office with an L Shaped Desk
Picture this: you walk into your colleague's office, only to find that their highly-desired office space is a cluttered mess adorned with the stereotypical desk in the center of the room. What's your first impression? Let us guess: you deserve that space more than them. With that being said, your first impression of them was that their office wasn't the greatest, so we'll let you in on the secret of adding a classy vibe to your own office; after all, you'll want to give others a much better impression than Sir. Mess-a-Lot did.
The Secret of the L-Shaped Desk
You're probably thinking of that old particle board l-shaped desk that your mom had in for surfing the web back in the late 90's. While that will give a boost of nostalgia, we're talking about a quality l-shaped desk that will bring flair, precision, and a classy vibe to your own office. There are quite a few benefits in owning an l-shaped desk for your office, including the forth coming:
Creating more workspace, which will allow you to stay more organized
A positive and lasting impression will be made on those that enter your office
Creates a central workstation that makes your computer and workspace the primary focus of the room- depending on the size, of course
Helps you fill up space in larger offices
A statement of power is made, as well as being approachable
Makes it easier to collaborate with colleagues
When you allow YOUR workspace to be a focal point of the office, you'll look much more powerful, as furniture tends to be a subconscious symbol of status – no matter where your office is located.
Think of it this way: when you've gone to an interview, and your potential boss was behind that line (the standard desk), you felt a bit judged and intimidated; however, those potential bosses that interview behind an l-shaped desk feel more equal to you on a personal level, as there is no line of demarcation. Having an intimate nook automatically makes you seem more approachable in the long run. While L-shaped desks allow you to be more approachable, this is how people see you as powerful.
Of course, it's not all about approachability and power; it's also about collaboration. Using an l-shaped desk in your office not only allows you to be more organized, but it also allows you to collaborate easier, giving you a section and your colleague a section to work on. You won't have to bump elbows anymore and you can create a much lighter environment – even with the toughest and most stubborn employees.
Interior Design Holds a Powerful Key
The environment you live and work in can directly affect your mood. When the environment isn't the best, you're not going to work to your full potential. While paint colors surely matter, the furniture you have in your office is also imperative in your ability to work well – especially with others.
Our Products
The Carmel Collection offers contemporary finishes such as Espresso and Mahogany. This collection offers a variety of desks, credenzas, hutches, a...
View full details