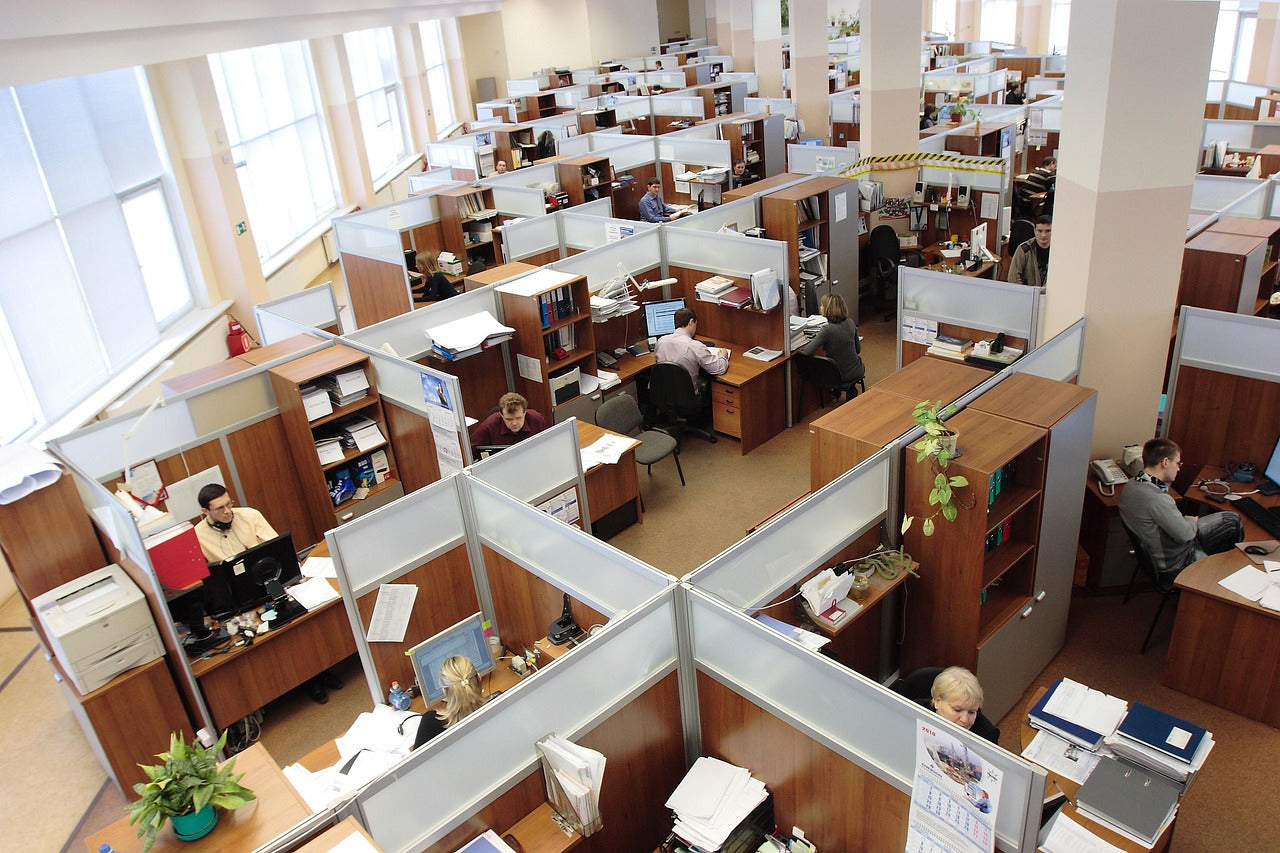 17 Organized Cubicle Ideas
A disorganized cubicle can be a stifling place and isn't conducive to creativity or productivity. However, you can easily transform your cubicle and tidy your workspace with just a few cubicle organization hacks.
Ready to learn more about our organized cubicle ideas?
Keep reading to get your tidying-up inspiration—these organization cubicle ideas will provide innovative storage solutions for your office bits and bobs! 
At Freedman's Office Furniture, we believe a tidy and attractive workspace is essential to boosting your performance—check out our office decor products to design your perfect office.
Stand Out With a Unique Cubicle
An organized cubicle provides quick access to the things you need for daily tasks and also looks more attractive. A pleasant work environment keeps distractions to a minimum and decreases your stress levels. Wading through a pile of junk on your desk just to find what you need isn't ideal and can leave you feeling wound up without realizing it!
If you're someone who likes to add homey touches to your office cubicle, having a tidy space will help you to create the perfect vibe to make your office cubicle comfortable.
Small Changes, Big Impact: How To Organize Your Cubicle
Organizing your office cubicle isn't just about keeping it tidy; it's about creating more efficient workflow processes. You should be able to easily identify and access the tools you need for your work throughout the day—including pens, staplers, and documents. In other words, every object in your workstation should have a home so that you can find it quickly and easily.
Get Creative: 17 Cubicle Organization Ideas
Ready to get started with organizing your workspace? Here are our top 17 creative cubicle organization ideas.
Desk Organization
Organizing your work surface will provide you with a tidy desk and a tidy mind while tending to your daily work tasks. Here are some of the best desk organization ideas.
1. Desk Trays for Miscellaneous Supplies
Sometimes, you will have miscellaneous supplies that you need handy, but you won't be able to find a home for them. This is where desk trays become useful. You can place your miscellaneous objects in desk organizers to keep them right where you need them without your desk becoming cluttered with junk.
2. Snack Containers
Snack containers are great if you like to have a little munch while you work—they can also help you to organize your pens, stamps, highlighters, and other stationery items. You can create a color scheme with pens and stationery to make your desk look just how you like it!
3. Pegboards
Pegboards are great for keeping your reminders visible while you work—if you have an important task or meeting coming up, simply attach a note to your pegboard to remind you of it. You can even hang a calendar on your pegboard to remind you of all your plans, appointments, and due dates.
4. Use Your Wall!
Who says you need to use your desk space to store your stationery and miscellaneous items? You can take advantage of your vertical space, too. You can use your wall to store baskets, pen storage, and everything you need for your daily work routine. You could also get a mesh wall hanging and simply hook on your pen buckets, baskets, and storage items you need.
Storage Solutions
Let's take a look at some of the top storage solutions for your cubicle organization.
5. DIY Storage Containers
Who said you need to buy storage containers? You can recycle old jars, containers, and plastic boxes to create your own DIY storage containers—this will also be better for the environment!
Drawers are an office essential. You'll have large items that will be too large to store on your desk without making it feel cramped or crowded. Drawers are just what you need for storing hole punches, staplers, water bottles, and desk essentials.
Lateral file cabinets are great for keeping your files, folders, and chunky binders out of sight. Your cubicle likely won't have too much desk space, so it's important to invest in a desk with a filing cabinet and drawer underneath for convenient storage.
If you're not lucky enough to have a desk with built-in drawers and cabinets, you can make do with some mobile pedestals! You can easily store your files and binders in a box tucked neatly under your desk to save space. You can also opt for mobile pedestals with cushion that can double as a seat, perfect for saving space and maximizing functionality. 
Bookshelves are a great way to take advantage of the vertical space in your cubicle. You can store books, pen pots, baskets, and other items on your shelves. They are an excellent space-saving solution and can make your cubicle look great if you take the time to organize them with decorative items!
Monitor Setup
Most desktops are incomplete without a monitor. Here is a storage solution for your desktop screen.
10. Dual Monitor Arms
Dual monitor arms help to save desktop space and provide more flexibility for your monitor height, which is ideal for desk ergonomics. The monitor arms attach to the wall of your cubicle and secure your monitor while providing flexibility and adjustability for your monitor positioning.
Decorative Elements
When organizing your desk, it's important to think about interior design elements that can make your small desk feel more homely.
11. Decorative Paperweight
A decorative paperweight is a great addition to your desk and can help you keep your stacks of paper together without using paper clips. You can choose from elegant paperweights, cutesy ones, and even ones in the shape of your favorite movie characters.
12. Decorative Labels
Decorative labels are a great way to remember where everything goes and stay organized. You can mark where your rubber bands, mismatched items, and USB cables should go so you can easily remember where to put things when tidying up. Your labels don't need to be ugly or boring either—you can choose decorative labels that suit your desired aesthetic.
Hanging Solutions
Hanging solutions are perfect for using your wall as extra storage space. Here is our hanging solution recommendation for small spaces.
13. Wire Shelves
Wire shelves are great for keeping your cords organized. Choosing a wire shelf with cord tacos allows you to slot your wires where you need them and keep them untangled, preventing wasted time unfurling your cables.
Hutches or overhead bins are great storage options to maximize your office space. Hutches are usually mounted on top of a workstation or on a wall. They are designed to give you space to store and categorize different office items including documents, files, folders, and even your office photos or awards.
Other Solutions
15. Personal Storage Tower
If you want to have a convenient solution of storing personal belongings within the office, a personal storage tower is what you need. This storage solution usually features multiple compartments with a wardrobe section ideal for storing clothes, shoes, bags, and other personal items.
16. Multifunctional Rolling Benches
Rolling benches help to provide additional workspace without taking up room. You can easily roll your bench over your desk for an extra working area, then tuck it out of sight and mind when you no longer need it.
17. Markerboard
A markerboard provides a quick and convenient way to jot down ideas, reminders, and information. You can attach the markerboard to your cubicle wall with a pen, so you can write things down quickly and see the reminder clearly when working at your desk.
Takeaway
Organizing your desk space doesn't need to be tedious, dull, or difficult. By using these nifty storage solutions, you can create the perfect cubicle tailored specifically to your needs. It's easy to do, and by using creative decorative solutions, you can make your cubicle attractive and aesthetically pleasing!
At Freedman's Office Furniture, we recognize the importance of making your workspace your own. Check out our cabinet desks and storage solutions to begin planning your dream office cubicle today!