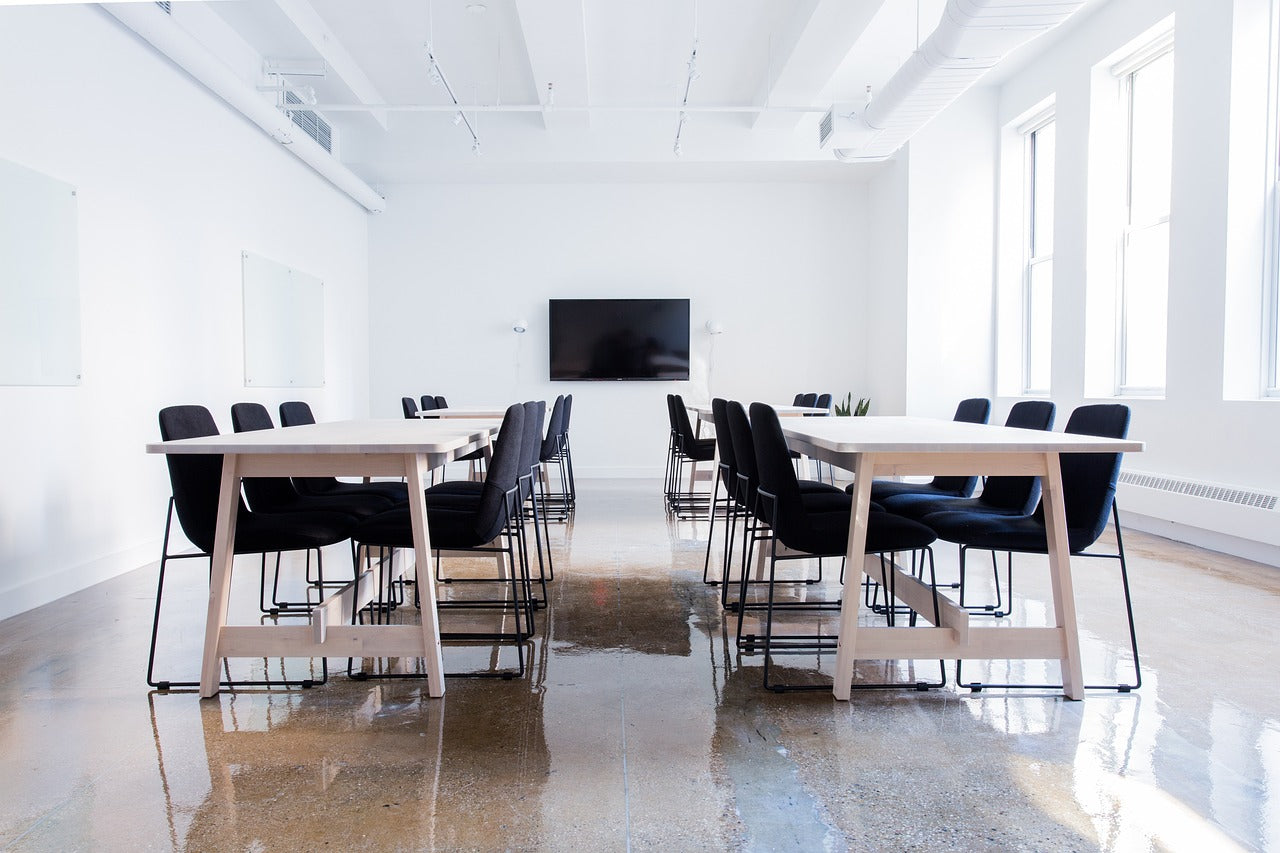 Conference Room Sizes: An Office Space Planning Guide
Conference rooms are the mecca of collaboration and essential decision-making in the workplace. Ensuring your conference or meeting room is a suitable size will facilitate a conducive atmosphere where you and your coworkers can productively cooperate.
In this encompassing guide, we navigate the intricacies of conference room space planning, providing helpful insights that will empower you to fortify a functional and comfortable space.
Conference Room Size: Why is it Important?
Determining the right conference room size is paramount for companies because it directly affects how colleagues collaborate and communicate.
If a conference room size is too small, individuals will experience discomfort, which will hinder productivity. If a conference room is too spacious, it may facilitate disconnection between colleagues and cause difficulty when they are communicating.
Appropriately balancing the size of a conference room will leverage a healthy work environment, encouraging effective and comfortable team engagement.
What is the Ideal Number of Conference Rooms per Employee?
Proportionally sizing a conference room based on the number of employees it's intended to be used for will ensure an optimal meeting space. This will undoubtedly facilitate engagement and participation while eliminating overcrowding or emptiness.
In the below section, we break down how you can tailor different-sized conference rooms to support various group sizes adequately.
Private Spaces: One to Two Employees
Function
Private spaces are intended to provide privacy and comfort during confidential and focused discussions, such as client meetings and one-to-one meetings between employees.
Best Size
Because private spaces don't accommodate large quantities of people, they don't need to be very big. The recommended size for these conference rooms is between 25 to 50 square feet.
Ideal Furniture
We recommend that private spaces include a compact desk, office coffee table, or small meeting table to accommodate one to two individuals sufficiently and hold any paperwork or equipment they may have, such as laptops.
Because only two individuals use private spaces, a rectangular table is ideal. The Santa Monica Office Coffee Table is a wonderful example of an appropriate meeting desk for this type of space.
Comfortable and compact seating, such as the Ivello Office Guest Chair, is another essential component within a private meeting space. It's best to have two seats at most to ensure a room isn't overcrowded while providing up to two individuals with seating.
Because private meeting rooms are used for confidential discussions, we also recommend including office partitions for added privacy.
Huddle Areas: Two to Six Employees
Function
Huddle areas are dynamic and casual collaborative spaces that are intended for brainstorming sessions and relaxed conversations between team members. Due to the relaxed nature of huddle areas, they should be inviting and comfortable.
Best Size
In order to accommodate two to six people, huddle areas should be between 100 to 150 square feet. This allows for seamless interaction while providing enough space for moveable furniture and relevant equipment, such as whiteboards and projectors.
Ideal Furniture
Because huddle areas are relaxed spaces, they can include more casual furniture, such as soft seating. The Pasadena Grey Leather Office Lounge Seat is an ideal example of what huddle area seating may incorporate. Huddle areas can also include movable seating to encourage dynamic collaboration.
Moveable furniture, such as the Office Task Stool and the Santa Monica Aliva Training Table, is especially handy for teams who wish to rearrange their seating for various collaborative activities, such as brainstorming new ideas or team-building exercises.
Because huddle areas are often utilized for spontaneous idea sharing and creative activities, they should have presentation screens, whiteboards, and/or flip charts to provide visual and interactive aid during meetings.
Small Conference Rooms: Six to Eight Employees
Function
Small conference rooms are dedicated spaces for formal meetings and presentations. They are tailored to facilitate focused discussions and presentations within a more intimate environment, accommodating a limited number of participants.
Best Size
We recommend measurements of between 150 to 200 square feet for a small conference room in order to comfortably fit six to eight people while integrating appropriately sized furniture and equipment, such as presentation boards and whiteboards.
Ideal Furniture
Small conference rooms need a table that accommodates all team members while encouraging collaborative discussion. A racetrack conference room table, such as the Bellagio Office Conference Table, enables all attendees to see each other, encouraging conversation to flow.
Ergonomic seating, such as the Horizon Ergonomic Office Chair, is also essential for small conference rooms to ensure attendees are comfortably supported during prolonged meetings. Because small conference rooms are used for group meetings, presentations, and video conferences, it's essential to have relevant equipment, such as a presentation board.
Large Conference Rooms: Twelve to Twenty Employees
Function
Large conference rooms are intended to accommodate a considerable number of employees. These sizable meeting rooms are utilized for large group discussions and presentations.
Best Size
Because large conference rooms are intended for large gatherings, it's important they aren't cramped. In order to comfortably seat twelve to twenty attendees, a large conference room should be a minimum of 500 square feet.
Ideal Furniture
To comfortably seat up to twenty people, large conference room tables are a necessity to ensure all members can comfortably gather and sit without feeling cramped and restricted.
A large boat-shaped table such as the Santa Monica Office Conference Table, together with two Santa Monica Table Extension for Conference Table that makes the table longer, are ideal as they can accommodate all members while offering ample space and visibility, encouraging comfort and collaborative discussion.
Ergonomic seating, such as the Zatto Chair, is also necessary as it will comfortably support attendees during meetings, encouraging focus and physical well-being during long meetings.
It's also important to incorporate a large presentation board so that all members can clearly see any important information being presented during meetings.
How To Calculate Conference Room Sizes
Conference room planning involves strategic consideration beyond choosing furniture, such as conference tables and chairs. It's essential to consider your meeting space's required conference room dimensions to ensure your conference room harmonizes functionally with comfortability.
Below, we detail three essential calculations for planning your conference room size.
Calculate the Ratio of the Table
To determine a suitable table size, you can follow the 1:2 rule. This means the length of your table should be double its width. For instance, if you have a 6-foot-long table, the width should be around 3 feet.
This facilitates a proportionate seating arrangement that fosters comfort and efficient space utilization.
Calculate Storage Units and Doors
To prevent obstructed access and ensure easy mobility for attendees, you must account for storage units and doors in your conference room. Allocating between two to three feet of storage unit or door swing clearances will prevent congestion and promote a functional conference room space.
Consider the General Guidelines
Adhering to the general guidelines for conference room dimensions will ensure your space is well-proportioned and functional. The general guidelines are as follows
Allow 25 to 30 square feet of space per person seated

1–2 people room size: 25–50 square feet

2–6 people room size: 100–150 square feet

6–8 people room size: 150–200 square feet

12–20 people room size: 500 square feet or more
How to Redesign Conference Rooms With Safety in Mind
There are several important considerations to make when planning a conference room that is a safe environment. Here are some key areas to acknowledge
Accessibility:

Ensuring all entrances are unobstructed and that meeting spaces accommodate individuals with mobility issues by offering ramps, lifts, wider doorways, and adjustable tables or seating.
Fire Safety:

Ensuring your meeting room adheres to fire safety codes and regulations, such as having accessible fire escapes and clear pathways.
Electrical Outlets:

Ensuring electrical outlets are properly installed and not overloaded with too many appliances will prevent hazards like electrocution. It's also important to ensure cords and cables are tidy to prevent trip hazards.
How Can a Conference Room's Size Boost Productivity?
A well-proportioned conference room will accommodate attendees, facilitating comfort during meetings and enhanced focus.
Having ample space for essential equipment and furniture, such as presentation boards, seating, tables, and so on, will contribute to a conducive environment, boosting productivity and encouraging collaboration between team members.
Conference Room Space Planning Chart
The following specifications indicate how large a conference table size and room should be according to the number of attendees present
1–2 people: A table around 24–36 inches wide and 36–48 inches long

2–6 people: A table around 60–72 inches wide and 30–36 inches long

6–8 people: A table around 72–96 inches wide and 36–48 inches long

12–20 people: A table around 144–240 inches wide and 48–60 inches long
Conclusion
Conference room planning goes beyond aesthetics. The size of your meeting space is among the most important factors to consider, ensuring attendees are adequately accommodated. Ensuring your conference room is proportionate to the intended number of participants, furniture, and equipment will allow for comfort, safety, productivity, and collaboration.
Meticulously tailoring your meeting room dimensions to its intended purpose, whether collaborative brainstorming or formal meetings, will ultimately harness successful outcomes, ensuring your team members and business can flourish.