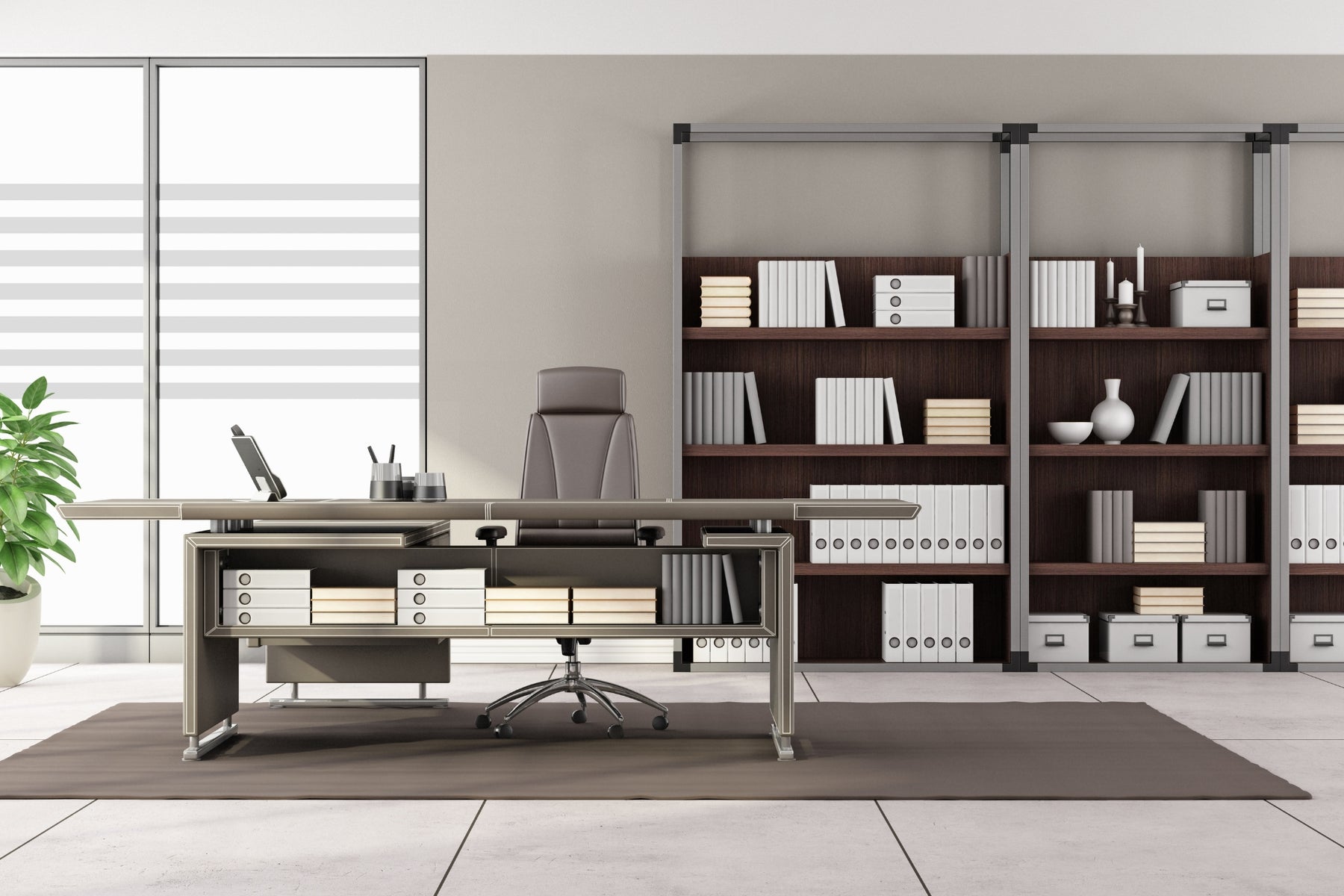 18 Office Shelving Ideas for an Organized Workspace
Keeping an office space organized has many benefits. Firstly, it allows you to find things when you need them. Secondly, it ensures you have a home for all the clutter that might otherwise mess up your working environment.
Shelving units are the best way to keep things organized in an office—so, which shelving unit should you choose?
Keep reading as we explore our top recommendations for shelving units. This guide will discuss all the considerations you must make when choosing shelves. If you're acquiring new furniture for your office, you'll find modern and quality new furniture at Freedman's Office Furniture.
Why are Shelves Important for an Organized Workspace?
Shelves provide storage for all of the files, nick-nacks, and miscellaneous items that would otherwise haunt the desks in your office. There is a familiar saying, "Tidy desk, tidy mind," which tells us the importance of keeping a clean and tidy workspace. If you are working amidst a pile of clutter, this could make you feel claustrophobic and could harm both your productivity and creativity.
Shelves, drawers, and file cabinets all help to declutter your desk space and hide any books or files until you next require them.
Choosing the right shelves for your office is essential, and you must consider what you'll use them for. In the rest of this post, we will cover different types of shelving units, and their purposes, to help you decide.
18 Best Office Shelving Ideas
Browse and consider each of these shelving and storage ideas for your home office, personal office, or communal office space!
1. Side Office Desk Shelves
Side office desk shelves are designed to sit right beside your desk. This is an excellent solution if you want something other than a tall shelving unit. This shelving option sits beside your desk, extending your desk space while providing storage space for your files, books, and miscellaneous items.
The Santa Monica Mobile Storage Cabinet is the ultimate side office desk shelf alternative option. This versatile cabinet is designed to provide convenient storage and organization right at your fingertips. With its compact and mobile design, it can easily be positioned next to your desk, offering quick access to essential items. The cabinet features multiple compartments and drawers, allowing you to neatly store files, stationery, and office supplies.
2. Cube Office Shelves
Not only are cube office shelves convenient space-saving solutions, but they're also attractive. Cube office shelves can sit on the floor or attach different cube modules to your wall space. Your cube office shelves can be purely decorative, or you can mix and match—using some for storage space and some to hold plants and decorative items.
The Bellagio Storage Cabinet with Lock is the ideal choice for a cube office shelf. With ample storage space, it offers versatility for organizing office essentials and keeps your belongings safe! Plus, the sleek and modern design will elevate your workspace. 
3. Office Bookcase Shelves
Office bookcase shelves usually provide shorter shelves but more shelf space. If you opt for office bookcase shelves, you can use them to store books, decor items, small files, and stationery containers. You typically get more options, when you choose one as you can easily opt for a bookcase designed for a home environment, such as the Bellagio Bookcase.
4. Wood Shelves
Wood shelves are the best option for those who want to keep their office feeling more comfortable and less formal. They create a much more natural, home-like, and comforting feel. The tone of wood you choose can play an essential role in your office's aesthetic. For instance, you might select darker wood, like the Carmel Bookcase Shelf, to create a more vintage feel or use lighter wood for a clean, minimalist look.
5. Closet Office Shelves
Closet office shelves allow you to conceal what you store on your shelves. You can shelve your items and close the closet door. This is an excellent option if you feel that open shelves appear too cluttered and you prefer a minimalistic look.
The Santa Monica 2 Door Storage Cabinet could be a great option that offers a modern, chic, and unique versatile design in different colors.
6. Wall-mounted Shelves
Modern wall shelves can create a chic working environment, and opting for wall-mounted units can help keep your office open and spacious. You can use this shelving option as a decorative feature, or you can use it to store books and files.
The Malibu Low Wall Cabinet with Glass Doors is designed to elevate the aesthetics of your office. The cabinet features glass doors, allowing you to showcase and protect your prized possessions or display decorative items. It offers flexibility in organizing and storing various office essentials such as books, binders, and files.
7. Office Hutch
The office hutch is a flexible and useful option that smoothly mixes storage and style. It offers enough space to arrange all of your workplace necessities, from books and binders to decorative things, thanks to its many shelves and compartments. Whether you need to clear the clutter from your desk or provide a focal point in the area, an office hutch will improve the organization and aesthetic appeal of your workspace, 
The Santa Monica Deluxe Office Hutch guarantees endurance and durability, and the sophisticated design will give your office decor a sophisticated touch.
8. Built-in Office Look
Built-in shelves are a great way to create storage space without burdening a room. Freestanding furniture can make a small space appear even smaller. Built-in shelves are excellent home office shelving ideas as they perfectly fit your wall space. Depending on how thick you would like your shelving unit to be, this will help with how spacious the room feels.
9. Rustic Wooden Shelves
Wooden shelves are an excellent choice for rustic and industrial overtones. Opting for wooden shelves allows you to create a more cozy and comfortable appeal in your space by using warmer tones. You can compliment rustic wooden shelves by incorporating Scandinavian and industrial ornaments into your decor. These decorative items will create a more elevated look for your office space.
10. Ladder Office Shelves
A ladder shelf is a great solution if you need more wall space or if your walls are too thin to support hanging shelves. A ladder shelf leans against your wall, providing longer shelves at the bottom and shorter shelves for decorative items at the top. Try storing boxes at the bottom, books, and files in the middle, and adding a personal touch on the smaller top shelves.
11. Kitchen Workstation Shelves
Kitchen workstation shelves provide storage and desktop space, allowing you to write notes, store items, and provide more usable desk space in your office. Not to mention, using kitchen workstation shelves offers a unique look for your office.
12. Shelves With Lights
Shelves with lights can elevate the look and feel of your office. If you're using your shelving unit for display, you can illuminate the items you display with lights. You can get a freestanding shelf unit or a hanging shelf with lights on the bottom to add more light exposure to your space.
13. Industrial-style Floating Shelves
Industrial overtones can make your office feel like an interior designer created it. Office interior design now incorporates a darker color scheme with exposed bulbs and industrial-style furniture. Consider industrial-style floating shelves if you want to give your office more character and create a theme.
14. Metal Shelving Units
Metal shelving units can create a colder working environment if you don't choose the right styling. Opting for warmer metals, like a brass or copper metal frame, will allow you to keep your office looking homely. Or, if you decide to opt for a painted black or silver metal frame, it's important to compliment it with lighter and warmer colors for a less bleak color scheme.
15. Wall-mounted Geometric Shelves
Geometric shelves align with modern office designs or minimalist and Scandinavian designs. You can create an eclectic or understated design with this shelving option. How you accessorize this shelving option will drastically impact the aesthetic it brings to your room.
16. Basket-style Shelves
If you like to keep your office neat and have excessive storage needs for smaller items, you can use basket-style shelves to stay organized and find a home for everything. Basket-style shelves will allow you to allocate sections for stationery, files, name tags, and other items you may need to keep in your office.
17. Attic Shelves
Attic shelves have a distinct look that's better suited for retail stores, warehousing areas, or storage rooms. Attic shelves are typically made from metal, and you will find them in general convenience stores—typically used to hold and display stock items. Attic shelves are affordable and convenient if you don't need a flashy shelving unit.
18. Modular Office Shelves
Modular shelves can be adjusted and rearranged to suit your needs. You can change your shelving unit's height, shape, and layout by taking out or adding different modules. This is an excellent choice if you tend to reorganize your office regularly.
FAQs
Here are some answers to any nagging questions you may still have after reading this post!
Which Shelving Ideas are Best for Small Offices?
If you have a small office, it's best to opt for floating shelves or built-in shelves as they will help reduce how much floor space your shelving units occupy.
Which Shelving Ideas are Best for Home Offices?
The best home office shelving ideas include industrial shelves, aesthetically pleasing bookcases, and built-in shelves to keep your space homely and clutter-free.
What Should I Put On My Shelves?
To start filling your shelves, you can use boxes to store smaller items and keep the space looking tidy, or you can fill your shelves with books and files. You can add pictures, plants, candles, crystals, and any other decorative nicknacks that complement your working environment!
How Can I Make My Shelves Look Attractive?
To make your shelves look attractive, avoiding over-cluttering them is essential. You can use boxes to group smaller items together and filing options to keep smaller folders clustered together. You can also use wicker baskets and other decorative items to create an aesthetically pleasing storage space.
Conclusion
Shelving units are the best storage solution to keep your office looking tidy—and even add appeal to your office space. The shelving ideas you choose should align with your office's size, storage needs, and the look you're going for. If you're seeking high-quality and affordable office furniture, why not browse the collections at
Freedman's Office Furniture
? We believe your office space should be comfortable and inviting!