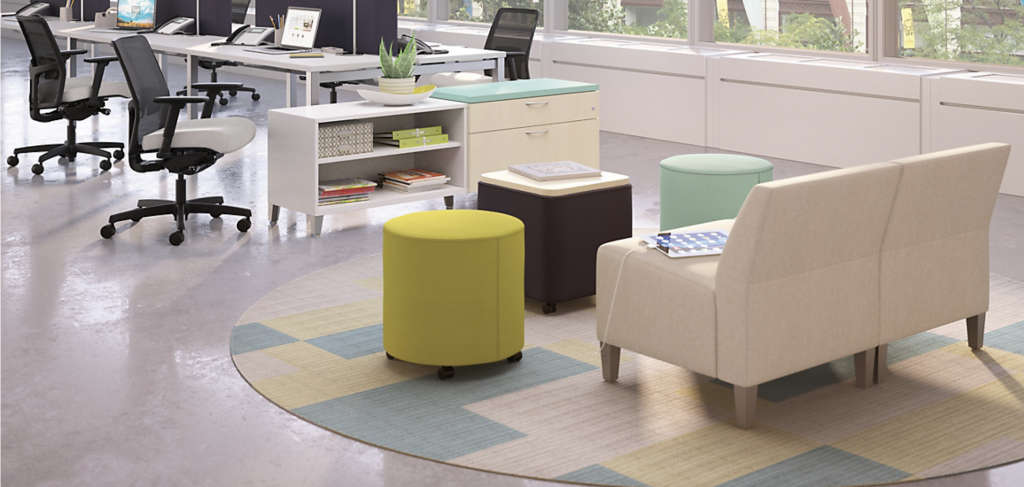 June 29, 2022
Andrea Hasburn
Getting Creative with Hon Container Storage in the Office
If you've ever looked at a HON container and wish you could make it work vertically, but just can't, you'll happy to know that there are other ways to use this storage container that's modern and sleek. Check out some of our favorite ways to get crafty with these storage pieces below. Optimize your office and create your workplace oasis without going so far as hiring a professional designer.
Make Use of Shared Areas
It's no secret that collaborative spaces can be both a dream and a nightmare – mostly a nightmare if you're sharing the space with someone who isn't the most tidy. Thankfully, you can create your own organized oasis with credenza's from Contain that line the walls next to your desks. In doing so, you'll be able to have a bit of aesthetically pleasing eye candy in the office without looking unprofessional, and while reaping the benefits of a functional piece.
Whether you're going to put plates or supplies on these credenzas, having a more organized desk will also help you get more done. Typically, you want to keep these credenzas in sight or reach of your desk, so you can grab paperwork or tools that you need, while encouraging your collaborative mate to also be a bit more organized.
Separate Those Spaces
In that collaborative environment, it's imperative that you define each other's space. We don't think you should take the comedic route and put a caution tape line down the center; instead, the use of Contain pieces will allow you to separate the spaces while providing function to both you and your colleague that shares the same area. Even if you don't share the area with anyone, it's a great visual boundary to set in place for those that come to visit your work area.
Creating division through Contain pieces will allow you ample space from everyone else, while providing even more storage space.
Reimagining Your Private Office
Unlike others, you may not share your space with anyone, but that doesn't mean you can't get crafty with your Contain pieces. Create a desk and storage space by combining pieces like the Voi to ensure an ample work surface and fantastic storage without needing a super large office. Keep yourself organized will creating a fantastic visual hub for those that visit your office. Become the envy of the office with your crafty and creative desk setup!
Adding Cushions for Collaborative Efforts
You don't want to seem too unwelcoming, and adding cushions onto your Contain pieces will ensure that you seem a bit more welcoming and inviting to colleagues who may have questions, or those who may need extended help on particular projects. Create a designated cushion area for colleagues to sit on, while leaving others plain so that you'll be able to reach for important documents without anyone being in the way.
At the end of the day, how you decorate your work environment can solve a lot of issues with colleagues or where colleagues can sit. Furthermore, it can also clear up any disorganization you may have, while bringing a sleeker and more inviting look into your office.
Our Products
The Carmel Collection offers contemporary finishes such as Espresso and Mahogany. This collection offers a variety of desks, credenzas, hutches, a...
View full details