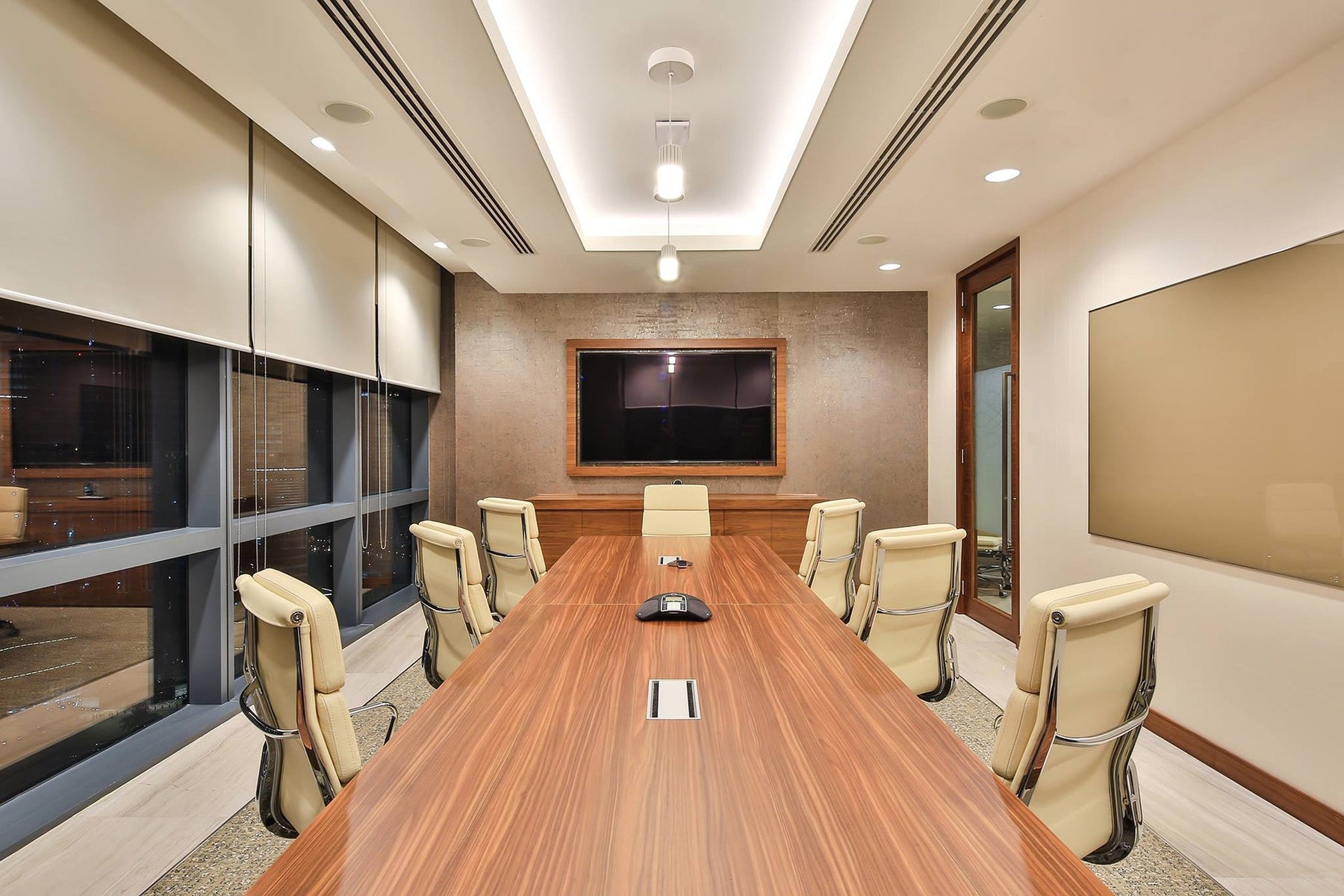 Modern Conference Room: Inspiration and Guide
With the rise of more flexible and hybrid work models, the office has become the center of all company collaboration and communication. Consequently, the conference room has become a crucial feature of every modern office space.
So, what can you do to upgrade your conference room and facilitate productive meetings?
Keep reading as we'll explore the best design features of a modern conference room and the benefits of upgrading your conference space. If you're seeking furniture and other design features for your conference room, check out the offers from Freedman's Office Furniture!
Tracing the Evolution of Conference Room Design: From Traditional to Modern
In the past, conference rooms would be dimly lit and decked out with mahogany furniture and leather seating. However, in recent years, there has been an increased focus on productivity. Modern office designers opt for lighter conference rooms with natural light and glass walls to encourage productive meetings.
Exploring Modern Conference Room Design
Modern conference room design features lighter, brighter atmospheres–with more comfortable furniture. In a contemporary conference room, you'll find ergonomic furniture designed to support comfort for extended discussions. Fully-adjustable seats with sleek, current, and minimalist design elements will also surround a long table.
5 Reasons Why Companies Are Investing in Modern Conference Room Design
If you're wondering why you should upgrade and update your conference room, let's look at why most companies are investing in new furniture and layouts.
Improved Collaboration
Since the remote work revolution, most businesses have used their office spaces as places for communication, discussion, and collaborative efforts. A conference room is perfect for lengthy meetings and seminars, ensuring that all employees can discuss a project and ask questions. Improving the conference room space can enhance collaboration within a business—particularly in a hybrid work model.
Enhanced Aesthetics
While we all use the phrase "don't judge a book by its cover," this isn't always the case. When we enter a business, the aesthetics and modernity of the design can impact the impression we get about the business's relevance, success, and level of professionalism.
Increased Productivity
Productivity is at the heart of modern office design, and there are now many ways to create a productive atmosphere in your office with conscious design choices. Making the right design choices can ensure that your employees feel comfortable and can also help improve productivity in your office.
Increased Comfort
If your employees are uncomfortable in your space, this can affect their mental health, concentration, and job satisfaction. A dingy, decaying, cold, hot, or smelly office is unpleasant, especially for a whole working week. Increasing the comfort in your space will ensure your employees enjoy coming to work.
Cost Savings
Some design choices, such as maximizing natural light, serve a higher purpose. By integrating more natural light into your space, you can cut costs on lighting and significantly lower your monthly overhead costs.
3 Benefits of a Modernized Conference Room Design
Need Convincing? Here are the top benefits of creating a modern conference space for your employees.
Improved Efficiency
Modern conference tables in meeting rooms can ensure that your employees hear each other, have enough room to work, and can see the speaker clearly. All of these factors contribute to improved efficiency in your meeting room.
Increased Productivity
If your employees are working in a light, bright, and comfortable conference room, they will not feel sluggish or become restless and distracted by discomfort. You'll notice that a modern conference room facilitates sustained productivity during meetings or for any other purpose.
Enhanced Well-being 
Traditional conference rooms are designed to provide space for a meeting but do not necessarily create a pleasant atmosphere. A more aesthetically pleasing atmosphere has been proven to enhance well-being and focus within a workplace, leading to improved job satisfaction.
6 Best Ideas for an Up-to-date Conference Room Design
Now that you know why modern conference rooms are essential, let's explore the how. Here are some conference room design ideas to give you a little inspiration!
Relaxed Modern Conference Room
Modern doesn't necessarily mean glass walls, edgy metal furniture, and a stiff atmosphere. You can create a bright, cozy, and comfortable feeling in your modern conference room with leather seats and a chic wooden conference table.
Studio-style Conference Room
What better way to encourage project productivity than to create a studio atmosphere in your conference room? You can opt for a rustic industrial-style table, exposed brick walls, and natural light to give a creative studio feel to your space.
Cafe-style Conference Room
Like using Starbucks as a meeting room? If so, you'll love the cafe-style conference room trend. A cafe-style conference room lets you do away with the conference table, implement some comfortable sofa seating, and allow your employees to grab a hot beverage or two during your discussion.
Adaptable and Flexible Conference Room
Who says your conference room can't serve more than one purpose? A modern conference room can be adaptable and flexible, doubling as extra office space for your employees.
Art and Video Modern Conference Room
An art and video conference room must feature plenty of LED displays to engage your employees visually and allow leaders to demonstrate visuals effectively. An LED feature wall is the focal point of an art and video conference room.
Acoustic Design Conference Room
Some businesses choose acoustic designs for their conference rooms so their leaders don't wind up with sore throats after shouting their way through a meeting for those in the back. An acoustic design allows the sound to naturally carry throughout the room, quickly reaching employees' ears—without all the shouting.
9 Furniture Ideas for a Modernized Conference Room Design
Let's look at nine furniture ideas to help you build the perfect conference room for your office space.
Task Chair
Task chairs are ergonomic chairs designed to support comfort for up to six hours of sitting—perfect for a conference room. Most task chairs also come with wheels—perfect for maneuvering during discussions.
Modern Conference Table
A conference table is a must-have for most conference room setups. A long table will allow your employees to see everyone clearly, and a round table will create a sense of community in your meeting rooms.
Lounge Furniture
If you're going for a cafe-style meeting room, you'll benefit from incorporating lounge furniture into your design. Creating a more casual and comfortable atmosphere will allow ideas to flow more freely and create more open communication—without the feeling of strictness or regimented authority.
Multimedia Capability, Such as an LED Video Wall
Sometimes, you must display art, marketing graphics, and video conferencing screens for meeting participants. In smaller meeting rooms, a simple screen will suffice. However, in a larger space, you'll need a larger screen. An LED video wall provides a massive display screen for large and medium-sized conference rooms. With a video wall, many screens are conjoined to take up the entire wall space for the largest, highest-quality screen you could need!
Interactive Whiteboards
Sometimes, you need more than just a screen. You can use interactive whiteboards to demonstrate ideas while working with a projector or screen. Your team leaders can demonstrate ideas by writing and drawing on the images projected on the screen.
Wall Units
Wall units are necessary to add a layer of privacy to your meeting spaces, encouraging free and open communication without the fear of being overheard. You can use glass wall units to create several smaller conference rooms or simply one large meeting space for your employees.
Movable Wall Dividers
If you can't quite commit to a meeting space, you can always use movable wall dividers to switch up your conference rooms as you see fit!
Coffee Tables
Coffee tables allow your employees to sip on their favorite hot beverages throughout the meeting, creating a relaxed atmosphere where they can comfortably listen.
LED Lighting Features
If you don't have abundant light in your office, then LED lighting features can help you establish a bright, focused atmosphere—as opposed to a dreary, dim, and sluggish one. Your lighting doesn't need to be harsh and fluorescent. You can opt for warm, bright lights to add a homey feel.
Takeaway
Conference rooms are the modern office's focal feature, mainly used to facilitate collaboration and provide huddle spaces for your employees. Hopefully, this guide has given you some inspiring ideas to help you create an updated, fresh, and productivity-friendly conference room design.
At Freedman's Office Furniture, we believe the office should be a comfortable and welcoming space—check out our furniture collection to select your new office design features!