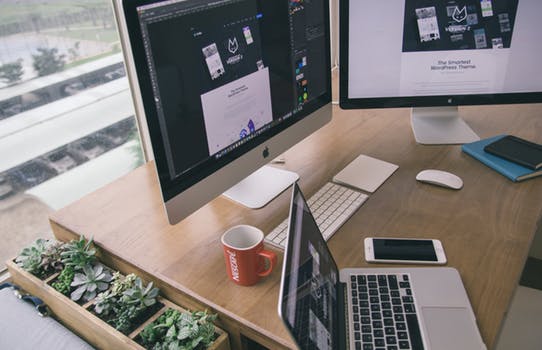 June 29, 2022
Andrea Hasburn
Tips to Make Your Office Look Bigger
Working in a small office doesn't necessarily mean giving up functionality or comfort. On the contrary small office spaces can be made to look spacious and convenient. The trick is to choose a smart design and follow certain rules to make even the tiniest spaces work for your needs.
Declutter.
As time goes by, it is easy to accumulate piles of paper on your desk. Well, apart from looking unprofessional it can make your office space look smaller than it actually is. Don't just stuff everything into the drawer to make it "look" neat because if you do that, the stuff is going to get piled up back in no time. Take time to organise and clean up your space because a cleaner place makes it look huge.
Shades over curtains.
Curtains can be a great choice for your living room or bedroom where you're probably not going to want bright light hitting on your face. To an extent curtains also add a level of softness to the place. But in an office space curtains can be a distraction especially if you have many windows and can visually make the place look smaller. On the other hand, shades can be used in place of curtains which makes the place look a lot cleaner and keeps the space airy.
The right type of furniture makes all the difference.
In a small office space, it is essential that we choose the right type of furniture that is not going to take up a lot of space and at the same time is functional and comfortable. If you can't find the right size of furniture, have it custom made. Also, when choosing cabinets and storage units, think vertically. Use up as much vertical space as you can even if it means the furniture gets up to the ceiling. Also keep the furnitures like desks, cubicles, sofa etc. away from the walls because it can make your office look congested.
Make use of mirrors.
In the empty space of the walls in your office add mirrors. Mirrors reflect light and can make the place look huge and also creates a sense of depth.
Paint the walls light.
As we all know lighter colour makes a place look bigger whereas darker colour makes it look small. This doesn't stop with the walls and also applies to the flooring. But, if you're concerned about the floor getting dirty, you can opt for tiles, because it can easily be cleaned up.
By following the above mentioned 5 steps you can make your office space look big and can actually get more out of it than you ever imagined.
Call us today at 813-884-7600 to talk to a professional office design consultant!
Our Products
The Carmel Collection offers contemporary finishes such as Espresso and Mahogany. This collection offers a variety of desks, credenzas, hutches, a...
View full details