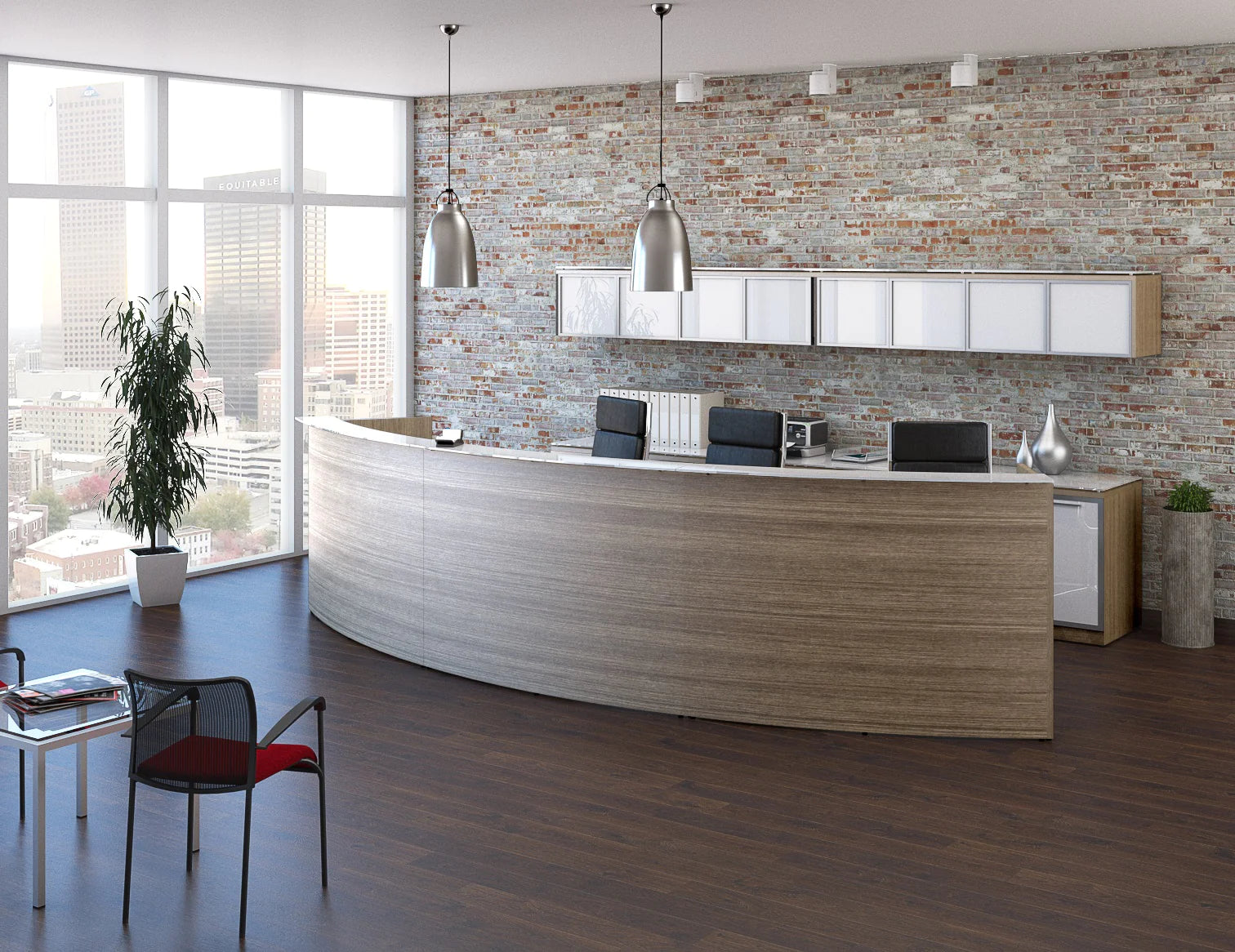 Reception Desk Height and Dimensions: The Ultimate Guide
When someone visits your business premises, your reception desk is often the first thing they see. Seeing a run-down, damaged, or cluttered reception desk will give your clients a poor impression of your brand and work ethic.
Choosing a respectable reception desk for your office space is the key to solidifying your customers' first impressions. But how do you know which reception desk to choose?
Keep reading as we explore why receptions are important and the factors to consider when choosing your new reception desk. At Freedman's Office Furniture, we offer a variety of new office furniture to help you curate your space in line with your brand. Check out our collection of reception desks now to find your perfect match!
Why is the Look of Your Reception So Important?
Why should you focus on making your reception look pleasant? A reception area is more important than you'd think. Let's explore some of the benefits of upgrading your reception desk and decor.
It Gives Clients and Partners an Excellent Impression
Cohesive decoration and a pleasant atmosphere in your reception area is the best way to subliminally indicate to your clients and partners that your business is trustworthy, reputable, and impressive. They will immediately be more inclined to bring you their custom if they're impressed with your office space. 
The same goes for interviewees too. If they feel you have curated a pleasant working environment, they'll be more likely to want to work there. Tired, old, and dirty receptions give off the impression of complacency and can negatively affect the impression of your brand, if only subconsciously.
It Enhances Your Business Brand
Your reception desk's look is the perfect opportunity to strengthen your brand, ensuring your office decoration matches your brand colors, style, and design. You can even customize your reception desk, adding logo stickers to create a more professional tone. Additionally, you might consider adding decoration items like plants, light fixtures, and LED lights to your desk. This will create an elevated look in your reception, creating a more pleasant working atmosphere for your receptionists and making your clients and customers feel at home in your space right away.
Why is it Important to Pick the Perfect Height and Dimensions for Your Reception Desk?
Picking the right height reception desk is important to ensure your reception staff is comfortable and that your visitors can communicate with them easily. Here are the top considerations when choosing a reception desk for your company.
Ergonomics and Comfort
Ergonomics is a term that refers to the comfort and usability of furniture. Your furniture shouldn't be conducive to injuries, strains, and soreness. If your reception desk is too tall or low, your receptionists and visitors must strain their spines to use it. It should be at the perfect height for your reception staff to sit up straight and in perfect alignment.
Accessibility 
If your reception desk is too high, it will be exclusionary for smaller individuals or those in wheelchairs. To make your office furniture accessible and inclusive, your reception desk should have a shorter portion, allowing you to accommodate shorter people. They will be able to speak to your customers while sitting behind the desk without feeling patronized or excluded.
Compliance
You must comply with fire health and safety regulations when placing your reception desk. If the desk is too large for your reception area, it could block the exit. This means that in an emergency evacuation, your employees could get stuck inside the building as the traffic flow won't be quick enough. To avoid this, ensure your reception desk size aligns with the space you have.
Reception Desk Standard Dimensions
What are the typical dimensions for reception desks? Let's take a look.
Height
A desk will typically be between 40–42 inches in height, much taller than your typical desk, which will sit around 30 inches high. This allows receptionists to stand and communicate with visitors at eye level.
Width
The height of a reception desk depends on how many receptionists will be sitting behind it. If you have one receptionist, you'll generally need a reception desk that's 72 inches wide. You'll need to add 72 inches to the width for each additional receptionist.
Depth
Choosing a reception desk that's at least 30 inches deep will allow your receptionist to write and use a desktop computer comfortably, providing enough storage space for their stationery and desk essentials.
How To Choose the Best Reception Desk?
What are the ideal qualities of a reception desk? Let's take a look so you can make the best choice for your reception area!
Size Area
The best reception desk for you will be one that fits in your space well. You need to measure the reception area and ensure your reception desk will fit, allowing plenty of space for your visitors to have a seating area without blocking any doors in the office. Office furniture should complement your space rather than work against it.
Desk Style and Form
There are many different desk styles, each suitable for different reception areas—some will need to be smaller, and others will need to provide zones for visitor communications. Here are some of the desk types to choose from.
L-shaped
An L-shaped desk provides receptionists with more space to work, which can help them to be more efficient. If you have some visitors coming for appointments and others for deliveries, they can use the desk to divide their workspace into different areas, such as a dedicated area for greeting guests, an area for processing paperwork, and an area for making phone calls.
Straight
Straight reception desks are perfect for smaller spaces without enough space for complex designs, dividing a room between the receptionist's workspace and the visitor's area. They are the most common type of reception desk for small businesses and are relatively compatible with most room types.
Spherical
A round reception desk is perfect for placing in the middle of a large open space. It gives your receptionist free space for storage while keeping visitors away from important reception resources. Many receptionists can operate from different sides of the sphere, allowing visitors to disperse evenly without forming an extensive queue.
U-shaped
U-shaped desks are perfect for two or more receptionists, allowing them to work from different sides and welcome clients, stakeholders, and visitors to your business. They are ideal for creating a section within a room, dividing the space to provide seclusion and separation so your receptionists can work peacefully.
Material
Which material should you choose, and what does the material of your reception desk say about your business? Let's take a look!
Laminate
Laminate is a great, inexpensive alternative to wood. High-quality laminate offers the same durability as wood and can emulate a realistic wood grain look for a lasting impression on your clients. Choosing a beautiful laminate desk can create a stunning focal point in your reception.
 Wood
Wood can be expensive, but it creates a luxurious feel in your reception. Clients won't be used to seeing real wood furniture in a reception or office, which is why wood can make a lasting impression and elevate your space.
Glass and wood 
Combining glass with wood can create a modern and stylish look that is also warm and inviting. The glass top is easy to clean and maintain, and the wooden base adds warmth and sophistication to the desk.
Ergonomics and Functionality
Ergonomics and functionality need to be your first considerations for a reception desk—before you even start thinking about the look and aesthetic. Your receptionists should be able to access usable space on their desks for making notes, and there should be enough room for a monitor and keyboard tray. Ergonomically, the desk height should match the chairs you buy, ensuring that your staff can sit up straight without hunching or craning while they work.
Storage
Reception areas can quickly become cluttered without proper storage space. Your desk should ideally have built-in drawers, file cabinets, and cupboards. A cluttered reception desk immediately creates a poor impression of your brand. The only things on the floor should be your receptionist's bags and personal effects.
Number of Receptionists
If you don't need more than one receptionist, don't buy a reception desk for more than one person. The desk will take up too much room in your office and cost you more. Figure out how many receptionists you have in the office at one time and whether this number might increase as your business grows. Then, you'll know what the appropriate size to buy is.
Location
Now that you've purchased your reception desk, it's essential to consider the location for placement. Ensure your desk always faces the entrance so your reception staff can greet visitors as soon as they enter the premises. Ensure the desk won't interfere with everyday building traffic, too. A spherical desk should be placed in the center of a room, allowing visitors to gather around each side of the desk. Think about the user experience when deciding where to put your desk.
Takeaway
Buying a reception desk isn't as simple as it may seem—there's lots to think about, ensuring your desk isn't in the way and that it provides the functionality you need. Choosing an elegant desk that suits your interior layout well will create a better impression for your brand and make you seem more professional.
Are you looking for an L-shaped reception desk or other office furniture types? You can count on Freedman's Office Furniture for affordable, professional-looking pieces to curate a dynamic space!