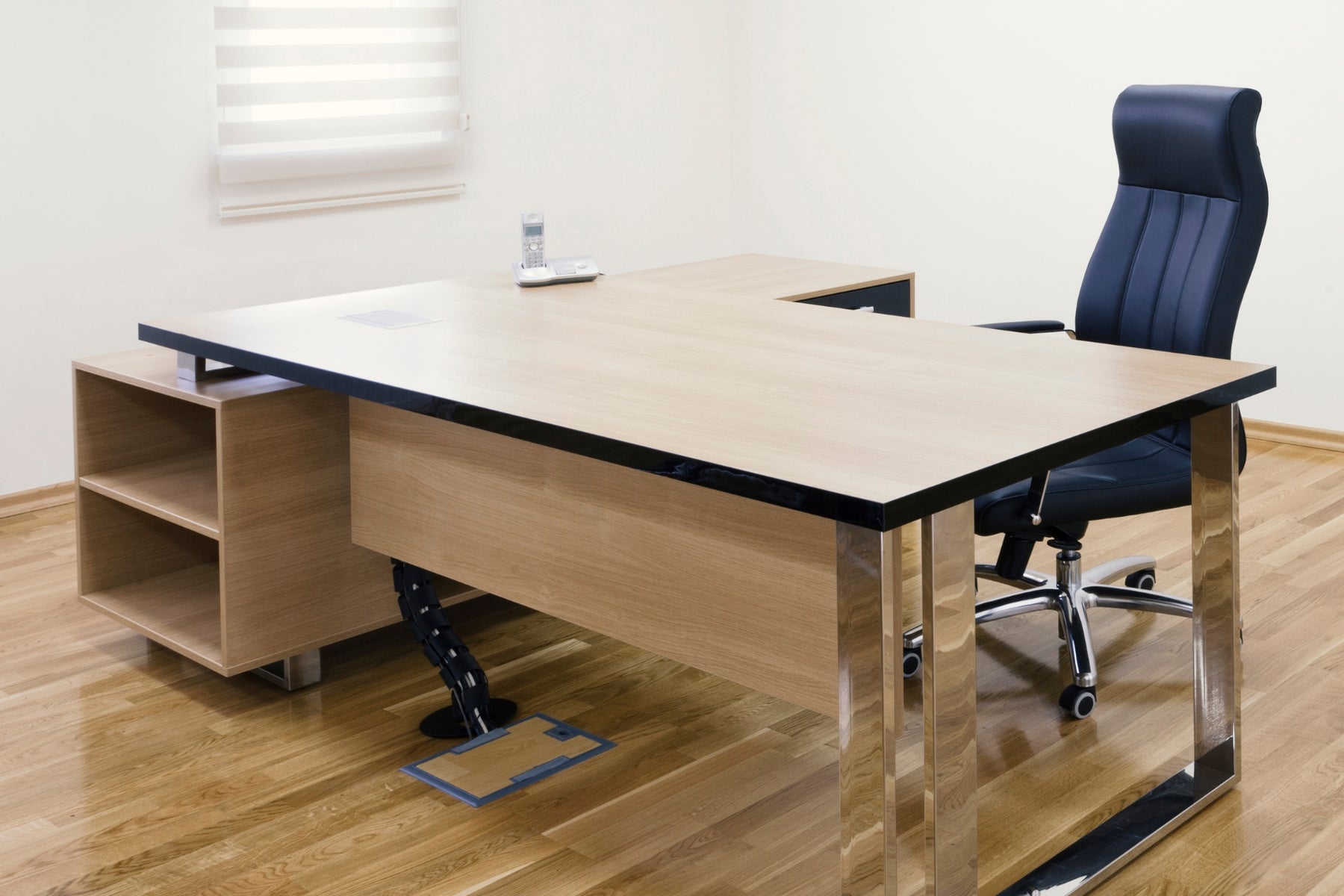 10 Best L-shaped Desks for Your Workspace in 2023
Ensuring your office space is functional and comfortable supports your productivity and encourages a healthy workflow. Choosing the right desk is essential to ensuring your workspace meets your needs.
L-shaped desks are designed to support your activities, offering enough surface space to accommodate your work materials. The unique design of L-shaped desks means you don't have to compromise on space,  they offer an ergonomic office solution that will aid your tasks.
There are many wonderful l-shaped desks available to choose from. In this article, we unpack what L-shaped desks are, key things to look for when shopping for an L-shaped desk, the best L-shaped desk ideas, and much more! Dive into our comprehensive guide to discover the perfect desk for your specific needs.
What is an L-shaped Desk?
L-shaped desks, or corner desks, combine two rectangular surfaces, creating an "L" shape. The unique structure of L-shaped desks provides ample room for many activities, including writing, typing, drawing, and so forth. L-shaped desks are also ideal work surfaces if your activities require various appliances, such as multiple monitors or gaming equipment.
Whether you wish to furnish your workplace/home office space or elevate your gaming setup, L-shaped desks harmoniously fit into both home and commercial settings, providing ergonomic support for your work tasks and activities.
What to Look for in an L-shaped Desk
When shopping for an L-shaped desk, it's important to understand what features will best align with your individual requirements. This will help refine your search and ensure you welcome a functional desk into your workspace. Below are six L-shaped desk features to look out for.
1. Material
The material of your desk will determine its longevity and overall aesthetic appeal. Opting for durable materials, such as solid wood, engineered wood, and a sturdy metal frame, will ensure your desk offers lasting support. You should consider that
Solid wood

exudes timeless sophistication while boasting permanence

Engineered wood

is often cheaper than solid wood, balancing affordability with sturdiness

Metal

provides a contemporary and sleek flair while still upholding resilience
2. Design
To ensure your desk harmoniously fits into your workspace, it must match the style of your workplace/home office furniture while simultaneously being functional. There are many aesthetics to choose from when searching for an L-shaped desk, including rustic, retro, or sleek and modern designs.
Aside from complementing your surroundings, your desk needs to support your tasks. Seeking specific functional design features, such as ergonomic curves, built-in cable management, a monitor stand, a file drawer, and so on, will ensure you find a desk that's both aesthetically pleasing and practical.
3. Size and Shape
Ensuring you have a well-fitted desk will maximize the comfort and efficiency of your workspace. To choose the right size and shape desk for your workspace, take accurate measurements of the area you wish to furnish. This will ensure you have enough leg space and also prevent your office setup from being crowded.
If you often multitask and use various office accessories, such as printers, monitors, paper shredders, and so forth, you may need a large L-shaped desk to accommodate your needs. However, if you wish to conserve space and don't require a large surface for various equipment, a small L-shaped desk will suffice.
Adjustability
You can prioritize ergonomic comfort by opting for an L-shaped desk with adjustable features. There are several mechanisms designed to increase the versatility of desks so that your activities are supported and any strain is reduced during long work hours.
For example, you can find L-shaped desks with adjustable shelves, adjustable foot pads, and adjustable monitor stands, and even adjustable heights for standing desks.
Portability
If you require flexibility in your workspace, portability is an essential L-shaped desk feature to look out for. Consider investing in a desk with a lightweight frame and removal parts for easy disassembly and portability.
If you regularly rearrange your workspace, you can also search for dynamic features, such as foldable frames or wheeled desks, to simplify the process of relocation.
Storage Space
Storage space will ensure your workspace's organization while promoting enhanced productivity and improved overall well-being. Features such as open shelves, a sliding keyboard tray, and built-in drawers will offer you additional storage space so you can effectively declutter your workspace and safely store your office supplies.
What are the Benefits of Choosing an L-shaped Desk?
From elevating your office layout to improving your work's organization, owning an L-shaped desk can present a myriad of wonderful benefits that enhance your workspace and support your activities. Below are three major benefits of owning an L-shaped desk.
1. Saves Space
L-shaped desks are designed to fit into corners, offering a space-saving design with sufficient surface space to support your daily tasks. Because of their compact layout, the space within your workspace is maximized, enabling you to incorporate additional office furniture without being cramped.
2. Helps Reorganize Your Workspace
Because L-shaped desks are purposefully designed to fit into corners, they offer seamless and hassle-free reorganization, enabling you to effectively dedicate one corner of your office to performing tasks, such as computer work and paperwork.
3. Provides a Designated, Ergonomic Place to Work
Because of their specialized design and unique features, such as adjustable height and adjustable foot pads, L-shaped desks offer unparalleled ergonomic support that can boost your productivity while providing you with endless comfort.
Additionally, because L-shaped desks feature two large work surfaces, you can designate one side for one set of tasks, such as computer work, and utilize the other side for alternative tasks, such as paperwork or creative projects.
The 10 Best L-shaped Desks
There are many different types of L-shaped desks to choose from, each offering its own unique features. To find yourself a suitable desk, explore our 10 best L-shaped desks below.
With ample storage space and a timeless engineered wood structure, the Bellagio L-shaped Desk features all the essential components you need, such as gliding drawers and full modesty panels. You can choose from two stunning wood grain finishes, Grey and Walnut, to ensure this desk fits your workspace's aesthetic.
Combining longevity with style and affordability, this L-shaped desk is perfect for your essential work activities. Available in a rich wood grain finish with built-in drawers and a sizable work surface, you won't have to compromise aesthetic appeal over function.
This sleek and modern design desk is bound to make a lasting impression on your clients and visitors. With a contemporary walnut finish, a spacious work surface, and ample storage space, the Bellagio Walnut L-shaped Desk is both tasteful and exceptionally functional. Perfect for both multitasking and organizing office essentials.
Chic and versatile, the Santa Monica Office L-shaped Desk serves as a wonderful workspace. Featuring sought-after features, such as built-in drawers, a white glass modesty panel, and an ergonomic silhouette, this simple yet stylish desk has everything you need for a supported workflow. You can choose from a wide range of stunning finishes, including Espresso, Blanc De Gris, and Noce.
Featuring a curvaceous "bullet" surface and built-in drawers, this ultra-modern L-shaped desk serves as a chic interior statement while simultaneously accommodating your office needs. This exclusive design is also available in many sophisticated finishes, such as Grey, Noce, and Miele, allowing you to choose a color that best aligns with your taste.
The Carmel Office L-Shaped Desk embraces a timelessly classic design with ergonomic support while remaining budget-friendly. Equipped with a full modesty panel, ball-bearing drawers, and black grommet holes, this desk features all the essential components needed to support your office tasks. You can choose from two elegant finishes, Espresso and Mahogany.
Presenting the same timeless finish and ergonomic silhouette as the Carmel Office L-shaped Desk, this model offers a larger surface area, providing ample space for various tasks and equipment. Boasting a 36 " X 71 " desk space, you will be able to sufficiently store all your essential office appliances and tools without experiencing a crowded workspace.
If you're seeking a desk with an abundance of storage space, this model will certainly suffice. Featuring suspended pedestals, this Carmel L-shaped Office Desk will securely store important files and office accessories, ensuring you can effectively declutter and organize your workspace.
This contemporary L-shaped desk is purposefully designed to exude sophistication while offering superior ergonomic support. Featuring a sleek and large pure white glass surface and built-in drawers, this model enables you to comfortably complete activities in style. This desk also features wheels, allowing you to smoothly rearrange your workspace.
This pleasantly simplistic L-shaped computer desk is fortified with an engineered wood structure, full modesty panels, ball-bearing drawers, and built-in grommet holes. Marrying its variety of essential features with its large work surface, this desk will aid your productivity while providing you with sufficient space to complete tasks.
FAQs
What's the Ideal Location for my L-shaped Desk?
Because of their unique design, L-shaped desks will harmoniously fit into any right-angled (90-degree) corner of your office. For a more relaxing workspace, you can place your desk by a window.
Is it Possible to Utilize my L-shaped Desk for Gaming?
Yes, L-shaped desks make excellent gaming desks. When using an L-shaped gaming desk, you'll have ample space for multiple monitors, your keyboard, computer/laptop, mouse, and any console equipment you may need. This enables you to keep all your gaming essentials organized in one space.
What Height are L-Shaped Desks?
The height will vary depending on the type of L-shaped desk you desire. For instance, a standing desk will likely be taller than a regular seated L-shaped desk. If you wish to regularly alter the height of your desk, you can opt for L-shaped desks with adjustable height mechanisms for the utmost versatility.
Conclusion
If you're seeking a harmonious blend of functionality and space efficiency, L-shaped desks make an exceptional solution. With a multitude of styles, materials, sizes, and special features to choose from, L-shaped desks cater to a diverse range of preferences, encouraging productivity and physical well-being during prolonged tasks.