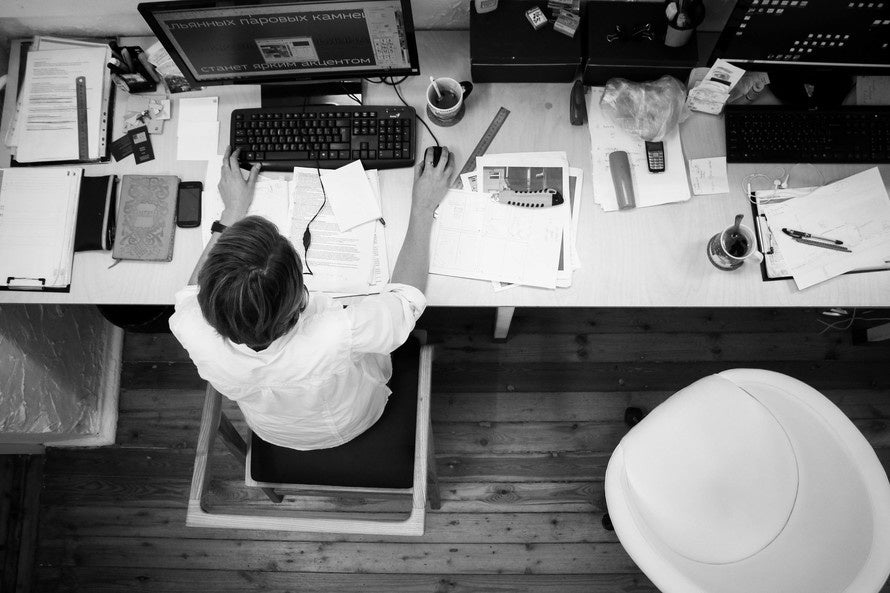 June 29, 2022
Andrea Hasburn
How To Select an Executive Desk
There are many different kinds of executive desks and they are designed around the main activities of executives who do a combination of computer work, paperwork, and meetings. The following is a list of things to consider when shopping for an executive desk.
L-Shapped Executive Desk
Allows for both work and meeting space.
Created with one desk or credenza and a return.
U-Shapped Executive Desk
Usually larger than an L shaped executive desk.
Connect two desks, two credenzas or desk and credenza with a bridge.
Open Executive Desk Plan
Create with two desks, two credenzas, or a desk and credenza.
Ergonomics and Space
Your executive desk should provide clearance for the users legs. You should search for an executive desk based on the following chart to find an appropriate height for the user.
Worker Height
Table Height
5'0″ – 5'3″
25″- 26″
5'4″ – 5'6″
26″-27″
5'7″ – 6′ 0″
27″-30″
6'1″ – 6'5″
30″-32″
Optimally, there should be at least three-and-a half feet of space behind an executive desk. A minimum of three feet of space should also be available in-between the executive desk and another piece of office furniture.
For computer-users keyboards need to be placed at a comfortable height. Keyboards placed on traditional desks may be too high and might result in significant discomfort or muscle strain for the user. Computer desks should either be equipped with a keyboard platform or legs that can be adjusted. Be sure that any keyboard platform is large enough to hold a mouse.
Desktop equipment and materials should be within easy and comfortable reach, and should have sufficient space so as not to burden the desktop.
If the executive desk has a sharp edge, consider placing a wrist pad along the edge to help prevent unnecessary pressure and pinching on the inner surface of the wrists.
Executive Desk Surface
Laminate
A plastic finish that is applied to a wood core, laminate is affordable, durable, and withstands more than pure wood or veneer. It also comes in a wide array of colors and wood grain patterns. For a quality laminate that will better withstand daily use and abuse, look for a desk with a thick, high pressure laminate.
Wood or Veneer
Veneer is a thin surface layer of wood glued to a more inferior base. Wood and veneer desks generally look more attractive than other types of desk, but they are typically more expensive and considerably more delicate; they nick more easily and are not suited for rough or heavy use. This is the most commonly used material for an executive desk.
Quality and Durability of Executive Desks
The quality of a desk is often most evident in the construction of the drawers.
Metal suspension rollers show a sturdy suspension. Drawers should open and close easily while bearing weight. Optimally, you want the drawers to slide out to their full length to allow full and easy utilization of space.
High quality wood drawers are assembled with an interlocking (dovetail) construction; this is stronger than drawers put together with just staples or glue. With a steel or metal desk, take a look at the drawers when they're closed. If you see a gap where the drawer meets the desk, the desk is not set right.
Contact us today to find the perfect executive desk for your space!
Our Products
The Carmel Collection offers contemporary finishes such as Espresso and Mahogany. This collection offers a variety of desks, credenzas, hutches, a...
View full details