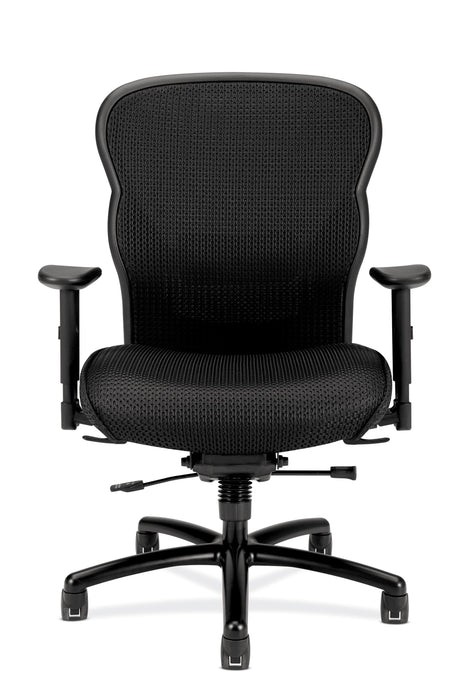 Breathable Big and Tall High-Back Office Chair
Original price
$779.95
-
Original price
$779.95
The Breathable Big and Tall High Back Office Chair is a comfortable and sturdy option for those in need of a high back office chair. With a weight capacity of up to 400 pounds, it's a great choice for individuals who require a tall office chair or big and tall office chair. The breathable mesh back provides excellent airflow to keep you cool during long work sessions. The seat is generously padded and upholstered in black leather, adding a touch of sophistication to any office. The adjustable height and tilt mechanism allow you to find the perfect position for maximum comfort. This big office chair is a great investment for those looking for a durable and stylish solution to their office seating needs.

Everyone wants a comfortable tall office chair that fits you, but you don't want it to require a PhD in chair technology to create a custom fit. This big and tall high-back chair features intuitive adjustments for arm and seat height, and a cool, breathable mesh back that bends to your will.

Backed by 5-Year Limited Warranty on big and tall office chair
The Breathable Big and Tall High Back Office Chair is a comfortable and sturdy option for those in need of a high back office chair. With a weight capacity of up to 400 pounds, it's a great choice for individuals who require a tall office chair or big and tall office chair. The breathable mesh back provides excellent airflow to keep you cool during long work sessions. The seat is generously padded and upholstered in black leather, adding a touch of sophistication to any office. The adjustable height and tilt mechanism allow you to find the perfect position for maximum comfort. This big office chair is a great investment for those looking for a durable and stylish solution to their office seating needs.

Everyone wants a comfortable tall office chair that fits you, but you don't want it to require a PhD in chair technology to create a custom fit. This big and tall high-back chair features intuitive adjustments for arm and seat height, and a cool, breathable mesh back that bends to your will.

Backed by 5-Year Limited Warranty on big and tall office chair
- Optimize your airflow with cool, breathable stretch-mesh fabric seat and back.
- Give your back a break with exceptional lumbar support.
- Get comfortable with adjustable seat height and arms.
- Free up your mobility with a 360-degree swivel mechanism.
- Find the ideal height you need for the task at hand with a simple seat-height adjustment mechanism.
- Wider seat pan comfortably accommodates utility belts and specialized equipment.
- Reinforced frame and larger scale provides support to users up to 450 lbs.
- Overall Depth: 25.63
- inOverall Height: 42.88
- inOverall Width: 30.25
- inSeat Depth - Useable: 19
- inSeat Overall Depth: 19 inSeat Width: 22 in